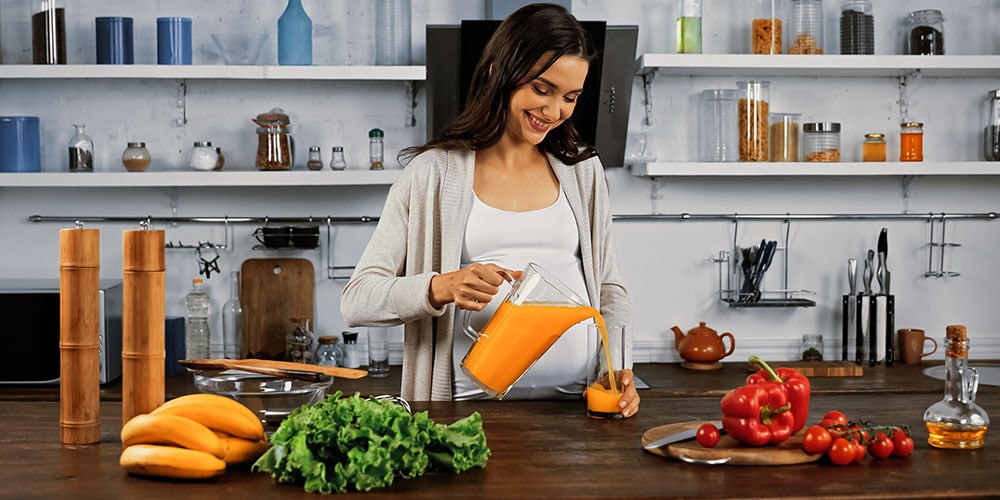 The two main questions I get from expectant mothers are: "should I know the baby's sex before birth?" and "what's up with food safety?".
They are both valid questions, but one mostly comes down to personal preference. So instead I'm going to focus on foods to avoid during a healthy pregnancy.
I tell my patients not to overthink this; it is always good to eat well-balanced meals. So, in this respect, you should eat well, only more so. Everything that goes in your mouth is shared with your baby.
There, are, however, some foods that are better to avoid during pregnancy, especially during the first trimester, according to healthcare professionals.
How much caffeine is safe?
Coffee, even a half cup a day, can reduce blood supply to the fetus and cause a low birth weight.
Caffeine is believed to cause blood vessels in the uterus and placenta to constrict, which could reduce the blood supply to the fetus and inhibit growth. Similarly, researchers believe caffeine could potentially disrupt fetal stress hormones, putting infants at risk for rapid weight gain after birth and later life obesity, heart disease, and diabetes.
Women who drink caffeine during pregnancy have slightly smaller babies than those who didn't, according to a study by researchers at the National Institutes of Health.
Remember, caffeine isn't just in coffee, it's also found in soda, tea, chocolate, and many energy drinks.
But if you absolutely must have caffeine, the American College of Obstetricians and Gynecologists reports that up to 200 milligrams (about a half a cup) of caffeine a day is safe during pregnancy.
How about a drink at the end of the day?
Your baby is developing a brand-new liver, which cannot process alcohol of any amount. So, any liquor you drink will end up going into the baby's liver. Too much exposure to alcohol can seriously hurt the baby's development.
Heavy drinking during pregnancy presents the risk of the baby developing fetal alcohol syndrome.
Most doctors recommend that pregnant women have no alcohol and avoid the potential risks.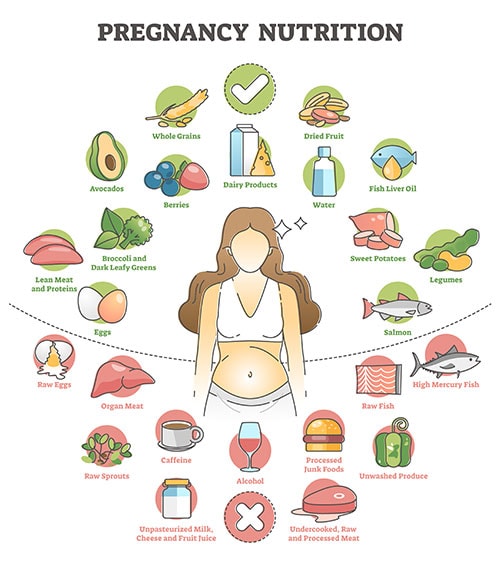 Beware of hidden bacteria contamination
Certain foods produce a higher risk of contamination with listeria food poisoning, according to the FDA.
Healthy people rarely become ill from listeriosis infection, but the disease can be fatal to unborn babies, newborns, and people with weakened immune systems. Keep in mind that listeria bacteria can survive refrigeration and even freezing. Pregnant mothers should avoid eating the types of food most likely to contain listeria bacteria.
These foods include:
Raw vegetables that may have been contaminated from fertilizer
Contaminated uncooked meat
Unpasteurized dairy products or cheese made with unpasteurized milk
Processed foods such as soft cheeses, hot dogs, and deli meats
Smoked seafood such as lox and kippers
Homemade ice cream
Raw meat, meat spreads, and pate
Something's fishy with fish
Fish in local lakes and rivers can sometimes be exposed to high levels of polychlorinated biphenyls (PCBs). PCBs are manufactured organic chemicals that are no longer produced in the United States but are still in the environment and can cause health problems.
To avoid risk of PCB exposure, avoid locally caught bluefish, marlin, striped bass, salmon, pike, trout, and walleye.
In addition, avoid fish that can contain high levels of mercury, including:
king mackerel
shark
swordfish
orange roughy
tilefish
You should also avoid raw fish such as sushi. This includes raw clams, oysters, and mussels. Make sure you're only eating cooked shellfish!
What fish should I be eating?
Eat fatty fish like salmon! They're a great source of protein and omega-3 fatty acids that can promote your baby's brain and eye development.
Avoid anything containing raw eggs
Eating anything with raw eggs can expose you to salmonella or E. coli, diseases that affect the intestinal tract. The CDC estimates one in 20,000 eggs is tainted with bacteria.
Foods containing raw eggs include:
Mousse, meringue, tiramisu
Eggnog
Raw cookie dough
Caesar salad dressing, blue cheese, Bearnaise sauce, Hollandaise sauce, and mayonnaise
Say cheese! Most of the time
In general, cheese is a safe and healthy food. Cheese made in the United States is pasteurized and safe. However, there may be a danger in imported soft cheeses. Soft cheeses (especially those made with unpasteurized milk) may contain listeria.
Imported cheeses to avoid include:
Brie
Camembert
Roquefort
Feta
Gorgonzola
Mexican style cheeses that include Queso Blanco and Queso Fresco
Fruits and Veggies
What could be wrong with unlimited fruits and vegetables? Well, not a whole lot, unless they are unclean or not pure.
Opt-out of fresh-squeezed juice when dining out, at juice bars, or from roadside farm stands. It may not be pasteurized and could contain harmful bacteria.
Some health food markets sell unpasteurized juice; make sure you look for the required warning label. Also, stay away from unwashed fruit, as well as unripe papaya.
Most vegetables are considered safe and necessary for a well-balanced diet. But make sure they are well-washed. In doing this you steer clear of exposure to toxoplasmosis. Toxoplasmosis may contaminate the soil where the vegetables were grown.
Raw sprouts are not your friend. This includes alfalfa, mung bean, clover, and radish. It's possible for bacteria to invade the seeds before the sprouts grow. This bacterium is nearly impossible to wash away.
An encouraging word about food
If you've just read about some foods that you feel you just can't live without. Don't worry, enjoy the ride. In just nine months you can eat whatever you please.
Until then, be sure to properly clean and cook your food, for your health and your baby's!
About Dr. Aliabadi
As one of the nation's leading OB/GYN's, Dr. Thaïs Aliabadi offers the very best in obstetrics and gynecology, including telehealth appointments. Together with her warm professional team, Dr. Aliabadi supports women's health through all phases of life. She creates a special one-on-one relationship between patient and doctor.
We invite you to establish care with Dr. Aliabadi. Please click here to make an appointment or call us at (844) 863-6700.
We take our patients' safety very seriously. Our facility's Covid-19 patient safety procedures exceed all CDC and World Health Organization recommendations. Masks are required in our office at all times during the coronavirus pandemic.
The practice of Dr. Thais Aliabadi and the Outpatient Hysterectomy Center are conveniently located for patients throughout Southern California and the Los Angeles area. We are in Beverly Hills and near West Hollywood, Santa Monica, West Los Angeles, Culver City, Hollywood, Venice, Marina del Rey, Malibu, Manhattan Beach, and Downtown Los Angeles.

Latest posts by Dr. Aliabadi Education Team
(see all)