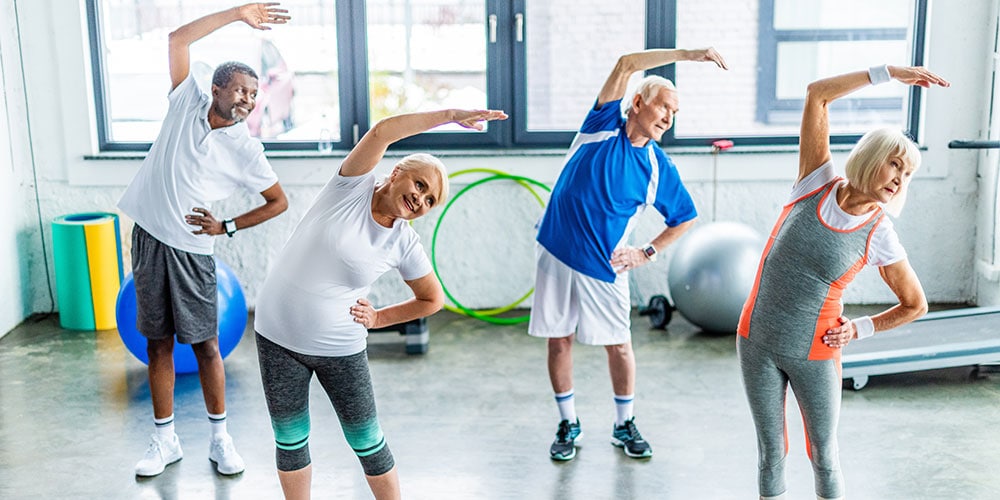 Growing older may be inevitable, but we can choose how we meet the challenges of aging. We can meet one of those challenges by improving our fitness, which can be done at any age.
The great playwright George Bernard Shaw got it right: "We don't stop playing because we grow old; we grow old because we stop playing."
In a recent report, the Surgeon General of the United States advises that increased risks of heart disease and dementia and the loss of strength and stamina that we attribute to aging are caused, at least in part, by reduced physical activity.
In other words, growing older doesn't make us stop exercising. It's stopping exercising that makes us grow older.
And we often stop exercising because we are societally conditioned to believe that advancing age automatically prohibits any sort of vigorous exercise.
"We're sacrificing our healthy older years by not moving," says Dr. Edward Phillips, a professor of physical medicine at Harvard Medical School.
Test yourself: How strong are you?
Here's a simple test of fitness. Sit in a chair with your arms crossed over your upper body, fingertips at your shoulders. With a timer set for 30 seconds, see how many times you can move from a sitting position to a standing position, keeping your arms crossed.
"This chair exercise tests both strength and power. Strength is measured by whether you can get up off the chair, but power is measured by how quickly you can do it," says Dr. Phillips, professor of physical medicine and rehabilitation at Harvard Medical School.
Check your age and number of repetitions on this chart to see how you did: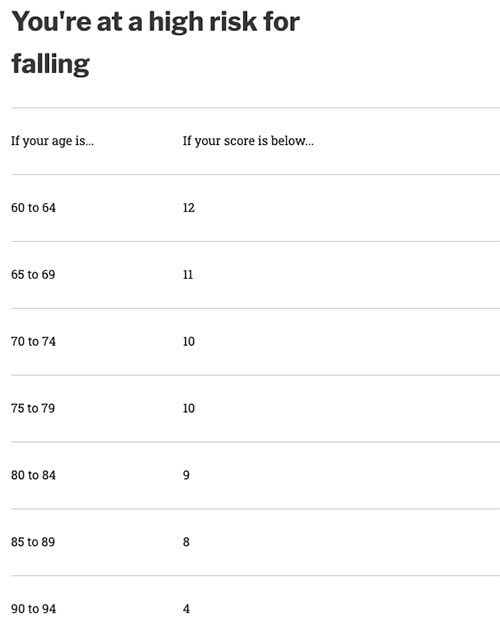 You can employ the set of movements used in the above chair exercise test as an effective way to build fitness and strength.
Sit in a chair with your hands crossed over your chest or held straight out at chest level. Keep your feet flat on the floor, about as wide as your hips, and directly below your knees.

Lean forward slightly and slowly stand up. Remain standing for a moment or two.

Slowly sit down, while maintaining postural control.

Repeat 10 times as a set, and then rest for a couple of minutes to lower your heart rate. Try to build up to three sets.
To get the most from this exercise, press your heels into the floor and tighten your buttocks as you stand up. After you stand, briefly steady yourself, before you sit down. Exhale as you stand, inhale as you sit.
Exercises for women over 60
Physical playfulness, i.e., exercise, can reverse aging, relieve joint pain, and reduce your body weight. It's really never too late to improve life through an exercise program geared for older adults.
Exercise for seniors can include:
Strength training. The weekly use of free weights or resistance bands will help build muscle mass.
Aerobic exercise. Many seniors improve their fitness level with regular low-impact cardio workouts, like Zumba and water aerobics. 
Balance exercises. Like practicing Tai Chi, or the use of free weights with lunges.
Yoga and Pilates. Gentle forms of these practices can improve strength as well as flexibility.
Regular exercise for your health and wellbeing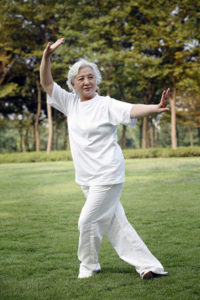 While no one is guaranteed to avoid debilitating disorders that eliminate physical resilience and prowess, it is certain that regular exercise will improve our ability to function at almost any age or level of fitness.
During the 1970s, several studies of healthy older people indicated that strength, stamina, and flexibility begin to drop significantly around age 55.
One study found that 62% of women ages 75 to 85 had difficulty kneeling or stooping, 66% of women in that age group couldn't lift more than 10 pounds, and 42% were unable to stand for more than 15 minutes.
A landmark study on how to reverse aging with exercise
These declines were once considered to be an inevitable consequence of aging. But in 1994, researchers from Harvard and Tufts medical schools published a landmark study showing that many such functional losses can be reversed, even among the oldest and most frail of subjects. 
In the Harvard/Tufts study, 100 nursing home residents, aged between 72 and 98, performed resistance exercises three times a week for 10 weeks. Another 100 subjects remained exercise-free.
Use it or lose it
At the end of the three-week period, the group that exercised could lift significantly more weight, climb more stairs, and walk faster and farther than their sedentary counterparts. The message? Use it or lose it. An even more significant message: Even if you've lost it, you can get it back. 
See your doctor before embarking on a new wellness program
It's important to check in with your primary care provider or a geriatric rehab specialist before you begin a new fitness program of vigorous exercise, but don't let that requirement be a barrier.
A new healthy lifestyle
There are reasons why the latter years are called golden. George Bernard Shaw stayed playful until he died at the age of 94, and another geezer writer, Robert Browning, asked the love of his life to: "Grow old along with me! The best is yet to be, the last of life, for which the first was made."
And regular exercise will make the best of life even better.
About Dr. Aliabadi
As one of the nation's leading obstetricians, Dr. Thaïs Aliabadi offers the very best in gynecology and obstetrics care. She has also been selected as the Top OB/GYN in Los Angeles by LA magazine for six years in a row.

Together with her warm professional team, Dr. Aliabadi supports women through all phases of life. She fosters a special one-on-one relationship between patient and doctor.
We invite you to establish care with Dr. Aliabadi. Please click here to make an appointment or call us at (844) 863-6700.
Dr. Aliabadi is conveniently located to just about anyone in Southern California and the Los Angeles are. Our team is based at Cedars Sinai in Los Angeles, virtually next door to Beverly Hills and West Hollywood. We're are easily accessible to those in West Los Angeles, Santa Monica. Bel Air, Marina del Rey, Playa del Rey, Westchester Malibu, Pacific Palisades, Downtown Los Angeles, Silverlake, Encino, Sherman Oaks, and the entire San Fernando Valley. 
We take our patients' safety very seriously. Our facility's Covid-19 patient safety procedures exceed all CDC recommendations. Masks are required in our office at all times.

Latest posts by Dr. Aliabadi Education Team
(see all)