What does PUPPP stand for?
Pruritic Urticarial Papules and Plaques of Pregnancy. Quite nicely alliterative, but also quite tricky to pronounce. No problem: this skin condition has several aliases from which to choose, including:
Nurse's late-onset prurigo
Bourne's toxemic rash of pregnancy
Toxic erythema of pregnancy
Polymorphic eruption of pregnancy
But for the sake of simplicity, let's just go with PUPPP or PUPPPs rash.
What is PUPPP?
Well, for starters, PUPPP is the most common dermatologic problem during pregnancy , according to the American Osteopathic College of Dermatology.
An early stage PUPPP pregnancy rash almost always occurs in a first pregnancy or multiple pregnancy (twins, triplets, etc.). Most pregnant women must endure it only once because it is not as prevalent during subsequent pregnancies.
The most common risk factor for the development of PUPPP is excessive and rapid weight gain.
Fortunately, PUPPP pregnancy rash is benign. Although the blisters can make your pregnancy a thoroughly miserable experience, they will not present any long-term danger to either you or your child.
What does PUPPPs pregnancy rash look like?
PUPPP usually delays its emergence until the third trimester of pregnancy, when a mom-to-be's abdomen has become significantly distended.
The rash is often red and patchy, closely resembling eczema. At the onset, it may look like small, raised, pimply dots, but it can develop into patches of raised skin lesions called plaques.
The hive-like rash appears as small, pink, pimple-like spots that appear in the stretch marks. It usually spreads into the upper thighs and buttocks and ultimately extends over a woman's back, torso, arms, and breasts. There is often intense itching.
PUPPP usually avoids the belly button.
What causes PUPPP?
That's a good question, and one without any definitive answer. The bumpy rash of PUPPP generally begins in the striations (stretch marks) that appear on a swollen, pregnant abdomen.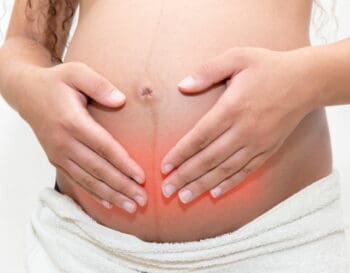 The symptoms are worse in multiple pregnancies and those with an unusual amount of weight gain. So, some sources blame PUPPP on inflammation brought on by excessive stretching of the skin's connective tissue. Others point to an allergic reaction to the fetal antigens circulating through the mother's blood system.
Some signs even point to a genetic link. Who knows? Your baby's gender may also play a role. About 70% of PUPPP sufferers give birth to a boy.
What are PUPPP symptoms?
"Pruritic" means itchy, and intense itchiness is the sensation most commonly associated with PUPPP. A PUPPP rash can be mean enough to demand unrestrained scratching, which can, in turn, cause some level of pain.
What is PUPPP rash treatment?
The most reliably effective cure is simply to deliver your baby. PUPPP generally resolves soon after birth. But that itchy rash can be vicious preterm, and you're for sure going to require some symptomatic treatment, such as oral steroids, well before delivery.
A combination of over-the-counter topical steroids — like hydrocortisone steroid creams — and oral antihistamines — such as Benadryl — will generally provide significant relief. When the itching is severe enough to interfere with sleep, a short course of systemic corticosteroids — like prednisone — can be helpful.
Use moisturizers. Regular use of emollient lotions will help alleviate the dryness that contributes to the misery of PUPPP.
Cold compresses and oatmeal baths can provide some relief. A tepid bath with added baking soda can also help.
As difficult as it may be, try to refrain from scratching that darn itch.
Topical corticosteroids may reduce pruritus and erythema but do not alter the course of the disease.
Light cotton clothing may help ensure the rash is not irritated more than it is already.
Don't ignore any rash during pregnancy!
Even though PUPPP itself is ultimately benign, it can mimic far more serious conditions. As just one example, the symptoms of PUPPP can overlap with those of urticarial pemphigoid gestationis. This nasty condition can be life-threatening to both mother and child. So, consult with both your obstetrician and your dermatologist about any rashes that you develop during your pregnancy.
At the first sign of a rash during pregnancy, your doctor will most likely recommend a skin biopsy to rule out PG.
A rash during pregnancy can also indicate cholestasis — a third-trimester liver disease.
About Dr. Thaïs Aliabadi
As one of the nation's leading OB-GYNs, Dr. Thaïs Aliabadi offers the very best in gynecological and obstetric care. Together with her warm professional team, Dr. Aliabadi supports women through all phases of life. She fosters a special one-on-one relationship between patient and doctor.
We invite you to establish care with Dr. Aliabadi. Please make an appointment online or call us at (844) 863-6700.
We take our patients' safety very seriously. Our facility's Covid-19 patient safety procedures exceed all CDC and World Health Organization recommendations. Masks are always required in our office during the coronavirus pandemic.
The practice of healthcare provider Dr. Thais Aliabadi is conveniently located for patients throughout Southern California and the Los Angeles area. We are near Beverly Hills, West Hollywood, Santa Monica, West Los Angeles, Culver City, Hollywood, Venice, Marina del Rey, Malibu, Manhattan Beach, and Downtown Los Angeles.

Latest posts by Dr. Aliabadi Education Team
(see all)