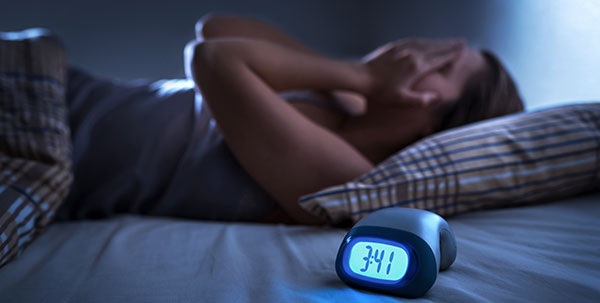 Women have definite advantages over men. Really, it's a fact!
Us women are going to live longer. A girl born in 2012 can expect to live until she's 81.2 years old. A boy born that year will only make it to 76.4 years. (That added longevity is largely due to the role that female hormones play in preserving heart health.)
Women have higher pain thresholds. That makes sense, given what happens during childbirth. A woman's sense of smell is keener than a man's. And our public restrooms are a whole lot nicer.
But women experience insomnia more often than men
Insomnia afflicts women more frequently and more severely than it does men. In the United States, a National Sleep Foundation survey found that 57% of women respondents said they experienced some symptoms of insomnia at least a few nights per week. Only 51% of the male respondents to that poll experienced equivalent sleep disorders.
What are the common causes of insomnia?
Poor sleep is commonly attributed to stress, anxiety, depression, jet lag, improper use of alcohol, overuse of caffeine, heartburn, night sweats, sleep apnea, restless legs syndrome, and low levels of melatonin. All these factors should be evaluated in any analysis of insomnia, but the role that female hormones play in women's insomnia also deserves attention.
It appears that the same hormones that protect a woman's cardiovascular system can play havoc with her sleep patterns. Estrogen, which is linked to a woman's sense of well-being, can drop precipitously in the early days of a menstrual period.
Progesterone is known as the soporific hormone – it makes you drowsy. It also drops just before a period and remains low during the first phase of menstruation.
The monthly fluctuations of estrogen and progesterone, and the menstrual cycle they regulate, entail variations in body temperature, cramps, bloating, headaches, and pain. It's no wonder that women report poor sleep quality just prior to their period and during its first few days.
Insomnia and premenstrual syndrome
For women with premenstrual syndrome (PMS), sleep disturbances are more common in the second half of the menstrual cycle, rather than in its early stages. These women have lower levels of progesterone toward the end of their cycle than do their non-PMS counterparts.
Women with PMS also have shorter periods of rapid eye movement (REM) sleep. This is when most dreams occur. According to sleep specialist Dr. Raj Dasgupta of the American Academy of Sleep Medicine, "REM sleep is one of the most important stages of sleep because it rejuvenates the body, mind, and helps out with your memory and health."
Menopause and insomnia
Menopause involves significant hormonal changes that often happen concurrently with other major life changes. Retirement looms. Children become adults and leave home. Older adults often deal with medical issues. They're at higher risk for fewer hours of sleep.
During perimenopause and menopause, a woman's body produces less estrogen and less progesterone. As noted above, estrogen enhances well-being, and progesterone promotes healthy sleep. No wonder menopausal women can become insomniacs.
Decreased levels of these essential hormones, in concert with mood alterations related to corresponding changes in life circumstances, can cause depression. Depression is often a component of insomnia. Insomnia is often a component of depression. With depression and insomnia each negatively reinforcing the other, chronic insomnia ensues and sleep can become truly elusive.
The hot flashes that accompany menopause also tend to disrupt healthy sleep patterns.
Here's how to develop better sleep habits for a good night's sleep
Enlist your doctor as your healthy sleep teammate. Ask her to make sure you don't have any hidden medical conditions that are contributing to your sleep problems.
Keep a sleep diary. Track your sleep patterns, your menstrual cycle (if any), and your mood swings on a graph for three months.
Have your hormones measured at different times of your menstrual cycle. Talk to your health care team about hormone therapy.
Note any recurrence of aches and pains. Serotonin is another hormone that promotes healthy sleep. Aches and pains indicate inflammation, and inflammation lowers levels of serotonin in the brain. Your doctor can help you mitigate those aches and pains, and that will increase your brain's serotonin levels.
Melatonin is another hormone that is associated with sleep. Over-the-counter melatonin sleep aids can be effective in alleviating some types of insomnia.
Be mindful of relaxation techniques before turning in for the night. Induce sleepiness by turning off the TV, the news, your computer, and cell phone. Try a warm bath or shower before bed.
Keep your sleeping environment on the cool side. A frosty temperature promotes deep and restorative sleep. Think of hibernating bears.
Try meditation for insomnia and relaxation exercises. Talk to your doctor about acupuncture. It has been shown to help relieve some types of insomnia.
Reduce your intake of alcohol and caffeine, especially near bedtime. These substances generally interfere with sleep. They can also trigger hot flashes for menopausal women. Consider eliminating all alcohol and caffeine until you restore healthy sleep patterns.
Exercise improves mood and tires the body, making it easier to fall asleep. So be sure to exercise, but do it earlier in the day to avoid elevating your body temperature before going to sleep.
You used to read your children to sleep. Now try it on yourself.
Ask Alexa or Siri to play some soothing white or pink noise. (Try "Babbling Brook". It will knock you out.)
About Dr. Thaïs Aliabadi
As one of the nation's leading OB-GYNs, Dr. Thaïs Aliabadi offers the very best in gynecological and obstetric care. Together with her warm professional team, Dr. Aliabadi supports women through all phases of life. She fosters a special one-on-one relationship between patient and doctor.
We invite you to establish care with Dr. Aliabadi. Please click here to make an appointment or call us at (844) 863-6700.
We take our patients' safety very seriously. Our facility's Covid-19 patient safety procedures exceed all CDC and World Health Organization recommendations. Masks are required in our office at all times during the coronavirus pandemic.
The practice of Dr. Thais Aliabadi and the Outpatient Hysterectomy Center is conveniently located to patients throughout Southern California and the Los Angeles area. We are near Beverly Hills, West Hollywood, Santa Monica, West Los Angeles, Culver City, Hollywood, Venice, Marina del Rey, Malibu, Manhattan Beach, and Downtown Los Angeles, to name a few.

Latest posts by Dr. Aliabadi Education Team
(see all)