The ability to give birth signifies new life, and people do it every day. Many say childbirth is an everyday miracle. Although pregnancy has its joyful moments, it is not the most comfortable experience. While some pregnant people experience little to no discomfort, many complain about back problems, leg cramping, and belly tightness.
One of the main complaints during pregnancy is foot pain. The pregnant belly grows, adding weight, which puts forward-facing pressure on the body and disrupts the center of gravity. As the body prepares for labor, the extra weight puts pressure on the calf muscles, knees, ankles, and feet. Many pregnant patients ask: "Is it normal to have swollen feet during pregnancy?"
Foot problems during pregnancy are extremely common and normal.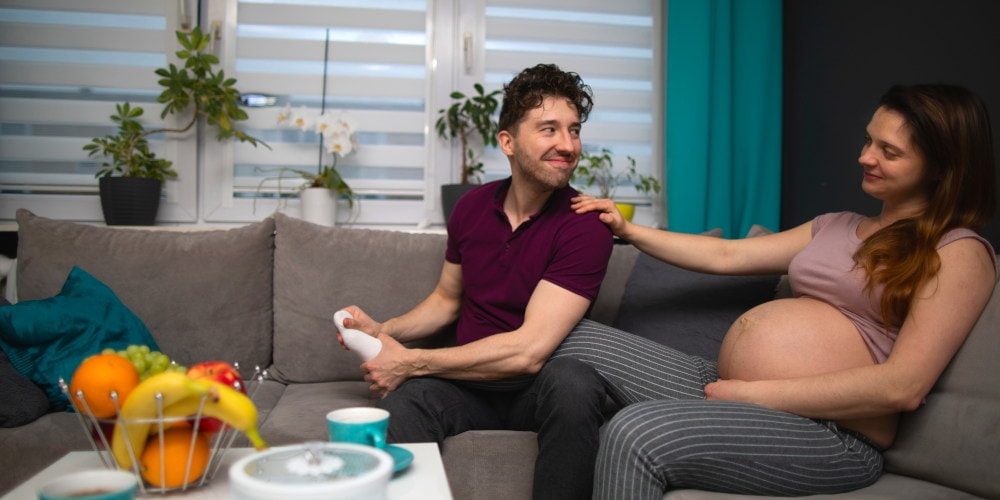 What is pregnancy feet swelling?
Many pregnant women experience edema – fluid buildup that causes swelling. Due to hormones, rapid body changes, and weight gain, circulation slows, causing fluid retention. This built-up fluid is what causes swelling. Pregnancy edema in feet sometimes makes it difficult to walk and can cause pain in severe cases.
Patients often need to wear a larger shoe size during pregnancy to comfortably fit their swollen feet. Avoid wearing tight shoes, socks, tights, or anything else that puts pressure on your already sore feet.
Why do feet swell during pregnancy?
During pregnancy, your adrenal glands will excrete more hormones to compensate for the growing fetus. While hormone excretion is great for babies, it is not so great for mama because the body will retain fluids. (This also messes with your ability to control your mood.)
The growing fetus also restricts and interferes with blood flow to the lower extremity of a pregnant woman's body. As your baby grows, your expanding uterus puts pressure on organs and blood vessels. Restricted blood flow can cause foot cramps, muscle spasms, and fluid retention.
Luckily, this fluid buildup happens leading into the later part of the second trimester and into the third trimester. Knowing what foot conditions might be coming down line leaves time to prepare for comfort nearing the third trimester.
Pressure on blood vessels can lead to other common problems such as leg cramps and varicose veins. Compression socks can help reduce swelling, improve circulation, and prevent varicose veins.
What is overpronation?
Growing a tiny person in your body adds a lot of extra weight. This added weight puts increased pressure on your feet – especially the arch of the foot. On its own, this extra weight can cause your arches to flatten.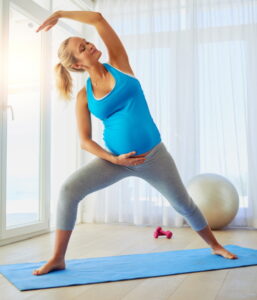 Adding to the problem are the hormones your pregnant body is producing. Relaxin (as the name suggests) is responsible for relaxing the body in preparation for childbirth. However, relaxin can also relax the ligaments in your feet, allowing your arches to drop.
Overpronation is common in people with flat feet (including pregnant people). Because your foot lacks a properly-shaped arch, your feet tend to roll inward while walking. This puts all sorts of pressure on your feet, ankles, and calf muscles.
Plantar fasciitis during pregnancy
The plantar fascia is an important band of tissue that supports the arch of the foot. The flattening of the arch during pregnancy puts extra strain on the plantar fascia, often resulting in foot and heel pain.
Luckily, treatment options for minor plantar fasciitis (inflammation of the plantar fascia) are pretty simple. Gentle massage, simple stretches, shoe insoles, and rest can help relieve plantar fasciitis symptoms.
How to help swollen pregnancy feet
If your legs, ankles, and feet have started swelling, there are many ways of relieving the pressure.
Here's how to prevent foot pain during pregnancy:
Keep legs stretched out while sitting or laying down
Drink plenty of water (more than eight cups a day)
Wear loose-fitting pants and socks
Engage in daily or nightly pregnant-safe yoga to improve blood flow
Go for short daily walks
Use insoles or custom orthotics for extra support
Don't spend long periods of time on your feet
Ask your partner for a weekly foot massage or go to the spa
Consider reflexology
Keep feet elevated as much as possible
Are there shoes for swollen pregnant feet?
Maternity shoes can offer appropriate arch support for pregnant women. You definitely want shoes with extra shock absorption to reduce foot soreness.
Shoes that every pregnant woman should avoid are:
Flats
Flip-flops
Crocs
High-heels
Backless shoes
When and where to seek help
If your swollen feet are becoming a problem or you're experiencing severe foot pain, talk to your healthcare team. Your OB/GYN can confirm there isn't a more severe underlying problem. A podiatrist can prescribe custom orthotics or advise on appropriate stretches.
However, if you experience any of the following symptoms, contact your doctor immediately:
Sudden swelling anywhere but feet
Excessive fluid buildup in legs or feet
Severe pain in ribs or abdomen
Seeing stars or other fainting symptoms
Feeling general malaise brought on suddenly
If swelling continues to persist throughout the day, even with relaxation
Shooting pain anywhere in the body, especially in the swollen lower extremity
If the skin is discolored
Make Dr. Aliabadi your Los Angeles OB/GYN
As one of the nation's leading OB/GYNs, Dr. Thaïs Aliabadi offers the very best in women's health and well-being. Together with her warm professional team, Dr. Aliabadi supports women through all phases of life. She fosters a special one-on-one relationship between patient and doctor.
Dr. Aliabadi is a recognized leader in endometriosis treatment and has even taught minimally invasive laparoscopic surgery to other surgeons across the country.
We invite you to establish care with Dr. Aliabadi. Please click here to make an appointment or call us at (844) 863-6700.
We take our patients' safety very seriously. Our facility's Covid-19 patient safety procedures exceed all CDC and World Health Organization recommendations. Masks are required in our office at all times during the coronavirus pandemic.
The practice of Dr. Thais Aliabadi and the Outpatient Hysterectomy Center is conveniently located to patients throughout Southern California and the Los Angeles area. We are near Beverly Hills, West Hollywood, Santa Monica, West Los Angeles, Culver City, Hollywood, Venice, Marina del Rey, Malibu, Manhattan Beach, and Downtown Los Angeles, to name a few.

Latest posts by Dr. Aliabadi Education Team
(see all)