"Artificial Intelligence" has been big in the news recently. Machine learning tools can create photos, write school essays, and even draft your emails. But could AI save lives?
The key message we like to deliver as Breast Cancer Awareness Month arrives is this: early detection saves lives. The sooner we can catch breast cancer, the easier the treatment and the better your outcome.
Mammograms and self-exams are essential tools for finding abnormalities in your breast tissue. But what if we could detect abnormalities before they form?
For the past few years, researchers have been working on an AI that can look at mammography scans and predict if the patient will develop breast cancer.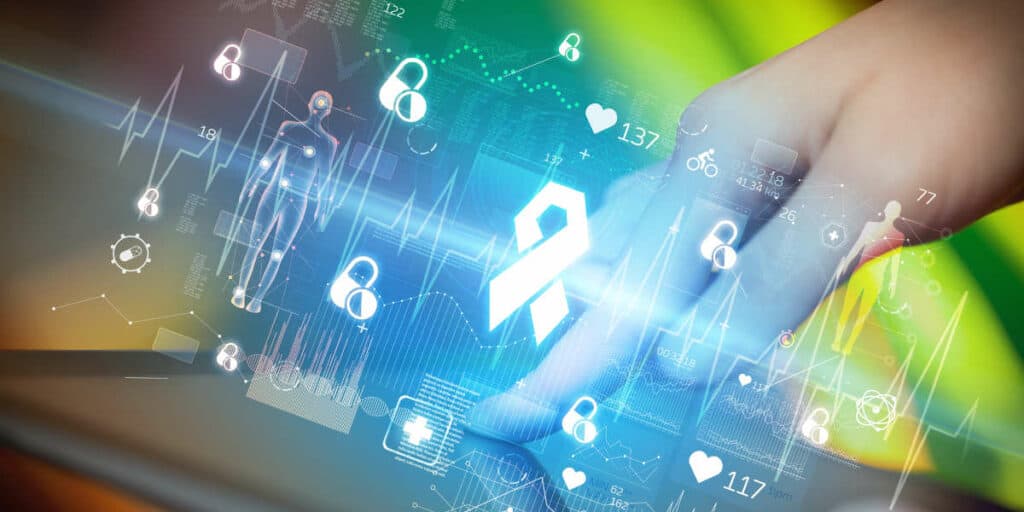 MIRAI: the next frontier in improved mammograms
MIRAI uses a combination of mammogram images and medical history to predict a patient's risk of developing breast cancer in the next five years with an eerie degree of accuracy.
Like most other A.I.-based prediction systems, MIRAI is already outperforming many humans at their jobs, and it's expected to keep improving. As a result, the system is already opening new possibilities and ethical quandaries for patients and healthcare providers.
About Mirai's creator
MIRAI is the brainchild of Professor Regina Barzilay and Adam Yala, a Ph.D. student currently working with her. Both researchers specialize in natural-language processing – the use of computers to draw information from conversations, real human speech, or pictures and to interpret it.
Both Barzilay and Yala are computer engineers, not physicians – and so far, their work has been applied largely to stock fluctuations, news trends, and security.
A breast cancer survivor herself, Prof. Barzilay describes the idea behind MIRAI as an epiphany. Soon after extensive chemotherapy, she began wondering how many people around her could be about to develop cancer. And if they could be spotted, would they be spared some of the most painful parts of treatment?
How was MIRAI created?
To "train" the system, Prof. Barzilay and her team began by collecting information from over 56,000 different patients who'd had mammograms at the Massachusetts General Hospital.
This information included 200,000 mammogram scans as well as the patients' family history, ethnicity, reproductive history, and use of hormone replacement therapy (HRT). The researchers also "told" MIRAI whether each patient had eventually been diagnosed with breast cancer.
MIRAI's algorithms used this information to learn what breast cancer should look like. Every time MIRAI got a wrong or right result, it would alter its programming slightly to prevent future errors. For the final testing stage, the researchers used information from another 62,000 patients from Israel, Sweden, Taiwan, and Brazil, and asked MIRAI to predict which ones had developed cancer.
The result? In 76% of cases, MIRAI was spot-on. This places it well beyond any other existing breast cancer risk calculator, such as the Tyrer Cuzick score calculator. Perhaps more impressively, MIRAI seemed capable of predicting key parts of a patient's health history (for example, the age of their first menstrual period or if they had several first-degree relatives with breast cancer) based on the mammogram alone.
How does MIRAI predict breast cancer risk?
So, let's say you feed MIRAI your basic information and latest mammogram scans. How does it turn that information into a diagnosis? What is MIRAI looking for?
The truth is, we don't know – although that is expected whenever dealing with Artificial Intelligence. We feed the information into a "black box," which spits out a result. Prof. Barzilay believes MIRAI can spot precancerous breast abnormalities — such as atypical hyperplasia — that a human radiologist would miss.
Have questions about breast cancer detection? Talk to Dr. Aliabadi
Breast cancer screening is only one side of women's health, but it is closely linked to many others. Decisions regarding screening, treatment, and genetic counseling require deep trust between patient and doctor.
If you're interested in exploring what these numbers and statistics mean for you, make an appointment with Dr. Aliabadi or call us at (844) 863-6700.
The practice of Dr. Thais Aliabadi and the Outpatient Hysterectomy Center is conveniently located for patients throughout Southern California and the Los Angeles area. We are near Beverly Hills, West Hollywood, Santa Monica, West Los Angeles, Culver City, Hollywood, Venice, Marina del Rey, Malibu, Manhattan Beach, and Downtown Los Angeles.

Latest posts by Dr. Aliabadi Education Team
(see all)