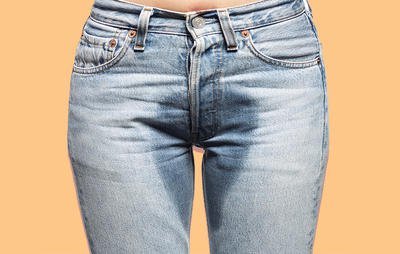 No one wants to talk about bladder leakage, but stress incontinence and urge incontinence affect millions of women. Learn how to stop a leaky bladder.
Picture this: you've been standing in line at the DMV for roughly one million hours. You had a couple glasses of wine last night, and your morning caramel macchiato is burning a hole through your bladder. To top it all off, you think you're coming down with something.
Then, you feel a tickle. It's in your nose. In your panicked state, you think, not right now! The pressure builds, ready to force everything – and I mean everything – out. Oh mercy, here it comes – ACHOO! Now you've done it, and the evidence is right there in your undies.
Over 25 million adults have experienced a scenario similar to this. Also known as urinary incontinence, peeing your pants is actually a diagnosable medical condition, with complex causes and known treatments.
Incontinence strikes more women than men
About twice as many, in fact. This is because pregnancy, childbirth, and menopause can all weaken or damage the pelvic floor muscles, leaving you with a bladder like a leaky faucet.
And urinary incontinence isn't just for the older ladies either – it affects about 10% of women age 19-30, according to a study published in Female Pelvic Medicine & Reconstructive Surgery.
There are two kinds of incontinence: stress incontinence, and urge incontinence. Stress incontinence results from a sudden increase of pressure on the bladder, caused by coughing, running, jumping, laughing, or sneezing.
Urge incontinence results from a dysfunction of the detrusor muscle – the smooth muscle embedded into your bladder wall that contracts to release urine.
If you're having trouble stemming the flow, you should contact your Ob/Gyn for solutions, or try some of these lifestyle changes proven to help.
Avoid coffee and booze
Both caffeine and alcohol are diuretics, meaning they supercharge your body's ability to make and expel urine. To fast-track your way to Pee-Pants Town, start with a double-shot espresso and top it off with a margarita. To steer clear, hydrate regularly with caffeine-free options and water with electrolytes.
Don't overload on water
Eight 8oz glasses of water a day is really all you need to stay hydrated. Your cubicle mate that refills her 40oz Hydroflask at least three times before the work day is up? She's going to have a much harder time controlling her bladder when the time comes.
Keep away from cranberry juice
A lot of people think that cranberry juice keeps their entire urinary tract healthy, but the truth is a lot more nuanced than that. Cranberry juice and other acidic juices can really irritate the bladder. Stay away from other citrus – like orange and grapefruit – juices as well.
Toss out your cigarettes
Smoking cigarettes is never, ever recommended as part of a healthy lifestyle. In addition to the numerous life-threatening risks that smokers take on every time they light up, they're also tempting fate to have an embarrassing pee-in-the-pants accident.
Cigarette smoking harms your bladder, and increases your risk for cervical and bladder cancer. Talk to your doctor about quitting smoking today.
Take a vitamin D supplement
Vitamin D is essential to improving muscular strength. A deficiency in vitamin D can weaken your pelvic floor, leaving the floodgates wide open.
In fact, in a study published in the Journal of Obstetrics and Gynecology, low levels of vitamin D were linked to higher incidence of pelvic floor disorders in women over the age of 20.
Drop excess weight
Having a higher body weight puts more pressure on your bladder, causing leaks when you least expect them. In a study published in the Journal of Urology, women who lost weight and kept it off reported a decrease in leakage by 65%.
Practice your Kegels
Kegels are exercises that are used to strengthen the pelvic floor muscles and treat urinary incontinence. You perform them by contracting the muscles that you use to hold your pee in. No one can see you do them, so you can do them anytime. Gynecologists recommend ten Kegel squeezes in the morning and another ten at night to keep the pelvic floor healthy.
Urinary incontinence can be controlled. To learn more, check out the hot tips over at Women's Health Magazine. And let me know what you think. Thaïs
Read the full article at: www.womenshealthmag.com

Latest posts by Dr. Thaïs Aliabadi
(see all)