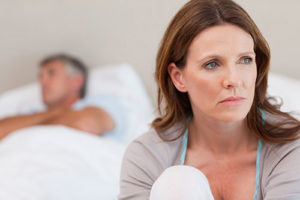 Vaginal atrophy is an uncomfortable and quite often painful condition that afflicts menopausal women and can occur in those who experience decreased estrogen production due to cancer or breastfeeding. This gynecologic affliction, known also as atrophic vaginitis, is characterized by thinning, drying, and inflammation of the vaginal walls and often makes intercourse difficult and emotionally disruptive.
Despite of the wide availability of over-the-counter lubricants and prescription estrogen products, studies show that less than 10 percent of women use these products to alleviate the problem.
There are several reasons why this number is so low:
1. Many women become unconcerned about the inability to have sex and come to view it as no longer important in their lives.
2. Often woman become concerned with the possible side effects of the ingredients in lubricants that may further harm the fragile, thinning tissue of their vaginas.
3. Extraneous medical reasons sometimes cause women's physicians to advise against using estrogen.
If you see yourself in category number one, perhaps by now you have stopped reading this article. But the other two categories present a different story.
Many women who have enjoyed sexual relations for their whole lives experience sadness and can become depressed by watching the disappearance of their vibrant sexuality. In the 2013 Revive survey of sexual behavior in more than 3,000 postmenopausal women, 73 percent admitted they silently endured painful intercourse to please their partner.
Fortunately, there is now another choice to consider that will treat dryness and thinning of the vaginal walls. A vaginal laser treatment, called Mona Lisa Touch, has been widely used in Europe since 2008 and approved for the U.S. in 2014.
How Laser Treatment for the Vagina Works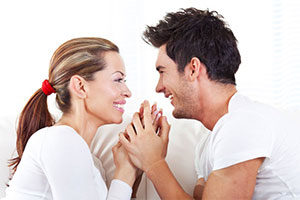 Mona Lisa Touch is an FDA-approved fractional carbon dioxide (CO2) laser specifically created to heal vaginal atrophy. A thin wand carefully inserted into the vagina delivers controlled laser pulses that travel to the deeper layers of vaginal tissue to reactivate your cells to produce more collagen. This treatment results in new blood flow and regeneration of healthy tissue.
Three five-minute sessions, at six week intervals will be performed in your doctor's office. The result is a gradual restoration of the normal lubrication and elasticity that had vanished as a consequence of menopause, breastfeeding or cancer treatments.
There is no widespread insurance coverage for CO2 laser treatments for vaginal atrophy, so costs are billed to the patient. But long lasting results are attained with a single annual renewal treatment. For many the procedure is clearly worth the price – no longer will you grit your teeth and endure painful sex, or avoid sex altogether. Mona Lisa smiles; she should not be the only one.

Latest posts by Dr. Thaïs Aliabadi
(see all)
Reader Interactions