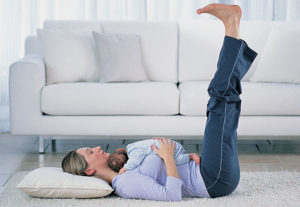 Whether vaginal delivery or C-section, giving birth is likely the most physically demanding ordeal that most women will endure. After birth, new mothers need to return to regular exercise slowly and carefully. Your OB-GYN can sign-off on your return to activity after a successful post-partum check-up.
Changes to your Post-Partum Body
Pregnancy and childbirth make drastic changes to your body's structures. During pregnancy, your body releases a hormone called relaxin, which allows your pelvis to expand to accommodate the baby. Unfortunately, relaxin can also weaken your abdominal muscles, loosen the joints, tendons, and ligaments, and soften bones, leaving you more prone to injury following childbirth.
Relaxin remains in the body for at least three months post-partum, and can remain even longer in women who are breastfeeding. Many women sustain a ligament or tendon injury after rushing into an exercise routine to recover their pre-pregnancy body weight. The key to avoiding this outcome is to take it slow.
When Can I Exercise Again Following Childbirth?
If your recovery is normal, you should be cleared to return to exercise at your 6-8 week check-up. However, at this point the emphasis should be on rehabilitation, and not exertion. The last thing you need as a new mother is to injure yourself when you should be enjoying time with your new baby and getting used to your new routine.
Incorporate Rehabilitation into Everyday Activities
With each movement in your new routine, you can learn to engage your muscles to strengthen your body and prepare for more vigorous exercise later.
Lifting your baby, shouldering the diaper bag, and loading the stroller all require the use of your core muscles – your abdominals, diaphragm, obliques, lower back, and pelvic floor muscles will need plenty of rehabilitation in the 2-3 months after giving birth. Even simple daily movements can be risky if they're performed carelessly.
Sitting – Practice good posture. Avoid sitting on your tailbone for long periods of time. Imagine a string is attached to your crown, drawing your head and vertebrae upwards. Don't hunch forward – roll your shoulder blades back and down. Your arms should bend at the sides of your torso, with your eyes gazing straight forward.
Standing up from a chair – Bend forward at the waist. Use your hands to push off of your thighs while exhaling.
Getting out of bed – Roll onto your side and bend your knees. Let your legs down off the bed, then use your arms to push yourself up.
Breathing – Breath using your diaphragm. Fill your belly, not your chest, up with air. This engages your diaphragm and strengthens your abs. Exhale whenever you exert your core, such as when you pick up your baby.
Returning to Exercise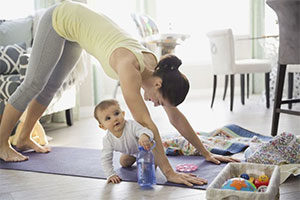 When your OB-GYN gives you the green light, walking is the perfect way to start slowly reincorporating exercise into your routine. You can start with a half-mile, and work your way up to 3-5 miles each day. Engage your core muscles while walking and breathe using your diaphragm.
You can incorporate more rigorous aerobic exercises, like the elliptical or jogging, after a few weeks of injury-free walking. If these are too strenuous on your joints, you might try swimming, bicycling, or yoga.
Practice:
Squats
Squat jumps
Heel slides
Heel lifts
Bridges
Avoid:
Push-ups
Planks
Burpees
Crunches
Mountain climbers
Pilates 100s
Any exercises that put too much strain on your abs
What is Diastasis Recti?
Diastasis recti is a very common post-partum injury – about two-thirds of women experience diastasis recti, but few are able to identify the problem. The condition makes your belly appear to still be pregnant, even month after delivery. Many women believe this is stubborn baby weight and will overexert themselves trying to burn it off. About 30% of women are still affected at least one month after birth.
This condition has nothing to do with pregnancy weight or fat. Essentially, diastasis recti is a type of hernia, characterized by a separation of the right and left abdominal muscles, causing the distinguishing rounded stomach "paunch." The separation is another effect of your loosening muscles and expanding uterus.
Identifying Diastasis Recti
You can actually detect diastasis recti for yourself at home. Lie on your back, while bending your knees, with your feet planted on the floor. Align the fingers of one hand along your abdominal midline at your bellybutton. Engage your core to bring just your head off the ground, and gently press your fingers into the midline. If you can feel a gap – two, three, or more fingers wide – then you may have diastasis recti.
Treating Diastasis Recti
If you believe you are experiencing diastasis recti, call your OB-GYN. The condition is usually treated with a gentle exercise routine, such as the one described above. Severe cases may be treated with surgical repair. Talk to your doctor about your questions and concerns.
If you have questions about exercising after pregnancy or any other OB-GYN concerns, we encourage you to call us at (844) 863-6700 or visit us at www.draliabadi.com.

Latest posts by Dr. Thaïs Aliabadi
(see all)
Reader Interactions