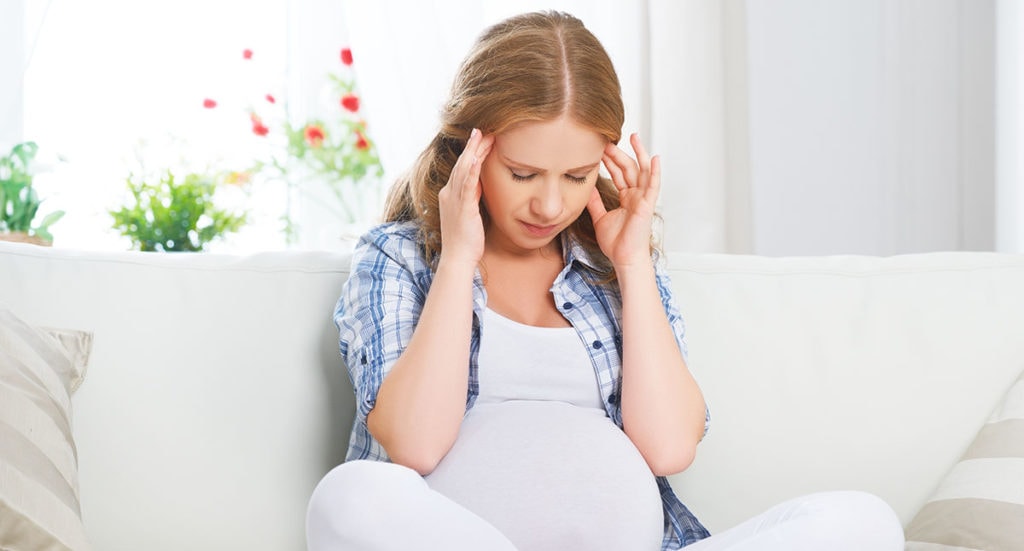 There's no doubt about it, pregnancy can be stressful. Sure, pregnancy itself is natural–most women go through it at least once; by age 44, 86% of women have had at least one pregnancy.
But being an ordinary occurrence doesn't detract from the enormous stress that can accompany pregnancy.
Take a moment to think about it: an expectant mother has become a virtual factory housing an exceedingly complex assembly line for the miraculous manufacture of a brand-new human being.
Expectant moms are going to suddenly gain a lot of weight, and they are going to go through overwhelming metabolic and hormone changes.
So, pregnancy by itself is both emotionally and physically stressful, even before considering additional factors that can add to the stress of even a normal pregnancy.
How does stress work? Is all stress bad?
Not all stress is harmful. When our ancestors encountered a perceived threat, like a marauding tiger or a warrior from another tribe, their bodies reacted defensively. The threats that we perceive are different, but our physiological responses remain much the same. They include:
The hypothalamus
The hypothalamus, a tiny center at the base of the brain, sets off an alarm through a combination of nerve and hormonal signals. This system prompts receptors in the adrenal glands (located on top of the kidneys) to release a surge of hormones, including adrenaline and cortisol.
Adrenaline
Adrenaline increases the heart rate, elevates blood pressure, and boosts energy supplies.
Cortisol
Cortisol is the primary stress hormone. It increases sugars in the bloodstream, enhances the brain's use of those sugars, and increases the availability of substances that repair tissues.
The body's threat response system is designed to be self-limiting. Once the threat has passed, hormone levels return to normal. As adrenaline and cortisol levels drop, the heart rate and blood pressure also decrease.
But when stress is unrelenting, and you constantly feel under attack, that fight, flee, or freeze reaction stays turned on. It's these constant and unhealthy chronic stress levels, and their effect on pregnant women, that we are talking about here.
Stress can be chronically elevated by:
work problems
poverty
separation or divorce
substance abuse
obesity
mental health issues
an illness unrelated to the pregnancy
housing problems
legal issues
serious illness or death of a loved one
being the victim of a crime
86% of pregnant women report very stressful events
A study published in August 2020 reported that 47% of the pregnant women participants had three or more stressful events, 39% had one or two, and only 14% experienced no such occurrences.
Then, marinate a pregnant woman, together with all these stressors, in the universal pressure-cooker caused by the Covid pandemic.
What are the effects of maternal stress on fetal development?
The consequences of stress on a pregnant woman have been acknowledged for centuries. It has only been in the last couple of decades that researchers have studied the effects of maternal stress upon the neurodevelopment of a fetus.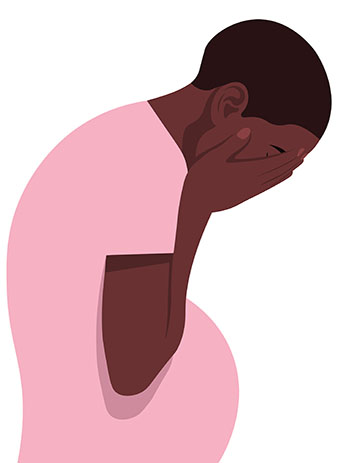 Growing evidence suggests even mild forms of maternal stress and depressive symptoms during pregnancy are linked with long-term consequences to the exposed fetus.
A 2019 neuroscience study determined that maternal prenatal depression is linked to stress reactivity in the newborn. Furthermore, these influences continue postpartum, negatively affecting child maturation up to at least preschool age.
A pregnant woman's high anxiety levels can physically affect her baby's development in the womb, often leading to preterm birth. In addition:
Maternal stress may increase the risk for developmental delay among low-birth-weight babies, even if they did not experience initial neonatal complications.
Several pediatric studies show an association between maternal stress in pregnancy and congenital heart defects in the child.
Women with high levels of stress during pregnancy have an increased risk of having children with autism-like characteristics. This was most pronounced in children of women with high stress, anxiety, and maternal depression during the first trimester.
Maternal mood can affect fetal brain development in the womb
A new study, published in the Journal of the American Medical Association Open Network on December 7, 2020, indicates that women's stress during pregnancy can affect the developing brain of their unborn children. This effect has been graphically documented by fetal brain scans.
Expectant mothers with higher anxiety levels were more likely to have children with weaker connections between two brain areas involved in higher cognitive functions.
"Toxic levels of anxiety … appear to be having direct effects on the way the fetal brain is being sculpted and organized in utero," said Catherine Limperopoulos, the study's author. "What the expectant mother is experiencing, the unborn baby is experiencing as well."
This is caused by the primary stress hormone, cortisol, crossing the placental barrier between mom and baby.
Other studies have found unusual neurodevelopmental patterns in the frontal lobes of children exposed to prenatal maternal stress, together with changes in the white matter that is responsible for organizing communication between the various grey matter parts of the brain.
Grey matter in the brain is where thinking happens, while white matter connects the dots of the thought process.
What are telomeres?
Another study published in February 2021 found that maternal anxiety can shorten the length of a baby's telomeres. Telomeres are the protective caps located at the tips of our chromosomes. They are responsible for protecting our cells from aging as they multiply– sort of like the plastic caps at the end of shoelaces.
What can be done to protect an unborn baby from their mother's stress?
The shortest right answer to that question is: diminish the mother's stress. Teaching an expectant mother to practice positivity will lessen her stress, and thus diminish the amount of cortisol that will overflow into her baby through the placenta.
Nurse-Family Partnership is over 40 years old and works effectively to minimize prenatal stress and improve the lives of first-time mothers. Their target is young mothers exposed to the highest levels of psychological distress.
What is the Nurse Family Partnership?
Nurse Family Partnership is a nonprofit which arranges regular and frequent home visits from registered nurses to low-income first-time mothers; the visits begin during pregnancy and continue through the baby's second birthday.
It began as an academic exercise run by David Olds, PhD and his colleagues. The first trial was conducted in the late 1970s in a predominantly white, low-income neighborhood in Elmira, New York. Over the next three decades, Professor Olds (now at the University of Colorado) conducted three more randomized controlled trials in similar socioeconomic neighborhoods. They gathered intensive and comprehensive data from each trial.
This methodology greatly contributed to the strong evidence-based development of the Nurse Family Partnership.
Their clients are:
universally young
most are single
many are minorities
the median age is 20
84% are unmarried
57% have completed high school
the average yearly income is $9,000
The Nurse Family Partnership has three major goals
Improving birth outcomes by helping women improve their antenatal health.
Improving child development by helping parents provide competent postnatal care.
Improving the mothers' own health and self-sufficiency by helping them set goals for themselves, and take steps to accomplish those goals, including planning the timing of subsequent pregnancies.
Based upon hugely successful results from the earlier clinical trials, Nurse Family Partnership was implemented in cities across the United States in 1996.
This successful nonprofit contributed to the inclusion of funding for maternal and infant at-home visiting in the Affordable Care Act of 2010.
Mitigating maternal psychological distress is critically important!
We applaud the practices of neuroscience and psychiatry as they uncover how life events generate prenatal maternal stress. If you are pregnant, pay attention to your stress responses because they might not be yours alone. Your emotional well-being is inextricably linked to your baby.
About Dr. Aliabadi
As one of the nation's leading obstetricians, Dr. Thaïs Aliabadi offers the very best in gynecology and obstetrics care, including telehealth appointments. Together with her warm professional team, Dr. Aliabadi supports women through all phases of life. She fosters a special one-on-one relationship between patient and doctor.
We take our patients' safety very seriously. Our facility's Covid-19 patient safety procedures exceed all CDC and World Health Organization recommendations. Masks are required in our office at all times during this coronavirus pandemic.
We invite you to establish care with Dr. Aliabadi. Please click here to make an appointment or call us at (844) 863-6700.
The practice of Dr. Thais Aliabadi and the Outpatient Hysterectomy Center is conveniently located to patients throughout Southern California and the Los Angeles area. We are near Beverly Hills, West Hollywood, Santa Monica, West Los Angeles, Culver City, Hollywood, Venice, Marina del Rey, Malibu, Manhattan Beach, and Downtown Los Angeles, to name a few.

Latest posts by Dr. Aliabadi Education Team
(see all)