January is Cervical Health Awareness Month. In keeping with that theme, here's some vital information you need to know because it could save your life. Literally.
Cervical cancer is common. Over 500,000 women will be diagnosed with cervical cancer each year. 13,000 of those women will be Americans.
Who's most at risk for cervical cancer?
All women are at risk of developing cervical cancer, but it occurs most often in women over the age of 30.
Cervical cancer is both detectable and curable
Cervical cancer is the easiest gynecologic cancer to detect. The available screening tests, if used regularly, are dependably accurate.
Cervical cancer is also highly curable when it's detected and treated early.
What causes cervical cancer?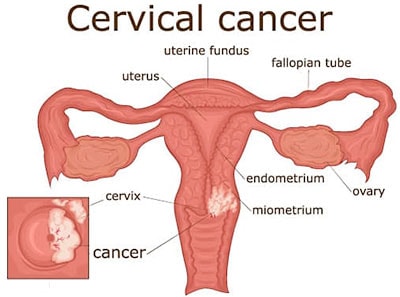 Like all cancers, cervical cancer commences when cells begin uncontrolled growth.
In the case of cervical cancer, the uncontrolled growth is nearly always initiated by the presence of the human papillomavirus (HPV). HPV is usually transmitted during sexual activity.
HPV is so common that most sexually active people will have it at some point during their lives. 14 million new cases are reported each year. Currently, about 80 million people in the United States have HPV.
Despite the prevalence of HPV, only a very small percentage of those who incur HPV will go on to develop cervical cancer.
HPV symptoms vary. Many cases are so mild that the host can be unaware of his or her HPV positive status. More severe varieties of HPV cause genital warts. Other types of HPV cause the sort of cell changes that can turn into cervical cancer.
The following do not directly cause cervical cancer, but they increase the risk that the HPV virus could result in cervical cancer:
Smoking
Being HIV-positive (or having another autoimmune condition)
Using birth control pills for more than five years
Multiple sexual partners
An effective HPV vaccination is available
The Centers for Disease Control (CDC) recommend that all boys and girls get the HPV vaccine in their preteen years when it's most effective. When administered at ages 11 or 12, only two doses of the vaccine are necessary. The vaccine is effective for those aged up to 45, but for those 15 and older, three doses are required.
Screening is your best defense against cervical cancer
The two tests used for cervical cancer screening accurately identify those women who are at the highest risk of developing this type of cancer.
The HPV test displays the presence of the HPV virus. HPV tests are not recommended for women under the age of 30, because the virus is usually transient in this age group.
A Pap test (named after Dr. Georges Papinakolaou, the Greek physician who pioneered the test) looks for precancerous cell changes in the cervix that have been caused by HPV.
The CDC recommends commencing regular Pap tests at age 21. Thereafter, Pap tests should be administered every three years. Beginning at age 30, an HPV test is generally administered in conjunction with the Pap test.
What are the early signs of cervical cancer?
In the early stages of cervical cancer, there may be no detectable symptoms. Later on, abnormal bleeding, frequent or urgent need to urinate, pelvic pain (especially during intercourse), or an unexplained loss of weight, may indicate the presence of cervical cancer.
How to treat cervical cancer
Surgery, radiation, and chemotherapy are the standard methods of treating cervical cancer. Immunotherapy, in which the body's own defense mechanisms are recruited to fight cancer, is showing bright promise as a cervical cancer treatment.
Cervical cancer survival rate
When cervical cancer is detected at stage 0 or stage I, the current five-year survival rate is about 93%. Survival rates are only estimates and can't predict what will happen to any individual person. It's important to talk to your doctor about any concerns you have about HPV, vaccines, and cancer.
About Dr. Thais Aliabadi
As one of the nation's leading OB-GYNs, Dr. Thaïs Aliabadi offers the very best in gynecological and obstetric care. Together with her warm professional team, Dr. Aliabadi supports women through all phases of life. She fosters a special one-on-one relationship between patient and doctor.
We invite you to establish care with Dr. Aliabadi. Please click here to make an appointment or call us at (844) 863-6700.
We take our patients' safety very seriously. Our facility's Covid-19 patient safety procedures exceed all CDC and World Health Organization recommendations. Masks are required in our office at all times during the coronavirus pandemic.
The practice of Dr. Thais Aliabadi and the Outpatient Hysterectomy Center is conveniently located to patients throughout Southern California and the Los Angeles area. We are near Beverly Hills, West Hollywood, Santa Monica, West Los Angeles, Culver City, Hollywood, Venice, Marina del Rey, Malibu, Manhattan Beach, and Downtown Los Angeles, to name a few.

Latest posts by Dr. Thaïs Aliabadi
(see all)