What is a mammogram?
Mammograms are X-ray images designed for the early detection of breast cancer or benign abnormalities in the breast. Most people get their first mammogram around age 40. It can be used for breast cancer screening or diagnostic purposes. There are two different types of mammograms:
Screening mammogram
A screening mammogram is a digital breast exam performed to detect breast abnormalities in patients with no signs or symptoms. These abnormalities can range from benign to cancerous. The goal is to detect cancer when it's small and localized.
Diagnostic mammogram
A diagnostic mammogram is used to investigate suspicious breast abnormalities, such as:
New breast lump(s)
Breast pain
Unusual skin appearance
Nipple thickening
Nipple discharge
When an abnormality is found on a mammogram, additional testing is needed. This may require a follow-up diagnostic mammogram, breast ultrasound, or breast MRI.
Most of the time, suspicious findings are not cancerous. They can be cysts, dense tissue, or the result of an unclear image.
The Centers for Disease Control and Prevention (CDC) reported that mammograms are the most effective way to detect breast cancer. If regular screening mammograms are performed, abnormalities can be found very early — sometimes three years before they can be felt.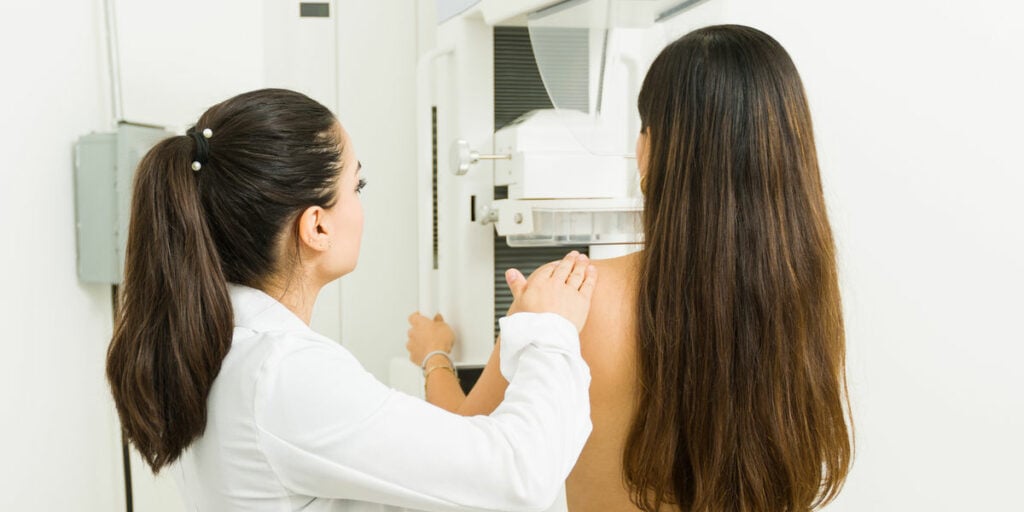 How do I prepare for a mammogram?
Some patients feel anxious about getting a mammogram, especially if it's their first time. However, there is nothing to fear. Knowing how to prepare for a mammogram can help reduce anxiety about the procedure, providing more accurate results.
Scheduling a mammogram
The first step: it's important to know where and when your appointment will be.
Make an appointment at a certified mammogram facility — preferably a Breast Imaging Center of Excellence (BICOE) — that specializes in mammograms and performs many of them every day. This type of facility can also perform additional imaging or biopsies if necessary.
The best time to schedule a mammogram is one week following your menstrual period when the breasts aren't as tender.
Try to schedule at the same facility every year so the prior mammograms can be compared to the current one for a more comprehensive assessment.
Avoid using deodorants and antiperspirants
Avoid using deodorants, antiperspirants, powders, lotions, creams, or perfumes under the arms or on the breasts on the day of your mammogram. Particles in these products can appear on the mammogram as calcifications and interfere with the diagnosis. This can result in additional testing and delay the final report.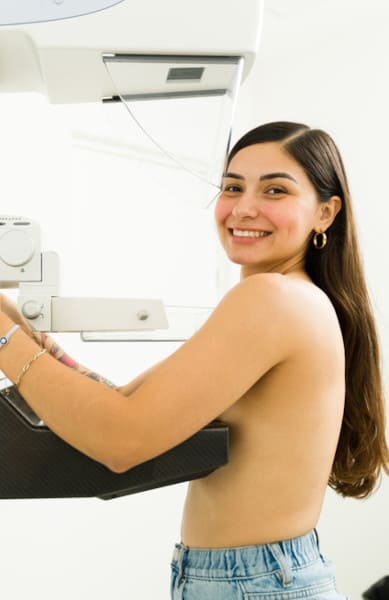 What to bring and not to bring
Bring items that are necessary and important to the procedure. Leave everything else at home.
Bring any prior mammogram imaging or biopsy results. The radiologist — the healthcare provider reading the mammogram — will compare the current exam with the prior studies. Prior studies can be used to detect subtle changes occurring over time.
Leave all jewelry and valuables at home. They can interfere with the imaging process and can be misplaced.
What to wear
You'll be asked to remove your clothing from the waist up and change into a patient gown. With a two-piece outfit, you'll only have to remove your shirt and bra and can leave your pants on.
A locker is provided to secure personal belongings.
What will I need at check-in?
When you check in before the procedure provide the following:
Personal identification
Insurance information
Doctor's written order/prescription for the mammogram study
What information do I have to provide to the technologist?
Your doctor should provide important information to the radiology technologist. This information makes sure potential problems are assessed and results are accurate. Ensure the provider is aware of your family history, reproductive history, and any risk factors for breast cancer.
Report any breast changes such as:
Dense breast tissue
Breast implants
Pregnancy
What if I have physical limitations?
Mammography requires patients to remain still in a standing position. If you cannot stand, adjustments can be made for you to remain seated. Inform the radiology technologist of any physical limitations before the exam so accommodation can be provided. This way the experience can be made as comfortable as possible.
Eat, drink, and take medications as usual
Yes, eat, drink, and take medications as usual before your mammogram. The only restriction is caffeine. Consider reducing your consumption of caffeinated beverages or completely abstaining for three to four days before the appointment. Caffeine can increase breast tenderness and cause discomfort during the exam.
What happens during the mammogram procedure?
The basic procedure for screening and diagnostic mammograms is the same. However, additional images are taken for the diagnostic mammogram. Knowing what happens ahead of time can alleviate any anxiety or fear. The procedure involves the following:
A special machine secures the breast to restrict movement and prevent blurry breast images.
A radiology technologist places one breast on a plastic plate, then places a second plate from above on the other breast and presses down firmly. This flattens the breast so the X-rays can penetrate the breast tissue.
The technologist adjusts and readjusts the breast several times to provide images at different angles.
The same procedure is repeated on the other breast.
The technologist directs you to stand still and hold your breath while each image is captured.
The procedure takes about 20 minutes.
What is digital mammography?
There are 2D mammograms (traditional mammography) — which take X-ray images of the front and sides of the breasts and 3D mammograms (digital breast tomosynthesis) — which capture photos from different angles.
According to research published in the journal Radiology, 3D mammograms produce fewer false positives and are more effective in detecting breast cancer in women.
Ask your doctor which one is best for you.
How do I get my exam results?
A radiologist will examine the digital images. The radiologist looks for evidence of cancer and other breast conditions that may require follow-up testing or treatment.
The results are compiled in a report and provided to Dr. Aliabadi. Ask her when and how the results will be shared with you.
It can be scary to get a call back from Dr. Aliabadi about your mammogram results, but it isn't always cause for concern. She will let you know if additional imaging or a biopsy may be necessary to rule out any serious conditions.
The American Cancer Society recommends an annual screening mammography at the age of 40. This combined with improved cancer treatments has resulted in a 40% decrease in the overall death rate from breast cancer.
Dr. Aliabadi has personal experience with breast cancer diagnosis. She had early-stage breast cancer based on her mammogram. She described her experience as turning her life upside down and the world collapsing around her.
The best way to advocate for personal breast health is to have an annual mammogram. Dr.Aliabadi knows how important this is from a professional and personal perspective. Screening saved her life, and it can save yours too!
Make Dr. Aliabadi your Los Angeles OB/GYN
As one of the nation's leading OB/GYNs, Dr. Thaïs Aliabadi offers the very best in women's health and well-being. Together with her warm professional team, Dr. Aliabadi supports women through all phases of life. She fosters a special one-on-one relationship between patient and doctor.
An expert in obstetrics and gynecology, Dr. Aliabadi has been a practicing OB-GYN in Los Angeles since 2002. She serves as an official gynecologist for many royal families and "celebrities," as well as instructing Cedars Sinai Medical Center residents and medical students at the University of Southern California.
We invite you to establish care with Dr. Aliabadi. Please make an appointment online or call us at (844) 863-6700.
The practice of Dr. Thais Aliabadi and the Outpatient Hysterectomy Center is conveniently located for patients throughout Southern California and the Los Angeles area. We are near Beverly Hills, West Hollywood, Santa Monica, West Los Angeles, Culver City, Hollywood, Venice, Marina del Rey, Malibu, Manhattan Beach, and Downtown Los Angeles.

Latest posts by Dr. Aliabadi Education Team
(see all)