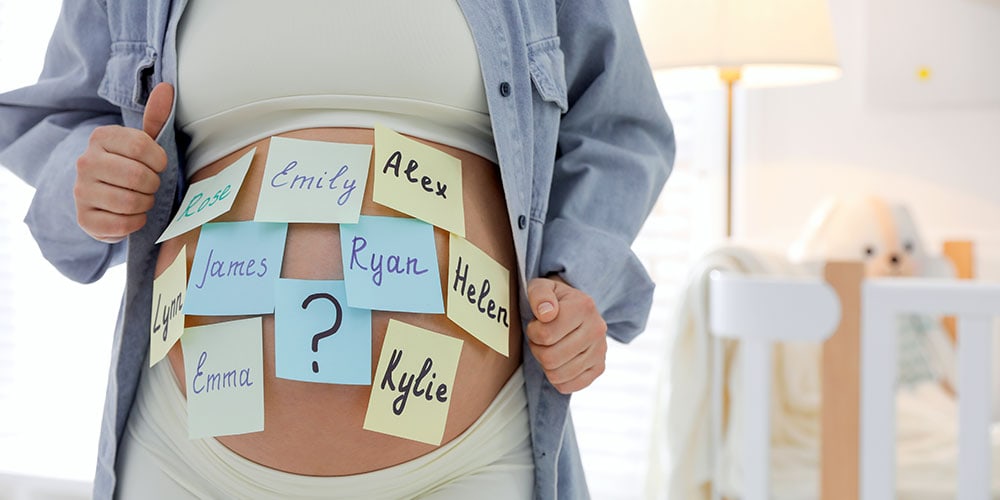 Popular names constantly change over time as trends come and go. Some names are always popular, like John or Emily, while names like Iris or Theodore are making a comeback after falling out of style.
Whether you are searching for inspiration to name your soon-to-be new family member, want to know what overly used names to avoid, or need a name for the new puppy, knowing the most popular names is a great tool for choosing your favorite.
The top baby names of 2021 include some traditional favorites, classic biblical names, nature-inspired names, and new, creative options.
If you're keeping the gender of the bun in the oven a secret – or are just tired of "boy names" and "girl names" – this list also includes unisex names! These names are at the end of our list, so keep reading if you want some unisex options and inspiration.
Creative Spellings
It's become very popular to spell common names in new ways. So, this list doesn't lump together the same name in different spellings. For example, Rylee, Ryleigh, and Riley all appear on this list. Varying the spelling of common names is becoming more and more, well, common; therefore, they are differentiated on this list as different names.
It also means if you see a name you love the sound of, but not so much the spelling, consider changing up the letters and see what you can come up with! Lucas is on this list, but Lukas didn't make it; John made the list, while Jon, Jonathan, and Johnathan did not.
What goes into picking your baby's name?
A lot of factors can go into naming your child. Parents have many things to consider, from family history to personal meanings to that annoying kid in your 5th-grade class whose name has not escaped you.
Sound also plays a part in parents settling on a name since you'll have to say it all the time, and your child will have to hear it. And as this year's list exemplifies, spelling is becoming more and more important when choosing a name.
And now, the Top 218 Baby Names of 2021
Here are the 218 most popular baby names of 2021. Check out this list for inspiration or to satisfy your curiosity for what names we'll all be hearing more often.

Top 18 Unisex Names of 2021
Quinn
Charlie
Riley
Rylee
Asher
Adrian
Skylar
Ryleigh
Avery
Alex
Declan
Rowan
Jordan
Dylan
Jameson
Ryan
Kai
Levi
2021's Baby Naming Trends
Of course, everyone has different associations with names, and everyone may not see, say, Caleb as a name related to religion. But to dive into this list, we'll discuss some of the trends in names for 2021. Understanding the roots behind some of these names may inspire you to choose one of these names for your own child.
Biblical Names
Names like Isaac, Caleb, Ezekiel, Joseph, and more on this list have origins in the Bible. While many opt for these names because of their holy origins, others may want to avoid them for the same reason.
However, despite religious association, biblical names like Mary, Eve, and Rebecca have been popular for centuries for their pleasant pronunciations and deep meanings. Don't let a lack of faith stop you from choosing one of these lovely names.
Nature-Inspired Names
The girls take the cake in this category by a long shot. Names like Violet, Willow, Iris, Jade, Ruby, and more are names from the beauty of nature and have been popular for a long time.
The name Hunter could be considered nature-themed for boys, as could Easton or Miles, but it's a bit of a reach. Nevertheless, if you like this style of name, but want more boy options, consider Leaf, Flint, Birch, Cliff, or Bear. Maybe consider names next time you take a walk outside.
Old-Fashioned Names
Names that were once reserved for older generations are coming back into style in full force. This includes sweet girl names like Eva, Delilah, Eleanor, and Melody.
Old-fashioned boy names on this list include Levi, which landed in the top 5 names of 2021, Henry, Weston, and many more. These names have a sense of dignity and elegance that attracts parents to them.
Our final baby naming thoughts for 2021
Parents get more and more creative every year, but don't count out the old classics that everyone still loves to bestow upon their child.
So, if you were hoping for a name you've never heard before or a lovely old-fashioned one that is back in style, hopefully, this list gave you what you were looking for. No matter what name you choose, it will be special to you and your baby.
About Dr. Thaïs Aliabadi
As one of the nation's leading OB/GYNs, Dr. Thaïs Aliabadi offers the very best in gynecological and obstetric care. Together with her warm professional team, Dr. Aliabadi supports women through all phases of life. She fosters a special one-on-one relationship between patient and doctor.
We invite you to establish care with Dr. Aliabadi, please click here to make an appointment or call us at (844) 863-6700.
We take our patients' safety very seriously. Our facility's Covid-19 patient safety procedures exceed all CDC and World Health Organization recommendations. Masks are required in our office at all times during the coronavirus pandemic.
The practice of Dr. Thais Aliabadi and the Outpatient Hysterectomy Center are conveniently located for patients throughout Southern California and the Los Angeles area. We are near Beverly Hills, West Hollywood, Santa Monica, West Los Angeles, Culver City, Hollywood, Venice, Marina del Rey, Malibu, Manhattan Beach, and Downtown Los Angeles.

Latest posts by Dr. Aliabadi Education Team
(see all)