Olivia Culpo is opening up about her personal health battle, as reported by People magazine, Fox News, and many other media outlets.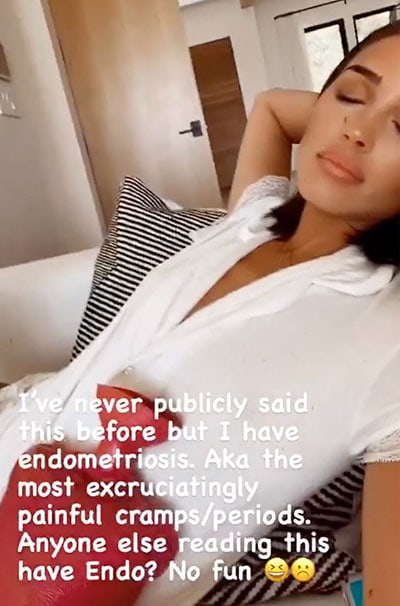 A patient of Dr. Aliabadi, the 28-year-old announced on Wednesday she has endometriosis, a painful disorder in which tissue grows outside of the uterus.
On Wednesday, the model shared on Instagram Stories her experience with "the most excruciatingly painful cramps/periods," telling fans for the first time that she has endometriosis.
"I've never publicly said this before but I have endometriosis," she wrote on her story as she cuddled with her dog on the couch. "Anyone else reading this has Endo? No fun."
According to Dr. Thais Aliabadi, endometriosis is a disorder in which the tissue similar to the tissue that typically lines the inside of a woman's uterus grows outside of the uterus. This outer tissue becomes trapped in other parts of the body, causing severe pain during menstrual periods. It can also lead to fertility issues.
The 28-year-old went on to detail her experience with the disorder and said she was surprised to learn that many of her followers had the same issues.
"I can't believe that a lot of you also suffer from endometriosis," she said. "It is so not fun, very painful."
While surgery is an option for some people, Culpo said that she is not interested in undergoing the procedure and instead has been using "lots of heating pads, lots of water and lots of Midol, honestly."
The Sports Illustrated model went on to address an aspect of the disorder which she thinks is "really important" for those suffering to keep in mind.
"If you are having very painful periods and you are not being diagnosed with what you think could be endometriosis, definitely do your research because if you don't discover that you have this, it could get in the way of your fertility," she explained. "You could have tissue growing in areas that you really shouldn't have that would interfere with maybe getting pregnant someday, your eggs could be getting damaged."
"Definitely go to your doctor if you have painful periods. Painful periods are not normal," she warned. "You just want to make sure that everything is ok if you did want to get pregnant. You just never know. You don't want to wait too late, so I want everyone to take that seriously."
Culpo also tagged Dr. Thais Aliabadi, her doctor, in the post, and said that she "has a lot of information about Endo on her page."
A few hours later, the model followed up on her Instagram Stories with another example of why it's so important to visit the doctor sooner rather than later.
"The reason why I'm so passionate about talking about this is that Dr. Aliabadi tells me about people who come to her in their 30s, 40s, 50s, 60s about not having been able to have kids," she said,
"The thing that's so sad about that is because they may have had endometriosis that may have affected their fertility in some way and if they had caught it earlier, they could have frozen their eggs," Culpo explained. "There would have been more options."
In closing out her post, she again urged that anyone with symptoms of endometriosis should "take it seriously."
"Figure out what your egg count is and then maybe look into other options if you have to," she suggested.
If you have symptoms of, or suffer from endometriosis and are in need of expert care, we invite you to establish care with Dr. Aliabadi, please call  (844) 863- 6700 to make your appointment.
About Dr. Thaïs Aliabadi
As one of the nation's leading OB-GYNs, Dr. Thaïs Aliabadi offers the very best in gynecological and obstetric care. Together with her warm professional team, Dr. Aliabadi supports women through all phases of life. She fosters a special one-on-one relationship between patient and doctor.
We invite you to establish care with Dr. Aliabadi. Please click here to make an appointment or call us at (844) 863-6700.
We take our patients' safety very seriously. Our facility's Covid-19 patient safety procedures exceed all CDC and World Health Organization recommendations. Masks are required in our office at all times during the coronavirus pandemic.
The practice of Dr. Thais Aliabadi and the Outpatient Hysterectomy Center is conveniently located to patients throughout Southern California and the Los Angeles area. We are near Beverly Hills, West Hollywood, Santa Monica, West Los Angeles, Culver City, Hollywood, Venice, Marina del Rey, Malibu, Manhattan Beach, and Downtown Los Angeles, to name a few.

Latest posts by Dr. Aliabadi Education Team
(see all)