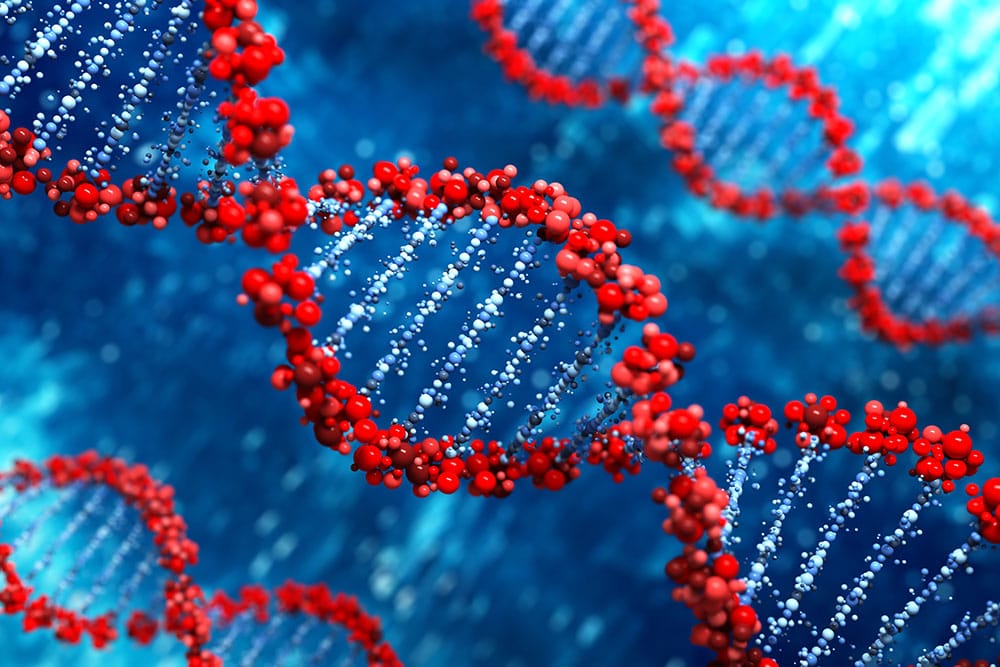 CRISPR is one of the biggest science stories of the decade. It could revolutionize everything from medicine to agriculture. Better read up now.
In 1816 (two hundred years ago!), Mary Shelley dreamed a lucid dream about a doctor and his monstrous creation. Two years later Dr. Frankenstein was introduced to the public. And ever since, we've been intrigued by the prospect of humans completely controlling the creation of other humans.
Today our understanding of the human genome is dramatically increasing
The human genome is composed of about 30,000 genes. Collectively, these genes control every aspect of human development. In the last decades, our understanding of the human genome has expanded, making us increasingly able to control and direct human development. The potential consequences of these scientific intrusions into the creation of human life have left us alternately enthused and terrified, enthralled and horrified. Frankenstein 2.0.
As the public learns of our new abilities, attitudes towards human gene editing and its astonishing results have become just as varied, unpredictable, and fascinating as the human genome itself.
A brief timeline of gene editing
In 1987, Japanese researchers discovered some quirky repeating sequences in the DNA of E. coli bacteria. These patterns were labeled Clustered Regularly Interspaced Short Palindromic Repeats, which led to the acronym CRISPR.
In 2007 it was discovered that CRISPRs are part of a bacteria's immune system. They enable the bacteria to fend off invading viruses by directing warrior enzymes (called Cas9) to track down an invading virus and identify it as an alien threat. The Cas9 enzymes then eliminate that threat by literally chopping up the viruses' DNA.
In 2013, scientists learned to use Cas9 enzymes to slice and resection the DNA of mice.
Since 2013, researchers have learned to use the burgeoning CRISPR/Cas9 gene editing technology to remove potentially harmful genes from human cells.
Gene editing techniques are versatile and have many applications (like wiping out malaria)
In addition to excising bad genes from human cells, CRISPR/Cas9 gene editing also enables the insertion of healthy replacement genes into those same cells.
In other words, medical professionals can now use a Cas9 enzyme to remove a gene that could eventually cause a fatal disease, and then insert a beneficial gene to replace the bad gene. Wow.
As you can imagine, the potential consequences of this brave new technology are quite beyond imagination. We can, however, see a little way into the future. Some of the potential future CRISPR/Cas9 applications include:
editing crops to be more nutritious
ending genetic diseases
creating powerful new antibiotics and medicines
wiping out an entire species
Researchers could modify the Anopheles mosquitoes (the ones that carry malaria) so that they produce only males. A gene drive could then be used to establish that trait throughout the entire population of Anopheles mosquitoes. It wouldn't take long for the species to go extinct.
Our control of these astonishing new techniques is still fragile
Researchers recently discovered that gene editing gone wrong can accidentally erase and/or rearrange wide swaths of DNA, in ways that might endanger human health. Some recent studies also show that cells edited by CRISPR technology can themselves inadvertently create cancer cells. But these are beginner mistakes. Such bungling is inevitable this early in the learning curve. Those rookie errors will certainly be overcome as CRISPR technology continues to gain momentum.
Widespread interest, apprehension, and condemnation surrounds the creation of super babies
Researchers assert they are light years away from mastering the technology required to construct designer infants. There will be no CRISPR babies surpassing Einstein, Lebron James, Shakespeare, or Abraham Lincoln anytime soon. But the ongoing cascade of astonishing breakthroughs makes that scientific self-deprecation suspect. Just look at the accelerating progress CRISPR technology has achieved in the last decade, since the Cas9 enzymes were discovered.
Our abilities to control our genetic makeup are increasing exponentially. It won't be long until bespoke infants are realistically, not just theoretically, available. At that point it will be appropriate to ask: "How ready is the human race to play God?"
In the next installment of this two-part blog, we'll address some ethical and moral concerns and how Americans are reacting to these amazing breakthroughs. Let me know what you think. Thaïs
About Dr. Thais Aliabadi
As one of the nation's leading OB-GYNs, Dr. Thaïs Aliabadi offers the very best in gynecological and obstetric care. Together with her warm professional team, Dr. Aliabadi supports women through all phases of life. She fosters a special one-on-one relationship between patient and doctor. We invite you to establish care with Dr. Aliabadi. Please click here to make an appointment or call us at (844) 863-6700.
Read the full article at: www.vox.com

Latest posts by Dr. Thaïs Aliabadi
(see all)