It's about time the American Cancer Society finally made this change. It's long overdue and will save a lot of lives if people follow this recommendation.
For the last 15 years, I've been strongly suggesting that my patients begincolorectal cancer screening at age 45 (and sometimes even younger) and not wait until they are 50. So these new guidelines won't surprise any of my patients.
Colorectal cancer is on the rise again
If you were born in 1990, you have twice the risk for colorectal cancer than if you were born in 1950.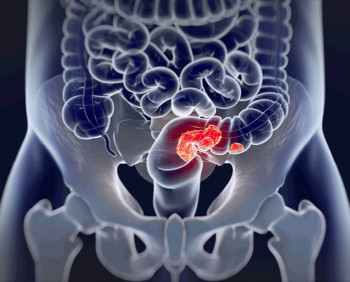 From 1970 to 2004, deaths from colorectal cancer among Americans aged 20 to 54 steadily diminished. But since 2004, the colorectal cancer death rate in that age group has been increasing by about 2% each year, according to a study published last year in the Journal of the American Medical Association.
The cause of this alarming increase is still a mystery, although obesity, inactive lifestyles, and flawed dietary habits may be associated factors. Whatever the causes may be, the increase is real and it is widespread. It affects everyone at average risk for colorectal cancer. This includes 80% of the United States population.
How deadly is colorectal cancer?
Colorectal cancer includes both cancers of the colon and the rectum. It is among the leading causes of cancer death in the United States. It will be diagnosed in more than 140,000 Americans this year, and over 50,000 of us die will die this year from this type of cancer.
How many would have died if it was caught very early? Almost none. That is why these new screening guidelines are so important!
What are the new colorectal cancer screening guidelines?
In response to the steady increase in colorectal cancer among younger patients, the American Cancer Society (ACS) has issued new screening guidelines. Now, colorectal cancer testing should begin at age 45 for both men and women, instead of the prior recommended age of 50. The practical effect of the new screening guidelines is that an additional 22 million Americans are advised to immediately undergo testing.
Does colorectal cancer screening mean you're getting a colonoscopy?
Not necessarily, though a colonoscopy is by far the most popular screening method and is still considered the gold-standard. The ACS researchers amplified their new colorectal cancer screening guidelines by identifying five ways to screen for colorectal cancer.
These alternatives tend to be less expensive and a lot more convenient than a colonoscopy, but you need to check with your doctor if they are appropriate for you. It is also not a bad idea to check with your health insurance provider to confirm what they will cover.
Colonoscopy options can include:
An annual $30 take-home fecal immunochemical test (FIT). When performed annually, the FIT may help detect blood in the stool, an early sign of malignancy.
A multi-target stool DNA test is suggested every three years called "Cologuard" This revolutionary procedure was approved by the FDA in 2014. The beauty of Cologuard is it does not require preparation or dietary or medication restrictions, which will make a lot of patients very happy. It is also a great alternative for anyone who simply refuses to have a colonoscopy because some screening is much better than none. But it is not recommended for patients who have a history of cancer or other risk factors.
A "virtual colonoscopy" every five years. This procedure has been shown to detect 90% of polyps 10 millimeters or more in diameter. That's the same accuracy reported for a traditional colonoscopy. But a colonoscopy able to detect much smaller polyps than a virtual colonoscopy can.
A flexible sigmoidoscopy is also suggested every five years. A colonoscopy and sigmoidoscopy both use a thin flexible tube with a camera at the end to look at the colon
They differ in the areas of the colon they can see. Colonoscopy examines the entire colon, while sigmoidoscopy is a partial exam that covers only the left side of the colon. There is generally no pain with a sigmoidoscopy, so patients can return to regular activities, including driving, right away.
In the end, though, a colonoscopy may still be required to confirm signs of cancer or pre-cancerous DNA. As with Cologuard, if the FIT test yields positive results, your doctor will likely recommend a colonoscopy for further analysis. That's because the colonoscopy, while unpleasant for some, is a more thorough screening technique with many decades of proven results.
Only three countries have seen colon cancer rates drop in the past 20 years
Wondering who are they?  The United States, Poland and Germany. So what do these three countries have in common?  They all use the colonoscopy to screen for cancer. In the rest of the developed world, stool testing is used for colon cancer screening and colon cancer remains the number two cancer killer.
It is critically important to talk with your doctor about your risk for colorectal cancer. and what testing approach is best for you. The key here is if it is caught early, it's just about 100% curable.
That alone should inspire you to be  proactive and find out about getting your testing done today. Let me know what you think!
Thaïs
As one of the nation's leading OB-GYNs, Dr. Thaïs Aliabadi offers the very best in obstetric care. Supported by her warm professional team, Dr. Aliabadi treats women through all phases of life and fosters the special one-on-one relationship between patient and doctor.

We also invite you to establish care with Dr. Aliabadi. Please click here to make an appointment or call us at (844) 863- 6700.

Latest posts by Dr. Thaïs Aliabadi
(see all)
Reader Interactions