Imagine the serenely peaceful image of a sleeping mother curled protectively around her infant while the baby nurses. Odd as it may seem, this idyllic scene is likely to generate strongly conflicting responses from parents, their obstetricians and pediatricians. Many new mothers hold their baby at night while they sleep together in the same bed.
I know some patient don't tell me about this since they know how I feel. But just last week a patient had her baby roll off her bed and fell down to the floor after she fell asleep with her little one on her chest. Thankfully, her baby was just fine, but believe me, the decision to bed-share or not is a critically important one.
The joint instinct of mother and child to sleep together predates recorded human history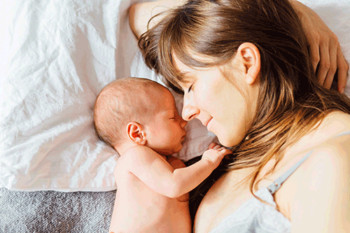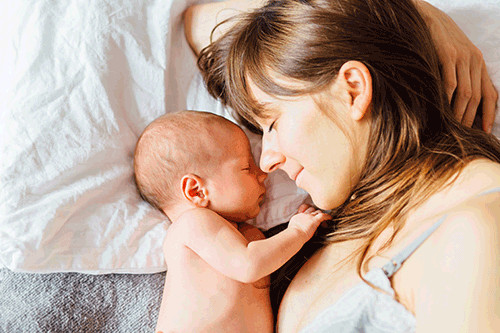 For hunter-gatherer societies, parents sharing a bed with their babies made perfect sense. The practice protected the baby from external harm, provided shared warmth, and was convenient. (A breast-feeding baby has ready access to her next meal when she's staring at the source, and a baby sleeping next to his mother can obtain that next meal with minimal disturbance to his sleeping mom.)
Parents' instinct to sleep with their children has been enjoying a resurgence, but is it safe?
According to a study from the National Institutes of Health (NIH), the percentage of infants who share a bed with their parents has grown from 6% in 1993 to 24% in 2015.
This dramatic increase in bed-sharing defies the advice of authoritative experts and institutions
The American Academy of Pediatrics (AAP) joins with the US Consumer Product Safety Commission in strongly advising parents never to share a bed with an infant under the age of four months. Underlying this mandate are the relevant data concerning the tragic infant deaths attributed to bed-sharing.
Those numbers include the 3,700 sleep-related infant deaths which occur every year in the United States. And in a 2014 study from the AAP, 69% of all infant deaths were attributed to bed-sharing. It remains a fact that Sudden Infant Death Syndrome (SIDS) is the leading cause of death among infants aged one month to one year, and bed-sharing is involved in most cases of SIDS.
Studies report that most bed-sharing babies had their mouths and noses covered at some point during the night
A videotape study of 80 babies (40 sleeping in cribs and 40 sharing a bed) was conducted by New Zealand researchers. The video playback showed that the faces of most bed-sharing babies were covered by a blanket, or a parent's arm or leg for at least an hour during the night.
Safer alternatives to bed-sharing with "room sharing" sleeping arrangements
The optimal place for a baby to sleep is in the same room with the parents, but on a separate surface, like a crib or bassinet. The sleeping surface is free of blankets, pillows and toys. This arrangement of co-sleeping decreases the risk of SIDS by as much as 50%.
Room sharing helps satisfy the natural urge for nighttime propinquity between mother and child. James McKenna, an anthropologist at Notre Dame, has been studying infant sleep for 40 years. "Babies have evolved a need to experience physical closeness with their parents, night after night after night," he says.
What's a sidecar arrangement?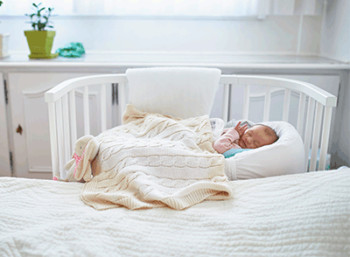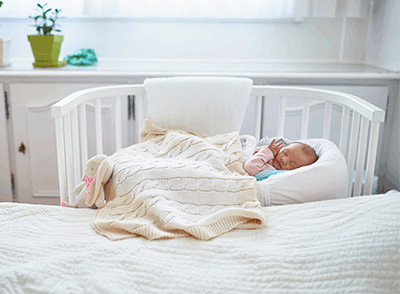 Among the innovative room sharing beds that provide the necessary nearness while keeping the baby safe is a sidecar, a crib which is attached to the parents' bed. The side of the crib next to the mother is lowered, providing easy access between mother and child, while keeping the baby safely away from pillows, bed coverings, and the random parental arm or leg.
So what's a mother to do? Well for starters I strongly advise my patients with infants under six months old to NOT sleep in the same bed with their babies.
But I also strongly advise that my patient's babies sleep in the same room with them, but on a separate and safe surface.
One more major caveat: relevant studies of parents who smoke, drink and/or do drugs show they are involved in a great many sleep-related infant deaths. Any parents who drink and/or do drugs should never share a bed with their children of any age, and parents who smoke should never sleep in the same room with their children.
But bed-sharing happens. PLEASE be upfront with your doctor; start a conversation about safe bed-sharing. It's important to know the facts of SIDS, and then make the right choices for your family.
Okay, I'll get off the soap box now. It's been a long day and my feet are tired anyway. :)
As one of the nation's leading OB-GYNs, Dr. Thaïs Aliabadi offers the very best in obstetric care. Supported by her warm professional team, Dr. Aliabadi treats women through all phases of life and fosters the special one-on-one relationship between patient and doctor.

We also invite you to establish care with Dr. Aliabadi. Please click here to make an appointment or call us at (844) 863- 6700.

Latest posts by Dr. Thaïs Aliabadi
(see all)