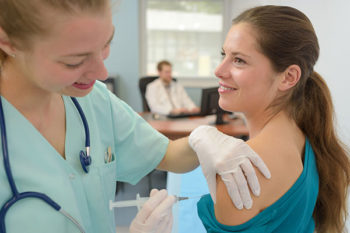 Everybody seems to have HPV. At least that's the impression from a casual internet search about the human papilloma virus (HPV). No wonder why the HPV vaccine is so important to know about.
In fact, according to the Centers for Disease Control (CDC), approximately 50% of the United States population has one form or another of the more than 150 strains of HPV.
And then there is Genital HPV, which is spread by practically any form of skin to skin sexual contact, including oral sex.
Each year, about 14 million people become newly infected. HPV is chronic, and it can last a lifetime. To make matters worse, the condition can be asymptomatic. Often I tis unrecognizable, especially in men, who can never know they have it.  In most cases, an HPV infection that causes genital warts will clear on its own. It usually takes anywhere from a few months to a couple of years. But even though the genital warts can disappear on their own without treatment, a person may still have the virus in their body.
Some of consequences of HPV are deadly serious

About 12,000 women annually are diagnosed with cervical cancer caused by HPV
4,000 women die from HPV related cervical cancer each year
Human papilloma viruses are related to several other forms of cancer that affect both men and women
The FDA's new recommendation for the HPV vaccine for adults aged 27 to 45 is great news.
In 2014, the FDA approved Gardasil 9, a vaccine which covers nine of the HPV types most likely to cause several forms of cancer in both men and women. But there was an HPV vaccine age limit. It only covered males and females from the ages of 9 through 26.
The FDA, the CDC, the American Cancer Society, and several other authoritative entities strongly recommend the HPV vaccine for girls and boys aged 11 or 12. Some groups have interpreted that recommendation as encouraging teenage promiscuity. I simply do not believe this is true and studies back that up.
The HPV vaccine works best when it is administered before sexual activity begins. Giving the HPV vaccine to boys and girls simply protects them from genital warts and for girls, cancer when they are adults, without any downside.
In 2014 the FDA approved the HPV vaccine for ages 9 to 26. Why just them?
The research which justified the 2014 approval of Gardasil 9 was focused only on participants under the age of 27. The logic behind the exclusion of older participants from the underlying studies seems to be that HPV is so ubiquitous, and young Americans are so sexually active, that practically everyone has been exposed to the virus by the age of 26.
The studies that supported the FDA's approval of Gardasil 9 assumed just about every American has become sexually active by the age of 26 and has already acquired some form of HPV by then. Vaccination is prospective only, so it seemed logical the HPV vaccine after 26 would not be effective.
A new Gardasil 9 study focused on women aged 27 to 45, and that made a big difference for us
The recent study that caused the FDA to expand its 2014 approval of Gardasil 9 focused on about 3,200 women, aged 27 through 45. These women took Gardasil, the predecessor to Gardasil 9. The study showed that Gardasil was 88% effective in preventing:
persistent infection
genital warts
vulvar and vaginal precancerous lesions
cervical precancerous lesions
cervical cancer
How does HPV affect men?

Because Gardasil and Gardasil 9 are in many ways functionally equivalent, the efficacy of the HPV vaccine for adults between 26 and 45 years of age can be inferred from the Gardasil study.
The efficacy of the HPV vaccine for men 27 through 45 years of age was deduced through data gathered from the women's study, as well as from a clinical trial of 150 men aged 27 through 45.
HPV symptoms are both less prevalent and less severe among men. But the HPV vaccine for men is still important, so they will not acquire an HPV infection and unwittingly pass it on to their female sexual partners.
What does the HPV vaccine cost and does insurance cover it?
Gardasil 9 is now the only available HPV vaccine, so its maker (Merck) has a virtual monopoly on the market. Although there's a variation between medical care providers, the three series HPV vaccine regime costs between $400 and $500. A two-shot regimen, which is often sufficient for patients between 26 and 45 would cost less. Merck does provide a subsidy program for patients who qualify for HPV vaccination but can't afford it.
The Affordable Care Act (Obamacare) mandates insurance coverage for preventative medication, as determined by the CDC. Following the FDA's 2014 approval of Gardasil 9 for those aged 9 to 26, the CDC labeled Gardasil 9 as preventative for that age group. Reliably sourced rumors say the CDC will soon follow the FDA's newly widened approval and determine that the HPV vaccine for adults is also preventative (and therefore covered by insurance).
The most effective way to prevent HPV is to get vaccinated before exposure to the disease through sexual activity. This is why experts urge vaccination at a young age for boys and girls. Now this new study from the FDA is welcome news for adults! Let me know what you think.
Thaïs
About Dr. Thais Aliabadi
As one of the nation's leading OB-GYNs, Dr. Thaïs Aliabadi offers the very best in gynecological and obstetric care. Supported by her warm professional team, Dr. Aliabadi treats women through all phases of life and fosters the special one-on-one relationship between patient and doctor. We invite you to establish care with Dr. Aliabadi. Please click here to make an appointment or call us at (844) 863-6700.

Latest posts by Dr. Thaïs Aliabadi
(see all)