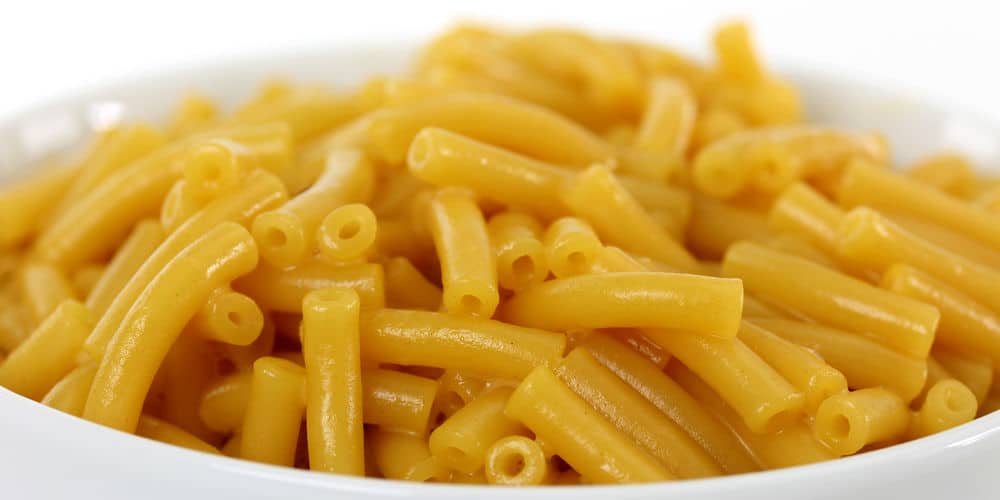 Harmful chemicals that were banned from children's teething rings and rubber duck toys over ten years ago seem to be present, in high concentrations, in a food beloved by almost all children: macaroni and cheese made with powdered cheese.
The chemicals in this kids' favorite meal (and adults' guilty pleasure) are called phthalates. These chemicals are known to disrupt male hormones like testosterone and have been linked to genital birth defects in infant boys and learning and behavior problems in older children.
The chemicals migrate into food from packaging and equipment used in manufacturing, to soften plastics, as solvents, in adhesives, and in ink on packaging. Since they bind with fats, they tend to build up in fatty foods, including not just cheese but baked goods, infant formula, meats, oils and fats, and fast food, studies show.
Emerging research has also suggested links between early childhood exposure to phthalates and neurodevelopmental and behavior problems in young children, including aggression, hyperactivity, and possible cognitive delays, said Dr. Sheela Sathyanarayana, associate professor of pediatrics at the University of Washington in Seattle, who studies phthalates.
And here's a scary statistic for you, two million boxes of mac and cheese are bought every day in the United States alone (according to figures for the year 2013).
About the Boxed Mac and Cheese Study
This new study of 30 cheese products found phthalates in all but one of the samples tested, with the highest concentrations found in the highly-processed cheese powder in boxed mac and cheese mixes.
The study tested 10 different varieties of mac and cheese, all purchased in the United States, and included some that were labeled organic. They found high levels of phthalates in all of them. The phthalate concentrations in powder from mac and cheese mixes were more than four times higher than in block cheese and other natural cheeses like shredded cheese, string cheese, and cottage cheese.
The Food and Drug Administration has not banned it from food and classifies them as indirect food additives. On the other hand, Europe has banned many phthalates from use in plastics that come into contact with fatty foods, including baby food. In a 2014 report to the Consumer Product Safety Commission, it was concluded that food, drugs, and beverages, and not toys, were the primary source of exposure to phthalates.
The Problems with Phthalates
There is strong evidence that phthalates block the production of the hormone testosterone. "That means there is less testosterone available to the developing male fetus, and since testosterone is absolutely vital to build his reproductive organs, the worry is that you will get malformations and other kinds of problems that translate to health effects later," says Dr. Heather Patisaul, a professor of biological sciences at the Center for Human Health and the Environment at North Carolina State University in Raleigh.
Problems include "infertility, low sperm counts, altered male reproductive behavior and changes in the brain that are important for sex differences between men and women," as well as a heightened risk of testicular cancer later on, she said.
"If you asked most scientists about the top 10 or 20 endocrine-disrupting chemicals they worry about, phthalates would be on that list," Dr. Patisaul said. "We have an enormous amount of data."
How Pregnant Women Can Avoid Phthalates
If you're pregnant or planning a pregnancy, have young children, or want to reduce your family's exposure to phthalates for other reasons, here are some suggestions:
Eat more whole fresh and frozen fruits and vegetables, and minimize the amount of processed food you eat. "Avoid anything you find in a box that could sit around for many years," said Dr. Sathyanarayana. "There are so many steps to get to that boxed product, and every step along the way, there's usually plastic involved."
Choose low-fat dairy products such as skim milk and low-fat cheeses, and avoid high-fat foods such as cream, whole milk, and fatty meats. "We know these more toxic phthalates accumulate in fat," Dr. Sathyanarayana said.
Use glass, stainless steel, ceramic, or wood to hold and store food instead of plastics, Dr. Sathyanarayana suggested, and if you are using sippy cups and baby bottles made from hard polycarbonate plastics, don't put hot liquids in them.
Wash your hands frequently, and take your shoes off at home to avoid household dust that may be contaminated with chemical traces. Vacuum and wet dust frequently.
Food isn't the only source of exposure. Many fragrances contain phthalates, Dr. Patisaul said, so choose unscented personal care products, from cleansers, moisturizers, and cosmetics to shampoo and detergents as well.
So, the lesson here is we need to be vigilant with what we eat and feed our kids. We need to try to make the right choices, which are not always the easiest (that's an epic understatement, I know).
All Hope Is Not Lost, the Article Included Three Mac and Cheese Recipes!
Hopefully, this will lessen the mourning over the loss of our beloved "instant" mac and cheese. Though it will take longer to make it, it is hard to believe that these three great-sounding recipes from the Cooking section of The New York Times would not be at least as tasty as what comes out of the box.
If any of you try (or know) these recipes, please tell us how they turned out.
And, if by chance you have any leftovers, and are in the neighborhood, please feel free to drop some off!  Thaïs
Read the entire article in the New York Times.
About Dr. Aliabadi
As one of the nation's leading OB/GYN's, Dr. Thaïs Aliabadi offers the very best in obstetrics and gynecology, including telehealth appointments. Together with her warm professional team, Dr. Aliabadi supports women through all phases of life. She creates a special one-on-one relationship between patient and doctor.
We invite you to establish care with Dr. Aliabadi. Please click here to make an appointment or call us at (844) 863-6700.
We take our patients' safety very seriously. Our facility's Covid-19 patient safety procedures exceed all CDC and World Health Organization recommendations. Masks are required in our office at all times during the coronavirus pandemic.
The practice of Dr. Thais Aliabadi and the Outpatient Hysterectomy Center are conveniently located for patients throughout Southern California and the Los Angeles area. We are near Beverly Hills, West Hollywood, Santa Monica, West Los Angeles, Culver City, Hollywood, Venice, Marina del Rey, Malibu, Manhattan Beach, and Downtown Los Angeles.
Save
Save
Save
Save

Latest posts by Dr. Thaïs Aliabadi
(see all)
Reader Interactions