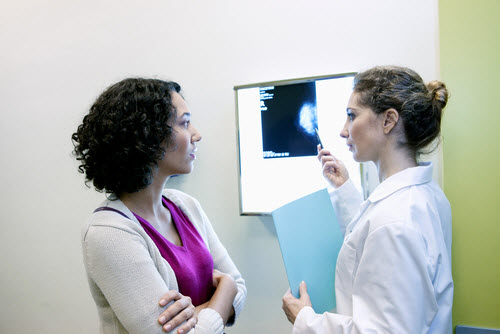 An experimental therapy seems to have eradicated cancer in a patient with metastatic breast cancer who had failed every other treatment. The goal is to reliably repeat that success in more people.
A miracle is supposed to be a sudden supernatural intervention that profoundly alters the ordinary process of life. But modern medical miracles are accomplished by researchers who perform relentless mundane drudgery for years. Such an ordinary miracle has saved the life of Judy Perkins, a 52-year-old retired engineer who lives in Port St. Lucie, Florida.
In 2003, Perkins was diagnosed with "zero stage" breast cancer 
That terminology led her to think she didn't really have cancer at all 
Nevertheless, just to err on the side of caution, she underwent a mastectomy and endured chemotherapy. For the next 10 years all went well, and Perkins was sure she had beaten breast cancer.
However, in 2013, an examination showed her cancer had not only reappeared, it had metastasized throughout her torso
There were cancerous tumors the size of tennis balls lodged in her chest and attached to her liver. She had terminal stage IV cancer, and her doctors told her that she had, at the very most, three years to live.
Perkins once again endured the agonizing rounds of treatment, from chemo to hormone therapy. But this time nothing worked. By the fall of 2015, her only plans "were to binge watch TV and read books until I died". She had a solid tumor in her upper chest that was pressing on a nerve "so hard that my arm hurt every time I moved". She could barely walk because of the cancerous tumors growing throughout her body and her pain medications were providing less and less relief. Her husband was waiting on her hand and foot.
Perkins enrolled in an experimental immunotherapy trial in December 2015 
When Perkins learned about a cancer patient who was cured of glioblastoma (an aggressive type of brain tumor) by immunotherapy, a bit of hope surfaced, and she began to look for a clinical immunotherapy trial that might accept her as a subject. That's when she found Stephanie Goff, a physician with the National Institute of Health Cancer Institute (NIHCI). Goff was involved in a clinical trial and deemed Perkins to be a good candidate.
What is immunotherapy?
Immunotherapy is a label for a broad category of therapies that enlist the body's own immune system to combat cancer cells. The human immune system naturally produces white cells that patrol the blood stream and attack alien invaders such as viruses and bacteria.
But cancer cells baffle the immune system because they start out camouflaged as the body's own cells. They then begin to uncontrollably multiply. While cancer cells are rapidly replicating, they are simultaneously mutating, in ways that enable them to evade the immune system's natural efforts to destroy them.
This new type of immunotherapy takes promising steps toward an eventual cure for cancer 
Existing immunotherapy treatments have shown some success in treatment of cancers of the blood, but they have been mostly ineffective against the sort of solid tumors that cause 90% of deaths from cancer in the United States. These solid cancers include tumors of the breast, prostate, and colon. The NIHCI program in which Perkins enrolled was an innovative endeavor, in search of a brand-new way to attack these deadly cancerous tumors.
Perkin's immune system had behaved normally. Her white blood cells had done their best to attack and destroy the alien cancer cells. However, as is usually the case with that sort of cancer, only a tiny number of Perkin's immune system cells had even begun to launch a significant attack on her cancer.
Searching for TILs and duplicating them by the billion: here's where the drudgery part comes in 
The NIHCI research group treating Perkins was led by Dr. Steven Rosenberg. His team first identified and isolated four specific mutations that were present in all of Perkins' cancerous cells. The group then focused on finding cells known as tumor-infiltrating lymphocytes, or TILs, in Perkin's immune system.
TILs have recently been recognized as enormously valuable because of their ability to effectively attack cancer cells which have already mutated.
After exhaustively searching through the many billions of cells in Perkin's blood stream, they located only 11 effective TILs 
Those few cells had managed to attach themselves to some of Perkin's cancerous cells, but they were pathetically insufficient to mount any sort of effective attack.
The NIHCI scientists next replicated over 90 billion TILs, each of them an identical copy of one of those first 11 brave little warrior cells.
"The doctors were all excited", said Perkins. "Those cells were their babies."
Perkins herself was not quite so hopeful. After all, more than a dozen different treatments had already failed her.
"I was just like, 'Yeah, whatever. It probably won't work, but maybe they'll learn something, and it will help the next generation of cancer victims.'"
Those 90 billion laboratory-created cells were infused into Perkin's bloodstream, together with the immune system booster drug interleukin 2 and Keytruda, another new immunotherapy substance that has been effective in treatment of certain cancers.
The side effects were tough on Perkins
She was constantly in severe pain. She was lethargic, fatigued, and her pain medications played havoc with her digestive tract. At one point she was shivering so badly that a muscle relaxant drug was necessary.
But like the cavalry coming to the rescue in a Game of Thrones battle scene, the TILs were turning the tide of battle
Those 90 billion TILs were doing what their ancestral 11 had attempted but could never have accomplished. Even before she left the hospital, Perkins noticed the tumor pinching the nerve in her arm was causing less pain. After a week or two at home, that tumor, and the excruciating pain that it caused, had nearly disappeared.
 A month after treatment, Perkins was able to stop taking pain medication. She was soon able to walk around the block with her husband, even though she had to stop and rest every few minutes. The improvement continued to accelerate.
When Perkins was examined three months after her treatment, she was told that the tumors had significantly decreased.
Four months after treatment, she took a backpacking trip to Mount Rogers on the Appalachian Trail.
Much remains to be done with new immunotherapy techniques 
It's important to note that, so far, Perkin's case is an anomaly. Of the 47 total participants to date, 7 have achieved some sort of remission. Those statistics can be viewed from different perspectives: "Wow, only 15% were helped". Or, "Wow, seven people whose lives were doomed have been virtually resurrected!!"
Dr. Rosenberg acknowledges that, so far, the new immunotherapy techniques only work in a small percentage of patients. "But we are getting better all the time", he said. "Oncologists have to recognize that every cancer is unique to every patient, and the new generation of treatments must reflect that. We have to develop a new drug for each and every patient."
As for Perkins, her 15-year battle with cancer has prepared her for other sorts of endurance tests. She recently competed the Ultimate Florida Challenge, a five-week kayak race around the Sunshine State.
"It's 1200 miles of pure suffering," she said. "I loved every minute of it."
This is a very exciting breakthrough in activating the human immune system against various cancers. Dr. Rosenberg says they are working literally around the clock to improve this treatment. Let me know what you think! Thaïs
About Dr. Thais Aliabadi
As one of the nation's leading OB-GYNs, Dr. Thaïs Aliabadi offers the very best in gynecological and obstetric care. Together with her warm professional team, Dr. Aliabadi supports women through all phases of life. She fosters a special one-on-one relationship between patient and doctor. We invite you to establish care with Dr. Aliabadi. Please click here to make an appointment or call us at (844) 863-6700.
Read the full article at: www.npr.org

Latest posts by Dr. Thaïs Aliabadi
(see all)