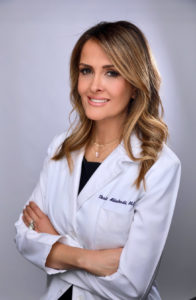 In 2020, Los Angeles Magazine, for the fifth year in a row, voted Dr. Aliabadi the top obstetrician and gynecologist in Beverly Hills (and Southern California).
This is little wonder to her patients who know her as a great doctor with a passionate approach to women's health and sympathetic bedside manner.
Dr. Aliabadi is nationally recognized for her minimally invasive approach to gynecological surgery. The board-certified doctor uses techniques that cause less pain and enable a faster recovery time than methods that include a hospital stay.
Advancing Women's Health in Beverly Hills
Existing and new patients visit the best OBGYN in Beverly Hills at her office for a variety of health concerns, including high-risk pregnancies, family planning, routine check-ups, and women considering surgery.
Don't take it from us. Here are some real patient testimonials:
"She is so nice, understanding, and takes time to explain your concerns and answers all your questions. She is really the best OBGYN!" – Glenda Minalang Villanueva
"She is one of the best doctors I know very caring and knowledgeable person! Love her so much." – Monireh B.
One of the country's best OBGYNs
Honored by the medical community, Dr. Aliabadi is a member of the esteemed 
American College of Obstetrics and Gynecology
 (FACOG). Members are physicians who are dedicated to the practice of obstetrics and gynecology. This includes 
gynecologic oncology
, family planning, fertility, and 
breast cancer risk screenings
 — all components of women's health.
Highly trained and honored by the medical community, Dr. Aliabadi is certified by the American Board of Obstetrics and Gynecology and a Diplomat of the American College of Obstetrics and Gynecology. Dr. Aliabadi implements the most advanced, state-of-the-art technology and treatment options.
Dr. Aliabadi has been providing comprehensive women's health services in Beverly Hills and the Los Angeles area since 2002. The doctor travels internationally to deliver a patient's babies and perform gynecological surgeries. She serves as the official OB-GYN for a number of royal families, as well as Hollywood celebrities, such as Kylie Jenner and Khloe Kardashian.
She also instructs residents at Cedars Sinai Medical Center, as well as medical students at the University of Southern California. 
The best in women's healthcare
Women visit Dr. Aliabadi in her office for a variety of health issues: routine check-ups, serious health concerns, high-risk pregnancies, and those considering surgery. Patients are guided through each appointment with individual attention, clear communication, compassion, and exceptional skill.
The best doctor in Beverly Hills engages the latest techniques in cancer screening and prevention. Diagnostic testing, labs, surgical, and non-surgical treatments are all performed in her West 3rd St. office.
Dr. Aliabadi assists women through all phases of life and cherishes the special one-on-one relationship between patient and doctor.
A socially aware obstetrician and gynecologist
Dr. Aliabadi is dedicated to the people who make up the Beverly Hills community. In March of 2020, at the onset of the Covid-19 pandemic, the doctor set up a Go Fund Me Campaign to buy full-face shields for medical workers in Los Angeles hospitals.
Her good friend Kylie Jenner kicked off the effort with a $1 million donation by entrepreneur Kylie Jenner (along with substantial private donations).
Donations have already been made to many Los Angeles area hospitals, urgent cares and hospices including the UCLA ER, Cedars-Sinai ER, Cedars-Sinai ICU, County USC ER, County USC ICU, St. John's ER, UCLA Olive View, Little Co. of Mary ER, Garfield Hospital ICU, Torrance Memorial ICU, West Hills ER, MLK Hospital, Sherman Oaks Hospital, Gentle Care Home Health, Excel Care Home Health, Aslief Home Health, Home Health for You, Multi-skilled Home Health, Hestia Hospice, California Nurse's Home Health.
A founding member of the best women's surgery center team
Women requiring surgery visit the state-of-art Outpatient Hysterectomy Center of Los Angeles. The medical group exclusively addresses women's surgical necessities.
Women's care at the surgery center uses procedures that used to involve pain and multiple days in the hospital. These are now completed in a surgical suite with less discomfort, and patients always go home the same day.
Dr. Aliabadi and partner Dr. Ramon Yera opened The Outpatient Hysterectomy Center, so women no longer had to endure invasive open surgeries that caused considerable discomfort, long recoveries, and hospital stays, as well as unsightly scarring.
Dr. Aliabadi's surgical practice is devoted exclusively to focusing on women's surgical needs.
Expect the very best women's healthcare
Dr. Aliabadi approaches surgical treatment with kindness and care, using modern equipment and minimally invasive procedures. Conveniently located in Los Angeles at the Cedars-Sinai Medical Center Office Towers near Beverly Hills, West Hollywood, West Los Angeles, Santa Monica and throughout Los Angeles County.
Dr. Aliabadi attended the University of California at Berkeley for her bachelor's degree and Georgetown for medical school, where she received her medical degree. She now helps train students from both the University of Southern California's Keck School of Medicine, LAC+USC medical center as well as UCLA.
We invite you to establish care with Dr. Aliabadi. Together with her warm professional team, Dr. Aliabadi supports women through all phases of life. She fosters a special one-on-one relationship between patient and doctor.
Please click here to make an appointment online or call us at (844) 863-6700.
Dr. Thais Aliabadi
8631 West 3rd St
Suite East 1110
Los Angeles, CA 90048

Latest posts by Dr. Thaïs Aliabadi
(see all)