Discovering something new about your body can be worrying, especially if it's a change you haven't heard of before. I see many patients concerned about bumps on their nipples or areola. While we're all on alert for breast changes that could indicate cancer — most bumps on and around the nipples are harmless.
I had the opportunity to discuss these worrying nipple bumps with Women's Health. Here are some highlights from the article.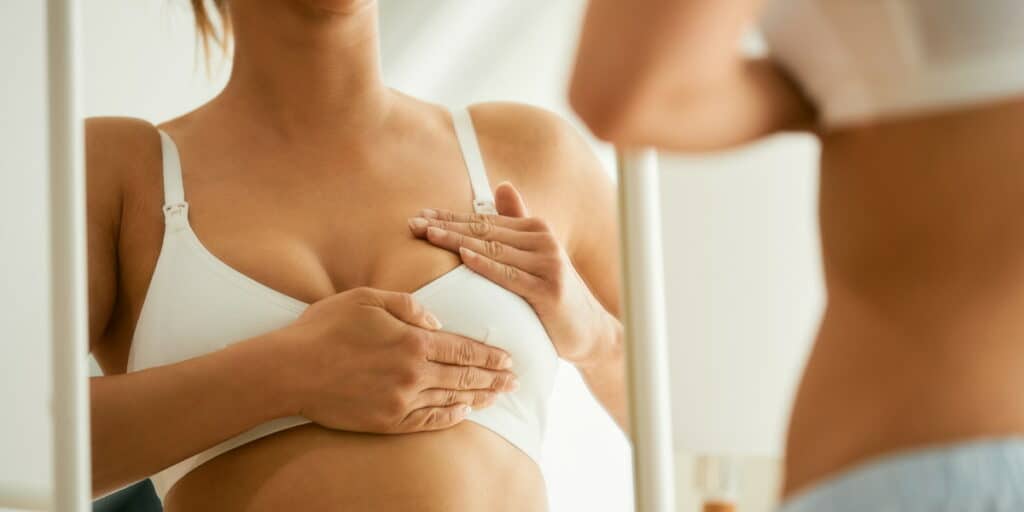 Why Do I Have Bumps On My Nipples—And When Should I Be Concerned?
Sure, you've been taught to stay on high alert for any anomaly around your breast area (and it's good to be cautious). But most bumps found on the nipples or areolas are not signs of disease. You may be tempted to jump to the worst case scenario—cancer—but that tends to manifest itself as a "lump within the tissue of the breast itself and not on the skin surface," says Jill Purdie, MD, an ob-gyn at Pediatrix Medical Group.
If you find a lump that's hard, irregular in shape, painless, or doesn't move around easily, it may be time to check in with your gyno. That underscores just how important it is to do self-exams regularly, which can help you notice any changes in your breasts.
That said, not all bumps are harmless. "If the bumps are accompanied by other symptoms, such as discharge, pain, or a little bit of growth, or if you are concerned about their appearance, it's important to see your gynecologist," says Thaïs Aliabadi, MD, an ob-gyn and the founder of Trimly.
Wondering what causes bumps on nipples to form and how to get rid of them? Read on for all the details straight from the experts.
Bumps can be a normal part of your nipples.
You probably already know this, but just to be clear, nipples are small, raised areas on the boob. They may also be flat or turned inward. They're found at the center of the areola, which is the hyperpigmented patch of skin surrounding the nipple. Areolas can vary in shape, size, and color depending on the person.
"[Areolas] contain small, sensitive bumps called Montgomery's glands, which secrete a fluid that keeps the nipples lubricated," explains Dr. Aliabadi. So bumps are kinda part of the anatomy. Note that these oil glands can also become blocked, which may make them look larger or similar to a pimple.
What else can cause bumps on nipples?
There are a few other reasons you can get bumps on your nipples, such as hormonal changes, infection, and injury, according to Dr. Aliabadi.
But bumps on nipples can also be caused by the following, Dr. Purdie notes.
Ingrown hairs. Yep, you can get an ingrown hair on your nipple because there is hair along the edge of the areola. An ingrown hair is a strand that grows back into your skin. It can cause tiny, swollen, and painful bumps on the skin, per Mayo Clinic. To tone down the swelling, use a warm compress, or take a hot shower.
Eczema. This skin condition can cause small, red bumps or a scaly rash on the nipples. That often stems from irritation from using a product you're allergic to. Eczema typically causes dry and flaky skin on other parts of the body as well. It can be treated with lotion and topical medication prescribed by your doctor.
Do bumps on my nipples mean I'm pregnant?
Making that judgment based on the bumps on your nipples alone isn't the best way to go since they can be a result of a number of other unrelated causes. Instead, check if you've had a missed period, morning sickness, breast tenderness, and fatigue—the classic signs of pregnancy. You should also take a test or visit your gynecologist if you believe you've conceived.
That said, pregnancy can lead to hormonal changes that cause new Montgomery glands to form on the nipples, which may show up as more bumps in the area. The areolas can also change in size and color during pregnancy and breastfeeding, notes Dr. Aliabadi.
Read the rest on WomensHealthMag.com.
If you've noticed new or concerning nipple bumps, contact Dr. Aliabadi
Dr. Thais Aliabadi is a renowned OB/GYN familiar with all aspects of women's health. Problems can arise at any age; even if you aren't currently experiencing gynecological concerns, it's important to have an established relationship with a trusted OB/GYN.
Make an appointment online or call us at (844) 863-6700.
The gynecology practice of Dr. Thais Aliabadi is conveniently located for patients throughout Southern California and the Los Angeles area. We are near Beverly Hills, West Hollywood, Santa Monica, West Los Angeles, Culver City, Hollywood, Venice, Marina del Rey, Malibu, Manhattan Beach, and Downtown Los Angeles.

Latest posts by Dr. Thaïs Aliabadi
(see all)