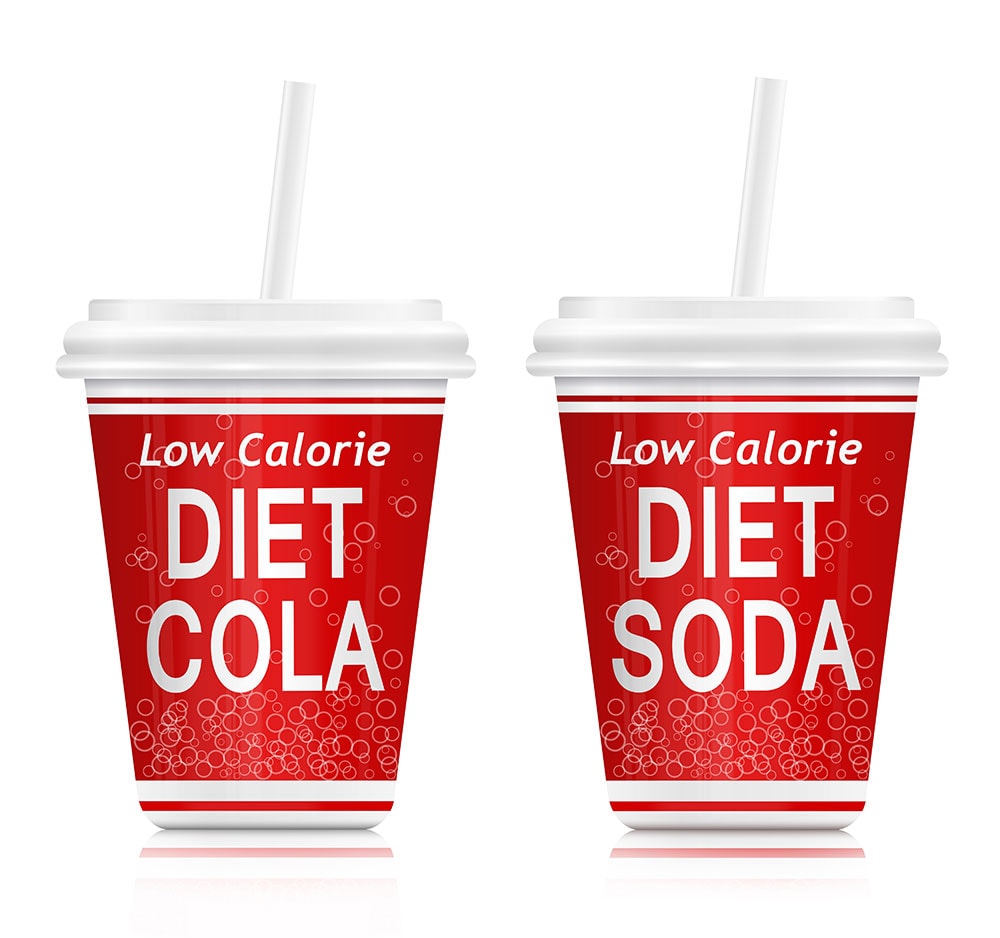 Drinking two or more diet sodas a day is linked to an increased risk of stroke, heart attacks and early death in women over 50, a new study says. The risk was highest for obese and African American women.
New research from the American Heart Association and American Stroke Association is making the news. It shows that drinking two or more artificially sweetened drinks a day may be related to a higher incidence of cardiac and vascular diseases for postmenopausal women.
In 2018, Americans drank about 12.2 billion gallons of carbonated sodas. Over 3 billion gallons of that liquid were artificially sweetened.
Are artificial sweeteners bad for you?
In the recent past, artificial sweeteners have been associated with headaches, acne, depression, lower bone density, destruction of healthy bacteria, loss of the ability to taste, hypertension, and kidney disease. It's even been claimed that using diet soda as a mix for alcoholic drinks will get you drunker than using sugary mixes.
The new study on diet sodas included more than 80,000 postmenopausal women
The women were participants in the Women's Health Initiative. It's a long-term national study designed to investigate many facets of older women's health issues. The participants in the current study were tracked for an average of 11.9 years.
"Previous studies have focused on the bigger picture of cardiovascular disease," said lead study author Yasmin Mossavar-Rahmani, a professor at the Albert Einstein College of Medicine in New York. "Our study focused on the most common type of stroke, ischemic stroke and its subtypes, one of which was small-vessel blockage. The other interesting thing about our study is that we looked at who is more vulnerable."
The women in the study who drank two or more diet sodas a day were:
31% more likely to have a clot-based stroke
29% more likely to have heart disease
16% more likely to die from any cause
These percentages are as compared to women who drank diet beverages less than once a week or not at all.
"This is another confirmatory study showing the relationship between artificially sweetened beverages and vascular risk. While we cannot show causation, this is a yellow flag to pay attention to these findings," said American Academy of Neurology President Dr. Ralph Sacco, who was not involved in the subject study.
Is diet soda bad for you?
"What is it about these diet drinks?", asked Mossavar-Ramani. "Is it something about the sweeteners? Are they doing something to our gut health and metabolism? These are questions we need answered."
Clearly, the diet soda study raised a lot more questions than it answered.
The study's results showed association, rather than causation. In the world of health research, this distinction is crucial. When two factors are shown to be related, they are described as "associated". However, mere association does not necessarily mean that one factor has caused the other.
What's the difference between association and causation in the study?
As an example of that distinction, there's a demonstrated statistical link between coffee drinking and heart disease. But people who drink coffee are also more likely to smoke, and there's an even stronger link between smoking and heart disease. So it would be statistically unwise to conclude that coffee drinking is the direct cause of heart disease.
As the authors of the current study acknowledge, their research shows only an association, not direct causation, between diet soda and heart disease, stroke, etc. That's why Sacco's metaphorical flag was yellow rather than red.
Predictably, makers of diet drinks and artificial sweeteners have pushed back against the study. A spokesperson for the American Beverage Association pointed out that two World Health Organization meta-analyses have described the current research on non-sugar sweeteners as "low-quality" and "inconclusive". And the American Heart Association itself said last year that replacing sugared soft drinks with diet sodas "may be an effective strategy" to promote weight loss in adults.
However, sometimes guilt can be logically inferred from association. Diet soda is so often linked to so many different health problems that there may be some fire under all that smoke. It might be wise to consider limiting our intake of artificially sweetened drinks or eliminating them altogether. Let me know what you think. Thaïs
About Dr. Thais Aliabadi
As one of the nation's leading OB-GYNs, Dr. Thaïs Aliabadi offers the very best in gynecological and obstetric care. Together with her warm professional team, Dr. Aliabadi supports women through all phases of life. She fosters a special one-on-one relationship between patient and doctor. We invite you to establish care with Dr. Aliabadi. Please click here to make an appointment or call us at (844) 863-6700.
Read the full article at: www.cnn.com

Latest posts by Dr. Thaïs Aliabadi
(see all)