Over the last few decades, reproductive scientists have reached a consensus. Men's sperm counts are steadily decreasing, at least in the Western Hemisphere.
A 1992 study, published in the authoritative British Medical Journal, found "a genuine decline in semen quality over the past 50 years." These findings generated a multitude of questions, but few answers, for the causes of infertility in men.
Why the global decrease in sperm counts and sperm motility? 
In the wake of that 1992 report, researchers speculated that lifestyle changes, such as sedentary habits, increased stress, smoking, drinking, and obesity were to blame for low sperm count and low motility (motility measures how well the sperm swim to the egg).
Other authorities faulted environmental pollution, citing the host of man-made chemicals to which men are increasingly exposed. Some scientists disputed the basic premise altogether, finding flaws in the foundational research.
However, in 2017, researchers at the Hebrew University and Mount Sinai's medical school produced a meta-study. They analyzed 185 different studies, which included 43,000 participants from North America, Europe, New Zealand, and Australia. The meta-study concluded that the overall count of sperm per milliliter of semen had declined by more than 50% between 1973 and 2011.
Enrique Schisterman is chief of epidemiology at the NIH Institute of Human Development. His response to the 2017 meta-study study and its conclusion was: "I think it's confirmatory and well done. This is a serious problem."
Two studies released in October 2018, confirmed that sperm counts and sperm motility rates continued to decline over the prior decade.
Low sperm motility and sperm count are often responsible for infertility 
Infertility discussions in recent years have focused on women, their alleged "biological clock", and infertility remedies like in vitro fertilization and freezing eggs. But the truth is that men are the culprits in 30% to 50% of infertility instances. And nearly all those instances involve defects in the men's sperm.
The widespread decline in sperm quality has spurred new interest in sperm freezing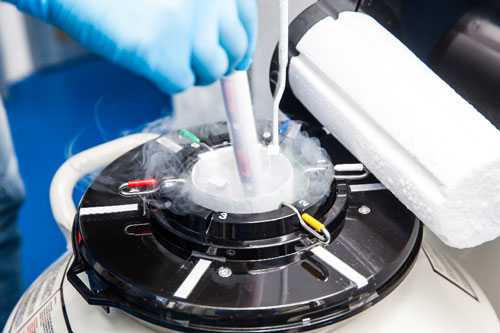 Women produce a limited number of eggs during their childbearing phase, and their ovulation comes to a halt much sooner than the age at which men stop producing viable sperm. This means that egg freezing is generally more urgent than cryogenic preservation of sperm.
Egg freezing is an invasive and lengthy process, involving hormone injections, followed by a surgical procedure that can cost upwards of $10,000. By comparison, sperm freezing is much simpler and less expensive.
There's no practical limit on how long sperm can be stored if the proper procedures are followed. The accepted regimen involves storage in liquid nitrogen at a temperature of 196°F.
Frozen sperm can be thawed and successfully incorporated into a fertility treatment decades after it's frozen. And babies born from frozen sperm are not at an increased risk for physical or developmental disorders.
In cases of severe male infertility, an advanced in vitro fertilization treatment called intracytoplasmic sperm injection is available. After a man's stored sperm specimen is thawed, a single sperm is injected into the center of an egg which has been withdrawn from the fallopian tubes. The success rates of this protocol are between 50% and 80%.
Some startup enterprises are seeking to take advantage of the new interest in the preservation of sperm. Trak, Yo, and SpermCheck all sell at-home sperm testing kits. Dadi (pronounced "daddy", of course) offers to analyze a man's sperm for around $100 and store it for around $100 a year. Legacy offers the same services, "from $20 a month".
It's good to know that men have a simple and inexpensive method of deferring their reproductive ability. Even if it proves, once again, that everything in life is more complicated for women. Let me know what you think! Thaïs
About Dr. Thaïs Aliabadi 
As one of the nation's leading OB-GYNs, Dr. Thaïs Aliabadi offers the very best in gynecological and obstetric care. Together with her warm professional team, Dr. Aliabadi supports women through all phases of life. She fosters a special one-on-one relationship between patient and doctor.
We invite you to establish care with Dr. Aliabadi. Please click here to make an appointment or call us at (844) 863-6700.

Latest posts by Dr. Thaïs Aliabadi
(see all)