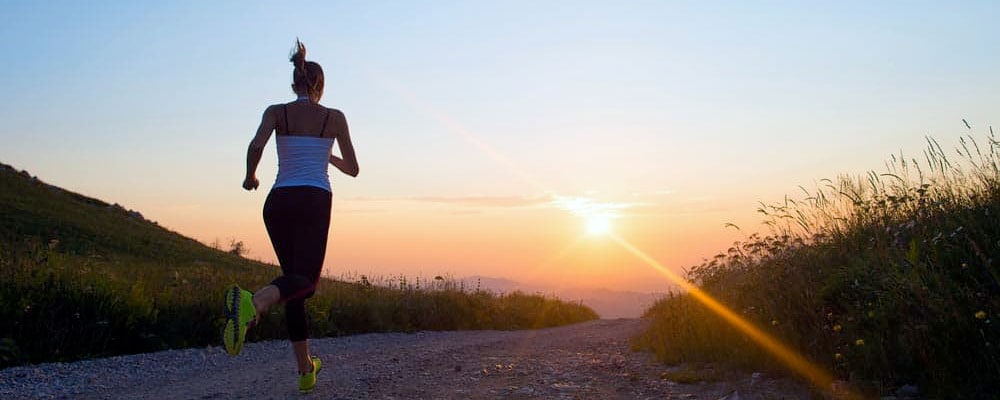 During winter, shaving precious minutes of sunlight off the beginning and end of your day, it's worthwhile to revisit your outdoor running routine and update your safety practices.
If you typically run before or after work, you might soon find yourself logging your miles in the dark.
Not only does the darkness impede visibility and increase your chances of injury, it also affords would-be attackers more opportunity to target you.
Road Runners Club of America offers tips to stay safe while running at night
1. Stay alert and pay attention to your surroundings. This tip is Numero Uno for good reason: the best way to avoid injury or falling victim to a crime is to pay attention to where you are, who is around you, and what is nearby and in your path.
2. Tune in to the present. These days, runners of all ages wear headphones to tune out while walking or running, but jamming to your workout mix is not without its risks. In order to be fully alert, you should wear only one earbud, turn the volume way down, or skip the headphones altogether. With your ears unplugged, you'll be able to hear traffic, footsteps, and other potential dangers.
Wear reflective clothing when running at night
3. See and be seen. Wear reflective, bright-colored clothing. Orange, yellow, and neon-green colors signal to drivers to use caution. Pick up an LED headlamp to help you see the road in front of you.
4. Take care on hills. Hills and winding roads can impede drivers' visibility. Take extra caution if you're running on twisty, hilly roads.
5. Practice traffic etiquette. Runners should always run against the flow of traffic, so you can easily see and react to oncoming vehicles. Look both ways before crossing the street, and make eye-contact with drivers at intersections to be sure they've yielded the right of way to you. Drivers, especially in the early morning and late night, can go on autopilot: don't assume that any driver has seen you.
6. Give a heads up. Let someone know where you're going and when you'll be back. Call a friend or leave a note with a family member.
7. Know your neighborhood. Only run in familiar areas, and only on well-populated roads. Avoid any overgrown trails and unlit streets.
Running at night with a partner is an excellent way to stay safe
8. Use the buddy system. Running with a partner is fun and is an excellent way to stay safe. You've got someone with you in case you get injured, and attackers are less likely to target a pair of runners. You could even run with your pet dog, or if you don't have one, borrow your neighbor's.
9. Carry ID. You should always carry some sort of identification with you, including an emergency contact number and any medical information that might be relevant in case of an emergency.
10. Bring your phone and some quarters. If you should get into trouble, you'll want your phone with you to call for help. On the other hand, if a mugger wants your phone, give it to them. No really, just hand it over. Have quarters handy if you need to make a payphone call.
11. Call 911 as soon as possible in an emergency. If you are attacked or mugged, do not wait until you are home. Do not call anyone else first. The sooner you call the police, the more likely they'll be able to locate your attacker. Call for help if you see anyone else get hurt or attacked. Take care of each other out there.
When running at night, keep a safe distance from others on the path
12. Ignore cat-callers. While verbal harassment can happen to anyone, it's a particular problem for women runners and pedestrians. If anyone says anything unseemly to you, ignore them and keep a safe distance between you.
13. Be self-aware. Many men do not consider the effect their physical presence can have on the women around them. First and foremost, avoid startling others, and consider crossing to the other side of the road to give someone their personal space. Avoid following, or even giving the appearance of following, a fellow walker or runner on the road. Keep your distance and announce your intentions to pass with a simple, "on your left."
14. Be prepared to memorize faces. If you do get attacked, your body will flood your system with adrenaline, readying your fight or flight response. You may not remember to get a good idea of what your attacker looks like. When you make a report, the police will want to know these 5 things: sex, clothing color, clothing type, head wear, and direction of flight.
15. Carry a self-defense tool. Keeping a whistle or pepper spray with you while you run may be a good idea, but don't let your guard down just because you brought a weapon. Stay alert.
16. Trust your gut. If you're getting a bad vibe from an area or a person, get out of there.
About Dr. Thaïs Aliabadi
As one of the nation's leading OB-GYNs, Dr. Thaïs Aliabadi offers the very best in gynecological and obstetric care. Together with her warm professional team, Dr. Aliabadi supports women through all phases of life. She fosters a special one-on-one relationship between patient and doctor.
We invite you to establish care with Dr. Aliabadi. Please click here to make an appointment or call us at (844) 863-6700.

Latest posts by Dr. Thaïs Aliabadi
(see all)
Reader Interactions