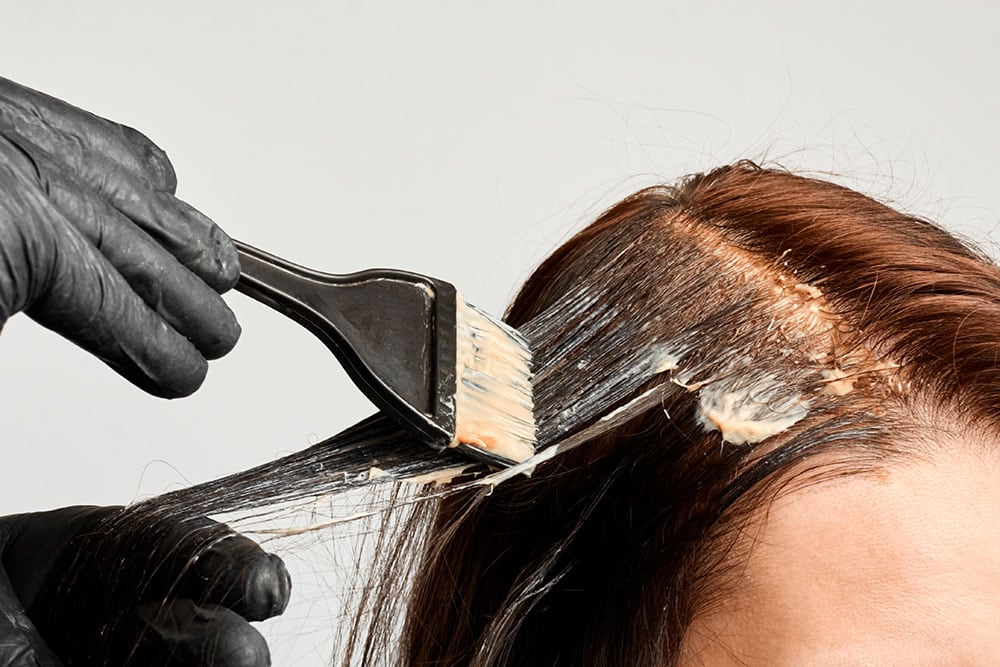 We have been hearing murmurs about a link between breast cancer and hair dye use for decades, but the research thus far has been inconclusive.
The waters became even muddier recently, when a government study, known as the Sister Study, funded by the National Institute of Environmental Health Sciences (a branch of the National Institutes of Health) found that black women who regularly used permanent hair dyes were 60 percent more likely to develop breast cancer than those who did not use these products. What's more, the NIEHS study found a 30 percent increase in breast cancer among American women of all races who used chemical hair straighteners and relaxers.
For unknown reasons, the researchers did not find an increased risk of breast cancer among white women using permanent hair dye. One possible explanation for this is that white women use different brands of hair dyes than African Americans. Another proposed hypothesis was that the increased breast cancer rate might have to do with the coarseness of black versus white hair, which could increase the absorption rate of hair products.
The study tracked 46,709 women between 35 and 74 over 8 years, during which 2,794 breast cancers were diagnosed.
Should black women who dye or straighten their hair be worried about increased breast cancer risks?
It's important to understand that this was a single study tracking women's behavior over eight years on average and that their use of hair products was measured only once during the study. What's more, fewer than 10% of participants were black females.
Participants did not have breast cancer at the start of the study, but all had at least one sister who had breast cancer, meaning that all of them were at increased risk due to their family history. In the end, the study could not prove that hair treatments cause breast cancer because there are too many other factors that contribute to a woman's risk of breast cancer, and the impact of a single factor could not be isolated.
"You cannot, based on these data, make the statement that hair dyes and straighteners cause breast cancer," said Dr. Larry Norton, medical director of the Evelyn H. Lauder Breast Center at Memorial Sloan Kettering Cancer Center in New York. "These effects were small."
Why hair dyes and straighteners may increase breast cancer risk?
That's because most health and beauty products being sold today aren't adequately tested for safety. In fact, permanent dyes, semi-permanent dyes and hair straighteners are not routinely tested for the presence of chemicals that disrupt the function of hormones in our bodies. It has long been established that estrogen feeds certain types of cancers, so if our hormones can be altered by exposure to certain chemicals, the possibility exists that our risk of developing breast cancer can be increased.
Moderation is the best way to limit breast cancer risks
Although the study could not prove a direct link between hair dyes and straighteners and increased breast cancer risk, there's still reason for concern, given the popularity of hair products among women today and how unregulated these products are. In fact, more than half of the study's participants said they'd used hair dye and nearly three-quarters of black participants reported using hair straighteners.
The take-home message here is that these products can potentially pose a higher risk. So, while we continue to wait for conclusive evidence to come in, my recommendation would be to take a cautionary approach and limit your use of chemical hair dyes and chemical straighteners. With so many plant-based products available today that do such a great job with no proven side effects, why take a chance?
We live in a world where we are constantly being exposed to carcinogens that we have no control over, why not do our part to limit the things that we can control?
Wishing you the best of health,
Thaïs
About Dr. Thaïs Aliabadi
As one of the nation's leading OB-GYNs, Dr. Thaïs Aliabadi offers the very best in gynecological and obstetric care. Together with her warm professional team, Dr. Aliabadi supports women through all phases of life. She fosters a special one-on-one relationship between patient and doctor.
We invite you to establish care with Dr. Aliabadi. Please click here to make an appointment or call us at (844) 863-6700.
The practice of Dr. Thais Aliabadi and the Outpatient Hysterectomy Center are conveniently located for patients throughout Southern California and the Los Angeles area. We are near Beverly Hills, West Hollywood, Santa Monica, West Los Angeles, Culver City, Hollywood, Venice, Marina del Rey, Malibu, Manhattan Beach, and Downtown Los Angeles.

Latest posts by Dr. Thaïs Aliabadi
(see all)