What is brain fog?
Brain fog, aka mental fog, is a feeling that you don't have full mental clarity. It's a term used for certain symptoms that can make a difference in cognitive function. These symptoms include:
decreased focus
memory problems
memory loss
impaired problem-solving ability
forgetfulness
Brain fog itself is not a medical condition or a clinical diagnosis. But it can be one of several signs of a health problem that needs a doctor's care.
What causes brain fog?
There are multiple factors and health conditions that can cause brain fog, including:
sleep deprivation
lack of sleep
increased stress level
anxiety
depression
dementia
hormone levels associated with perimenopause
effects of pregnancy
medication
thyroid disorders
multiple sclerosis
vitamin B12 deficiency
viral infections, such as COVID-19, SARS, and H1N1
What is pregnancy brain fog?
Pregnancy brain is a real phenomenon consisting of commonly experienced cognitive changes that occur in women during pregnancy and postpartum. The pregnancy brain symptoms most frequently reported are:
forgetfulness
memory lapses
poor concentration
absentmindedness
clumsiness
When does pregnancy brain (baby brain) start? Pregnancy brain, aka early pregnancy brain fog and "mommy brain," starts in the first trimester when hormones begin to fluctuate.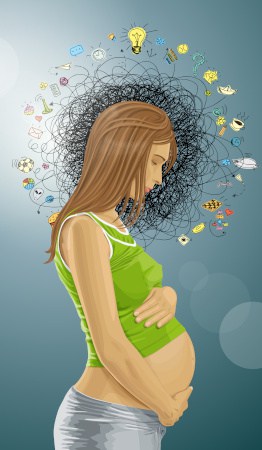 It refers to experiences like forgetting your phone number, where you put the car keys, or facts that were once easily recalled. These are all part of a spectrum of behavioral changes.
Luckily, pregnancy and brain fog have been researched and documented.
The Mayo Clinic reviewed 20 studies that involved more than 700 pregnant women and 500 non-pregnant women. They found that pregnant women displayed poorer cognitive functioning, memory, and executive functioning than their non-pregnant counterparts.
Interestingly, they found that these changes do not affect job performance. Instead, these changes were only noticeable in close relationships and the pregnant person themselves.
What causes brain fog during pregnancy?
Factors such as surging hormone levels and new life priorities may help explain why the alterations in brain function occur. At any given time, what causes pregnancy brain is likely one or more of the following factors:
Hormonal changes
Studies of pregnant women have related the fluctuations of progesterone and estrogen during pregnancy to attention, memory, and executive function impairment, as the brain is sensitive to changes in hormone levels.
Progesterone
Progesterone is crucial to pregnancy as it maintains the body's ability to remain pregnant. This hormone is responsible for relaxing the uterus so it doesn't reject the fetus.
Progesterone also has a sedative effect, which can make it difficult for pregnant women to stay alert and focused. The rise in this hormone can have an impact on the cognitive abilities of some women (casually called "momnesia").
Estrogen
During pregnancy, estrogen assists in uterine growth and fetal development. It also increases blood flow, which heightens the sense of smell and gives that well-known pregnancy "glow."
Estrogen levels continue to rise throughout pregnancy and peak in the third trimester.  However, postpartum your estrogen levels will fall again and the sudden decrease in this hormone can cause brain fog.
Relaxin
Relaxin keeps the uterus relaxed during the first trimester and assists in placental growth. It enables the pelvis to expand during birth by increasing the laxity (looseness) in the surrounding ligaments. While it doesn't directly impact your brain, this hormone explains clumsiness and being prone to falls during pregnancy.
Physical brain changes
Does the brain shrink during pregnancy? Yes and no.
The processes occurring during pregnancy happen on a cellular level and facilitate changes in human brain structure. A 2016 study in Nature Neuroscience focused on pregnancy and brain changes. The study determined there are physiological changes that occur in a women's brain structure. These changes include:
Decrease in gray matter volume
Gray matter in the brain undergoes the most important changes. These changes are known as neural pruning — since the amount of gray matter decreases. Neural pruning allows for greater sensitivity to suffering – enhancing the senses for the task of caring for a baby.
One study found that gray matter volume shrinks in areas of the brain associated with processing and responding to social signals, or social cognition. The study's lead author, Elseline Hoekzema, suggests the loss of brain volume in these areas may indicate a process of maturation and specialization. This allows new moms to become more focused and attuned to the needs of their infants.
The alterations in gray matter volume endure for at least two years after childbirth and are linked to a stronger parent-child bond.
Neurons increase in size
Another change occurring in the brain during pregnancy is in an area known as the hypothalamus. There is an increase in the size of neurons in this area, which enhances their sensitivity and activity.
There is an increase in sensitivity to smell and taste. Another consequence of this alteration is an intense feeling of well-being. This sensitivity strengthens the mother-baby bond just by touching her pregnant belly
This change in the brain causes physical discomfort when the mother separates from the baby in the first months after birth.
Reduction in size of the amygdala
During pregnancy, the amygdala becomes smaller. This area of the brain is responsible for decisions made in response to fear. Many mothers develop a brain less prone to impulsively react to fear. This allows a mother to engage in a variety of ways to preserve the child's life
Sleep deprivation
Sleep deprivation during pregnancy is quite common and is the result of multiple factors including:
increased urination
discomfort due to striking physical changes in the body
heartburn
the baby's movement and kicking
pain in the legs, hips, and back
pregnancy rhinitis
Anxiety and stress
Even when a woman has mastered multitasking and organizational skills, the inability to focus during pregnancy can cause frustration, anxiety, and stress. Pregnant women may be mentally overwhelmed and more focused on what's to come, instead of what's happening now.
A pregnant woman's physiology changes at the time of conception. Her attention may become diverted by the reality of becoming a mom or focused on the rapid physical changes occurring in her body.
It's possible that brain power is being allocated to the new mind-body state, and therefore mental energy is being tapped from elsewhere.
Does menopause cause brain fog?
Many menopausal symptoms — including hot flashes, mood swings, and brain fog — are tied to fluctuating estrogen levels. A common complaint during menopause is brain fog, including problems with memory, confusion, and a wandering mind. These symptoms are often related to menopausal fatigue.
A 2021 study scanned the brains of 161 women between the ages of 40 and 65 who were in various stages of the perimenopausal and post-menopausal transition. The results demonstrated the following brain changes during menopause, including:
a decrease in gray and white matter
an increase in beta-amyloid protein deposits
a decrease in glucose, the main fuel source for your body's cells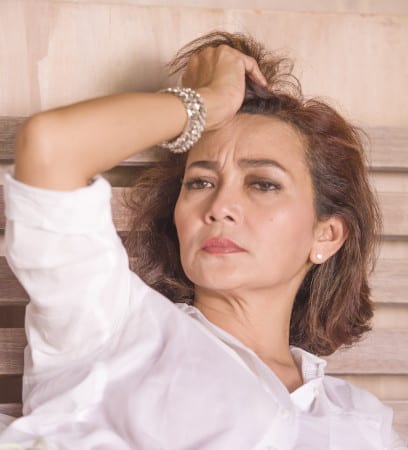 Estrogen plays a role in all these changes. "We think about this hormone as mainly a reproductive hormone, but it's actually the 'master regulator' of the female brain. It literally pushes neurons to burn glucose to make energy," says Lisa Mosconi, director of the Women's Brain Initiative and associate director of the Alzheimer's Prevention Clinic at Weill Cornell Medical College/NewYork-Presbyterian Hospital.
Estrogen is involved in brain growth, plasticity, and immunity. As a result, it keeps the brain younger and healthier. As estrogen declines with age, the neuronal connections begin to decrease and slow down.
Menopause-related symptoms like brain fog — manifesting as memory lapses, forgetfulness, fatigue, and anxiety — are directly related to a decrease in estrogen.
There are steps you can take to manage brain fog whether you're pregnant, postpartum, perimenopausal, or menopausal. Contact Dr. Aliabadi for guidance on how to implement short-term adaptive strategies and manage everyday tasks, while maintaining a healthy pregnancy.
Have pregnancy questions? Talk to Dr. Aliabadi
Whether you're struggling with pregnancy brain fog, thinking about expanding your family, or just looking for a good OB/GYN in Beverly Hills, Dr. Aliabadi wants to hear from you. Together with her warm professional team, Dr. Aliabadi supports women through all phases of life. She fosters a special one-on-one relationship between patient and doctor.
We invite you to establish care with Dr. Aliabadi. Please make an appointment online or call us at (844) 863-6700.
We take our patients' safety very seriously. Our facility's Covid-19 patient safety procedures exceed all CDC and World Health Organization recommendations. Masks are required in our office at all times during the coronavirus pandemic.
The practice of Dr. Thais Aliabadi and the Outpatient Hysterectomy Center is conveniently located for patients throughout Southern California and the Los Angeles area. We are near Beverly Hills, West Hollywood, Santa Monica, West Los Angeles, Culver City, Hollywood, Venice, Marina del Rey, Malibu, Manhattan Beach, and Downtown Los Angeles.

Latest posts by Dr. Aliabadi Education Team
(see all)