One normally thinks that breast cancer is a women's disease. Men don't get male breast cancer, right?  100% Wrong, wrong, and wrong again!
Try telling the 16,025 men diagnosed with breast cancer in the US between 2004 and 2014 that they can't get breast cancer. Try telling that to Matthew Knowles, Beyoncé's father, who decided to publicize his bout with breast cancer in order to increase public awareness and concern about male breast cancer.
Most men think they are immune from breast cancer
This causes male breast cancer to be detected at a more dangerously progressed stage. And that stubborn reluctance to believe that a man can get breast cancer ultimately contributes to a significantly lower male breast cancer survival rate.
What are the male breast cancer statistics?
While breast cancer in men is rare, its rate of incidence is steadily increasing. In 1975, out of every million men in the US, 8.5 were diagnosed with breast cancer. This year, 12.1 men per million will receive such a diagnosis.
These alarming figures come from a study (the largest of its kind) published September 19 in JAMA Oncology.
Do men have breasts?
Until adolescence, boys and girls have a small amount of identical breast material behind their nipples. This tissue is made up of a few tiny milk ducts, surrounded by some fat, connective tissue, blood vessels, and lymphatic tubes.
At puberty, both boys and girls begin producing the hormone estrogen
In girls, this influx of estrogen leads to developed mammary glands, among other changes. But boys also begin producing massive amounts of testosterone. This flood of testosterone overwhelms the influence of estrogen. (This unfortunate phenomenon may actually cause nearly all the world's current troubles.)
In any event, whatever its other ramifications may be, testosterone halts further development of breasts in boys. But that prepubescent bit of breast tissue remains in place. So, yes, men have breasts, even if they're merely vestigial. And those vestigial breasts can incur cancer.
A rare medical bias against men
It's an indisputable fact. For as long as men have conducted the advance of medicine, women have undergone procedures and received drugs that were designed by men, for men, and tested only in men.
Treatment of male breast cancer has the opposite bias. Men with breast cancer usually receive treatment based solely on data collected from and about women.
This tilt might be even more prejudicial to men, because modern cancer treatment is largely dependent on hormones, and hormones behave differently in men than they do in women.
Cancers, hormones, and male breast cancer
Cancers are the result of rampant cell growth. Some cancers grow wildly out of control in response to signals from hormones. In women, these hormones are estrogen and progesterone.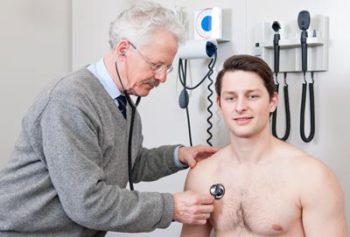 Cancers responsive to hormones are known as hormone receptor-positive. According to the American Cancer Society, two thirds of breast cancers in women are hormone receptor-positive.
If you have to have a cancer, there's a benefit to having one that's hormone receptor-positive. Because these cancers react so strongly to hormones, hormone therapy can make them stop growing. There's been a huge amount of very productive research into using hormone therapy to treat breast cancer in women.
No productive research into hormone therapy for male breast cancer
In fact, there have been zero clinical trials of men to figure out which type of hormone therapy is best for which types of male breast cancers. And the FDA has not approved any hormone therapy for male breast cancer.
But nine out of ten male breast cancers are hormone receptor-positive. So doctors treat male breast cancer patients by analogy, working from clinical trials conducted on and for women. Hormone therapy is thus being used effectively, even if haphazardly, on men.
Types of hormonal therapy for treatment of male breast cancer
 There are several approaches to hormonal cancer therapy, whether for men or for women. Some treatments are designed to prevent receptors in the cancerous cells from responding to hormones. Other types of therapy reduce the hormone levels in the patient's system.
Most hormonal cancer therapies for breast cancer in men have some pretty negative side effects. Libido suffers, hair is lost, weight gain is usual, and depression is common.
But today's male breast cancer patients vastly prefer modern hormonal treatments over the hormone reduction plan that was the standard of care fifty years ago. That procedure is an orchiectomy, more commonly known as castration.
About Dr. Thaïs Aliabadi
 As one of the nation's leading OB-GYNs, Dr. Thaïs Aliabadi offers the very best in gynecological and obstetric care. Together with her warm professional team, Dr. Aliabadi supports women through all phases of life. She fosters a special one-on-one relationship between patient and doctor.
We invite you to establish care with Dr. Aliabadi. Please click here to make an appointment or call us at (844) 863-6700.

Latest posts by Dr. Thaïs Aliabadi
(see all)