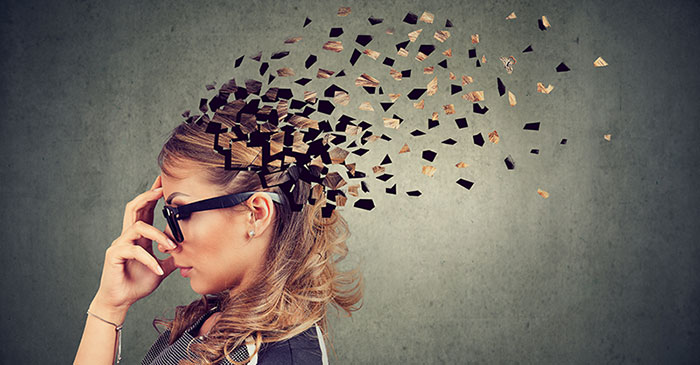 There are 5.7 million Alzheimer's patients in the US. Two thirds of those patients are women. In other words, Alzheimer's devastates twice as many women as it does men. This acute gender disproportionality is not, of course, mere coincidence.
Until recently, the discriminatory nature of Alzheimer's seemed to have escaped the notice of most scientific researchers.
Lisa Mosconi, PhD, is the director of the Weill Cornell Women's Brain Initiative in New York City. She has dedicated a major part of her formidable research toward exploring the reasons why 2 out of every 3 Alzheimer's patients are women.
Women generally live longer than men
But that discrepancy does not come near to providing a satisfactory rationale for the 2 to 1 Alzheimer's gender discrepancy.
A major difference between men and women is menopause
Menopause is a disruptive alteration in the life of every woman who lives long enough to experience it. Male menopause does exist, and it is an observable phenomenon. But menopause for men is a barely noticeable speedbump, while female menopause is more like the Titanic's iceberg.
Mosconi began to see that the differences between female menopause and male menopause might be linked to the gender differences in the incidence of Alzheimer's.
The role played by hormones in both menopause and Alzheimer's
It has been known for at least a decade that surgical removal of a woman's ovaries/uterus, (i.e., hysterectomy), increases the risk of dementia in women.
There's also a strong association between early natural menopause and an increased risk of Alzheimer's in women. It's important to note here that both a hysterectomy and natural menopause cause a vast decrease in hormone production, particularly estrogen and progesterone.
It took Mosconi twenty years, but she finally obtained funding to delve into the many ways women's brains age differently than do men's brains. (Not worse, just differently.)
Alzheimer's begins with brain changes which occur in midlife
The onset of Alzheimer's generally occurs somewhere between the ages of 40 and 60. Not coincidentally, that's also when female menopause usually begins.
What did Mosconi find when she began to study hundreds of women aged 40 to 60?
She tracked those women, and their brains, as they went through the inevitable cycle of perimenopause to menopause to postmenopause. She compared the history of those women's brains to that of men. And she found that, as men traverse that 40 to 60-year span, their brain activity is maintained at a normal level. Their brains are not shrinking. Their brains are accumulating no (or just a few) Alzheimer's plaques.
In stark contrast, when women become perimenopausal, their brains begin to deviate from the path taken by men's brains. Women's brain metabolism drops, in some cases up to 20%, and the rate of decline increases as perimenopause moves into menopause.
These changes show in physical symptoms as well. Hot flashes, night sweats, insomnia, depression, and foggy thinking are among the symptoms of menopause that women go through. And men? Men usually sail serenely and symptom-free through their own barely noticeable "change of life".
Mosconi's research shows the brains of many menopausal women begin to accumulate Alzheimer's plaques
Menopause reduces production of estrogen and progesterone. It's not clear whether menopause causes estrogen and progesterone production to shut down or whether the reduction in hormone production causes menopause. Either way, the linkage is strong and undeniable.
During their reproductive years, women seem to age more slowly than do men. But when menopause, and the associated reduction in hormone production occur, women's aging seems to speed up. This accelerated aging is strongly linked to the ebb in estrogen production.
Estrogen protects the female brain from aging
We know that estrogen stimulates neural activity. It's possible that estrogen may help prevent the build-up of plaques connected to the onset of Alzheimer's.
In short, Mosconi believes her research provides evidence that supplemental estrogen may help to alleviate the symptoms of Alzheimer's, if administered during perimenopause.
Another recent relevant study tracked 6,000 women from Northern California. The study showed that women who spend less time in their reproductive phase may be at greater risk for dementia. In other words, women who begin their periods later and go through menopause earlier are more vulnerable to dementia.
This result coincides with Mosconi's research. It leads to the tentative conclusion that the longer a woman's body is suffused with estrogen, the less likely she is to incur dementia.
There's one conclusion that all the researchers involved in both studies agree upon. Much more deep and broad research into this long-overlooked area of women's health is mandated. Thaïs
About Dr. Thaïs Aliabadi
As one of the nation's leading OB-GYNs, Dr. Thaïs Aliabadi offers the very best in gynecological and obstetric care. Together with her warm professional team, Dr. Aliabadi supports women through all phases of life. She fosters a special one-on-one relationship between patient and doctor.
We invite you to establish care with Dr. Aliabadi. Please click here to make an appointment or call us at (844) 863-6700.

Latest posts by Dr. Thaïs Aliabadi
(see all)