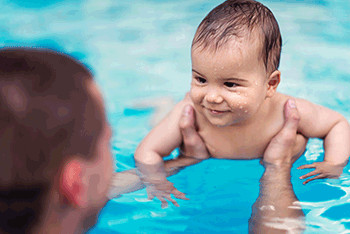 Picture a father playing with his two-year-old son in a hotel swimming pool. The little boy is ecstatic as he is alternately dipped in the water and tossed high into the air. The little boy's appetite for water play outlasts dad's stamina, and they retreat to a poolside table to sit with the rest of the family. A few moments later, the toddler wanders back to poolside.
With no hesitation at all, he casually steps into water that is much deeper than he is tall. All infants know about water is that it is a great source of fun. The concept of drowning is far beyond their limited awareness.
According to the CDC more than 10 people in the United States die each and every day from accidental drowning. Two of those drowning victims will be under the age of 14.
10% of the time when a child drowns there are adults within feet of the victim!
Most of us don't know how silent, undramatic, and practically invisible a child's death by drowning can be. We are conditioned by fiction, movies, and television to believe the signs of drowning include loud yelling for help and wild thrashing motions. But watching Baywatch is not a reliable guide to the identification of a drowning in progress.
Drowning victims don't call for help because their bodies won't let them
Our hardwired physiological survival systems often prevent a drowning victim from waving, making loud noises, or giving any other visible signs of drowning. People who are drowning use their arms in a continuous and desperate effort to keep their mouths above the water's surface. So when you're watching a youngster in the water, and everything looks normal, don't be too confident. One sign that a drowning is in progress can be the complete absence of any overt and identifiable signs.
Swimming lessons are no guarantee of water safety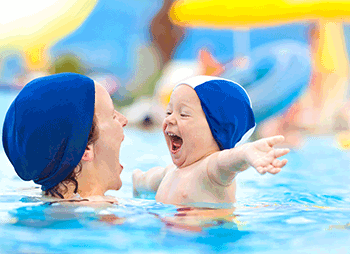 Naturally enough, many parents give their kids swimming lessons to immunize them against drowning. But according to Dr. Linda Quan, a professor of pediatrics at the University of Washington School of Medicine, parents should never assume that any child is "drown-proof", even if that child is a star of the swim team
A false sense of confidence may arise when young children are given swimming lessons. "Infant swimming instruction is not a drowning prevention device", says Dr. Benjamin Hoffman, chairman of the American Academy of Pediatrics (AAP) Counsel on Injury, Violence, and Poison Prevention.
The overconfidence in providing kids swimming lessons was the main reason that, until 2010, the AAP advised against swimming lessons for children under four.
New guidelines for kids swimming lessons under four
After the AAP reviewed a 2009 study conducted by the National Institute of Child Health (NICH) and Human Development, it changed its policy on drowning prevention. The AAP acknowledged that, as indicated by the NICH research, giving kids swimming lessons does not increase the risk of drowning. In fact, swimming lessons for children under four reduces that risk. But this is the most important part; parents must remain hypervigilant and avoid any and all assumptions of safety.
Swimming lessons that focus on swimming in clothes and putting on a lifejacket while in the water
The current clear consensus of experts is that swimming lessons for youngsters are a good idea. But those lessons should not be about prompting your child to be the next Michael Phelps or Katie Ledecky. Dr. Quan recommends courses offered through the Red Cross or the YMCA.
In these courses, children practice swimming in their clothes and putting on a life jacket while in the water. In other words, acquiring life-saving water skills, abilities you want your children to learn before their lives actually depend upon those skills.
Water safety means awareness of hidden underwater risks
Before children are allowed in the water, those responsible for their safety should know everything there is to know about the conditions in and around that water. This includes awareness of the water's temperature, as well as any lurking underwater risks, like rocks or tree trunks in lakes or streams. Parents should also be aware that children who are completely at home in a pool or a lake may be literally at sea when confronted with surf, currents, and waves.
Good fences around the pool make good neighbors and safer kids
Parents can supervise their children full-time, but they won't be around to supervise their own swimming pools 24/7. To keep neighborhood kids safe, effective pool fences are essential. Indeed, such protections are often mandated by state and local laws.
The fearless little boy in our beginning hypothetical survived, of course, and his hypothetical parents learned their lessons. He was given swimming lessons at both the Red Cross and the YMCA, and his parents guaranteed him a long lifetime of water fun by staying extremely vigilant.
Last words on water safety and drowning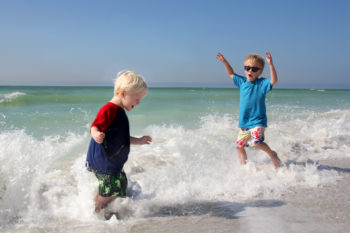 Remember that kids in the water naturally make noise. If things are getting quiet, directly ask the child if he is okay. If you get a verbal response, the child is probably safe. But if all you get in return is a blank stare, you may have less than 30 seconds to save that child's life.
This summer as we enjoy pools. lakes and beaches, please, please be water-wise and vigilant. Happy Summer! – Thaïs
About Dr. Thais Aliabadi
As one of the nation's leading OB-GYNs, Dr. Thaïs Aliabadi offers the very best in gynecological and obstetric care. Together with her warm professional team, Dr. Aliabadi supports women through all phases of life. She fosters a special one-on-one relationship between patient and doctor.
We invite you to establish care with Dr. Aliabadi. Please click here to make an appointment or call us at (844) 863-6700.
We take our patients' safety very seriously. Our facility's Covid-19 patient safety procedures exceed all CDC and World Health Organization recommendations. Masks are required in our office at all times during the coronavirus pandemic.
The practice of Dr. Thais Aliabadi and the Outpatient Hysterectomy Center are conveniently located for patients throughout Southern California and the Los Angeles area. We are near Beverly Hills, West Hollywood, Santa Monica, West Los Angeles, Culver City, Hollywood, Venice, Marina del Rey, Malibu, Manhattan Beach, and Downtown Los Angeles.

Latest posts by Dr. Thaïs Aliabadi
(see all)