What is menopause?
Menopause is a normal process in which the body stops producing hormones necessary for ovulation (release of ova/eggs from the ovary). Some people go through menopause early because of a hysterectomy, or from damage to the ovaries caused by chemotherapy or another injury.
As we approach menopause, the estrogen level in the body begins to decrease. This is known as menopause transition or perimenopause. At the same time, the androgen hormone level increases causing a change in the hormonal state of the body. It can trigger a change in eating patterns and cravings that were experienced during the monthly menstrual cycle.
Everyone who menstruates will go through menopause and perimenopause at some point in their life, some earlier and some later. The perimenopausal transition typically begins between 45 and 55, lasts for about 7 years, and officially ends one year after the last menstrual period. At that point, you're officially in menopause.
Is there a connection between menopause and belly fat?
During perimenopause there is a striking change in fat distribution, said Dr. Gail Greendale, a professor of medicine at the David Geffen School of Medicine at the University of California, Los Angeles. In a 2021 study, Dr. Greendale and her colleagues found that participants started storing fat less around their thighs and hips and more in their midsection.
Among the white and black women in the study, there was no net change in their hip and thigh fat over the 12 years, but their midsection fat increased, on average, by 24% and 17%, respectively.
A middle-aged woman definitely notices her expanding midsection. The first thing to know is that you're not alone. "This is a physiological change that, unfortunately, really happens to virtually all women as we age," said Victoria Vieira-Potter, an associate professor of nutrition and exercise physiology at the University of Missouri. "It's not something you did," she added, or an indication that you're letting yourself go.
What causes menopause belly fat?
The hormonal change of menopause increases the likelihood of weight gain in the abdominal area but is not the sole determinant. Weight gain can also be related to aging, lifestyle, and genetic factors.
As women age, muscle mass diminishes and body fat increases. Losing muscle mass slows the body's metabolic rate (how fast the body burns calories).  If the caloric intake remains the same and there is no increase in physical activity, the likelihood of gaining bodyweight in middle age increases.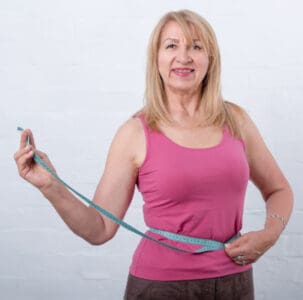 Genetic factors may also play a role in perimenopausal weight gain. If close relatives carry extra weight around the abdomen during this time, that trait may be passed to other family members.
Other factors that may contribute to increased amounts of abdominal fat include lack of exercise, unhealthy eating, and not enough sleep. When people don't get enough sleep, they tend to snack more, consuming more calories.
Research suggests this hormonal shift not only leads to changes in body shape, but also other menopausal symptoms including hot flashes, mood changes, night sweats, irregular periods, and more.
Weight gain during this transition isn't inevitable if attention is given to a healthy diet and a healthy lifestyle.
Are there health problems associated with increased belly fat?
Subcutaneous fat is just beneath the skin. But an increase in belly fat is due to an increase in visceral fat, the fat deep within the abdomen that surrounds organs like the liver, kidneys, spleen, and intestines. Excess weight gain due to an increase in visceral fat increases the risk of health problems, including:
Breathing problems
High blood pressure
High cholesterol
Heart disease and cardiovascular disease
Type 2 diabetes
Certain types of cancer – breast, colon, and endometrial cancer
An increase in visceral fat occurs not only during perimenopause but with stress, lack of exercise, and poor diet. Visceral fat But fat stored in the thighs and hips, creating the so-called pear shape, seems to protect against diabetes and heart disease.
The Mayo Clinic cites studies finding that even when women were considered at a normal healthy weight based on standard body mass index (BMI) measurements, a large waistline increased the risk of dying of cardiovascular disease.
How do I get rid of middle-aged belly fat?
There is no special formula. It's not inevitable that perimenopausal and postmenopausal women will gain weight if attention is paid to a healthy diet and an active lifestyle. Visceral fat responds to a healthy lifestyle that includes a weight management program and a low-fat diet. To keep visceral fat to a healthy minimum:
Eat a healthy diet
Healthy eating is focused on plant-based foods, such as fruits, vegetables, and whole grains. Meal choices that include lean sources of protein and low-fat dairy products, and not saturated fat found in meat and high-fat dairy products (cheese and butter) will lower fat intake. Also, the inclusion of a moderate amount of monounsaturated and polyunsaturated fat such as fish, nuts, and certain vegetable oil will complete a healthy diet.
Avoid sugary drinks
Drink water or beverages with artificial sweeteners or no sugar.

Watch portion sizes
Even when making healthy choices, it's important to limit the size of a meal and not overdo it as it will help to maintain fewer calories.
Limit stress
Chronic stress raises your cortisol level, which stimulates the formation of abdominal fat. Regular exercise and utilization of relaxation techniques can assist with this.
Limit carbohydrates
Research published in April 2017 in the British Journal of Nutrition found that a reduced-carbohydrate diet may decrease the risk of menopausal weight gain. A diet heavy in unrefined carbs like pasta and bread plays a significant role in contributing to excess belly fat.
Include exercise
The Department of Health and Human Services recommends moderate aerobic activity (brisk walking for at least 150 minutes a week), or vigorous aerobic activity (running for at least 75 minutes a week). Strength training exercises are recommended at least twice a week.
When using a step counter, it takes an average of 10,000 steps a day to prevent weight gain. Some studies indicate it might take 15,000 steps a day to prevent regaining weight after significant weight loss.
Is there a relationship between leptin resistance and menopause?
Leptin is a hormone that is produced by the body's fat cells. Leptin's main role is long-term regulation of energy, including the number of calories you eat and expend, as well as how much fat is stored in the body. Leptin is supposed to tell the brain that you don't need to eat because the body has enough stored fat.
High levels of leptin tell the brain that there is plenty of fat stored, while low levels tell the brain that fat stores are low and appetite increases.
An indication of leptin resistance may be an accumulation of body fat, especially in the
belly area
. Accumulation of belly fat is a characteristic of menopause. With all the biochemical changes that occur in a woman's body during menopause, medical professionals may consider leptin resistance as part of the cause.
It is not entirely clear how leptin resistance can be reversed, though there are many theories. Some researchers believe that reducing diet-induced inflammation may help reverse leptin resistance. Focusing on an overall healthy lifestyle is also likely to be an effective strategy.
To lose excess fat and keep it from coming back, aim for slow and steady weight loss. Consult your doctor to stay on track and for help getting started.
Dr. Thais Aliabadi – the Best Gynecologist in Los Angeles
As one of the nation's leading OB/GYNs, Dr. Thaïs Aliabadi offers the very best in gynecological and obstetric care. Together with her warm professional team, Dr. Aliabadi supports women through all phases of life. She fosters a special one-on-one relationship between patient and doctor.
Dr. Aliabadi is a recognized leader in endometriosis treatment and has even taught minimally invasive laparoscopic surgery to other surgeons across the country.
We invite you to establish care with Dr. Aliabadi. Please click here to make an appointment or call us at (844) 863-6700.
We take our patients' safety very seriously. Our facility's Covid-19 patient safety procedures exceed all CDC and World Health Organization recommendations. Masks are required in our office at all times during the coronavirus pandemic.
The practice of Dr. Thais Aliabadi and the Outpatient Hysterectomy Center is conveniently located to patients throughout Southern California and the Los Angeles area. We are near Beverly Hills, West Hollywood, Santa Monica, West Los Angeles, Culver City, Hollywood, Venice, Marina del Rey, Malibu, Manhattan Beach, and Downtown Los Angeles, to name a few.

Latest posts by Dr. Aliabadi Education Team
(see all)