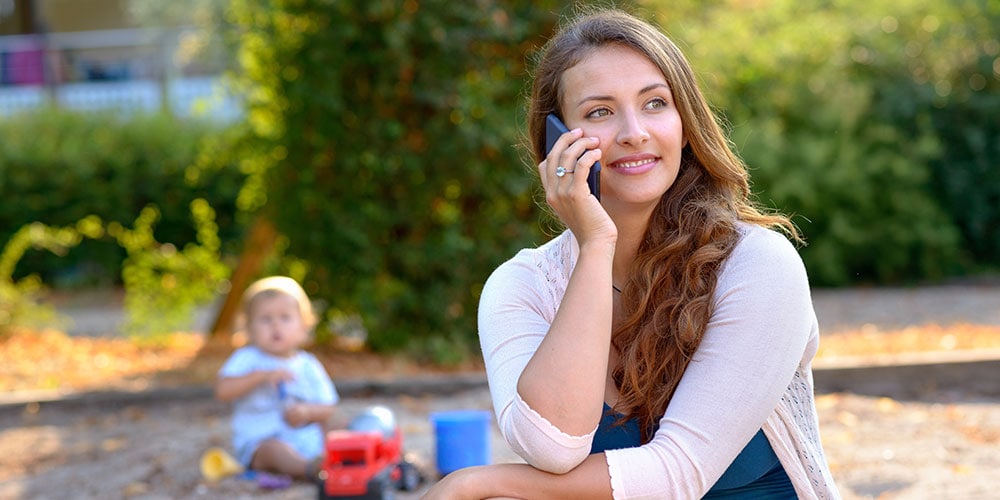 "As a society, we need to reevaluate a child's relative worth in comparison with technological devices. One can only hope that the child will emerge as the winner in this contest."
This opinion was voiced in 2014 by Varda Epstein, an expert in parental education and the mother of 12 children.
In the years since Epstein's pronouncement, scholarly attention has increasingly focused on the ever-intensifying competition between a child and a smartphone for a parent's attention. And it seems the kids are losing.
According to a study conducted by the Children's Hospital of Philadelphia and the University of Pennsylvania School of Nursing in 2018, 50% of parents use their phones while driving with kids in the car.
Researchers surveyed 760 parents and caregivers of children age 4 to 10 about how the adults used their phones in the car over a three-month period. About one-third admitted to reading text messages, one in four sent texts, and one in seven used social media.
This sort of behavior is very problematic. Firstly, the overt danger to all occupants of the vehicles about to be involved in the incipient collision. Secondly, there is a clear danger in the equally overt bad role modeling. This is definitely bad driver education.
Distracted parenting disrupts parent-child relationships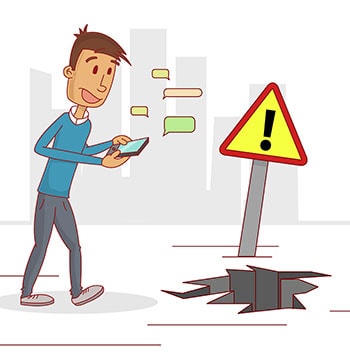 The third problem, and the subject of this posting, is the disruption of the parent-child relationship, and the consequent effects upon the child.
From a child's perspective, the undivided attention of a parent is a treasured commodity. Being the sole focus of a loving adult imparts a sense of self-value.
Conversely, according to a study in 2015, having the attention of a parent diverted to screen time with a handheld device lessens children's estimations of themselves. The majority of such interruptions are at the behest of strangers, or at least outsiders to the crucial dyadic relationship between parent and child.
If the parent's attention is so easily diverted from the child, just how important can that child be?
Parent-child interactions are how children learn to control and use their emotions
Such contacts provide a healthy buffer for emotional outlets. A parent too enmeshed in social media to pay attention can't provide that essential guidance. A parent spending free time with a child shouldn't feel free to ignore that child.
Parents whose smartphones interrupt parent-child interactions have kids who misbehave more
Researchers from Illinois State University studied nearly 200 families and found a link between excessive parental cell phone use and behavior problems in kids. Forty percent of the mothers and 32% of the fathers admitted to some level of phone addiction, such as compulsively checking messages or thinking about the last call or the next call.
Many of the parents simply acknowledged that they overuse their smartphones when with their children.
The families who reported most of this parent/child interaction disruption also reported that their kids displayed more misbehavior, like sulking, whining, hyperactivity, and temper tantrums.
And the problem doesn't cease at mealtime. Researchers at Boston Medical Center observed 55 adults interacting with children while dining at fast-food restaurants. Of those 55 parents and caretakers, 40 were fully involved with their devices. According to the researchers, the parents' "primary engagement was with the device rather than the child."
When the children tried to regain their parents' attention, the most common response was irritation. In one case, a woman physically pushed her son away from her when he took her face in his hands.
Distracted parents are not protective parents
A researcher tracked a rise in children's injuries over the timeframe when smartphones were becoming prevalent. (AT&T inadvertently cooperated with this study by rolling out smartphone service at different times in different places.) A correlation was definitely found; area by area, as smartphone adoption skyrocketed, children's ER visits likewise increased.
Children of digitally distracted parents suffer language acquisition difficulties
Child development experts agree that there is a constant signaling system between adults and children. These communications guide the basic architecture of the child's brain, especially in early childhood.
More and more studies are confirming the importance of consistent conversation between parent and child. The keys to the acquisition of strong language skills are the fluent back-and-forth dialogues between young children and adults.
So there's a problem when the adult-child "serve and return" cueing system, which is so essential to early learning, is interrupted – by a call, by a text, or by the need for a quick check-in on your Instagram account. This can be referred to as techno-ference.
Most children will not accept this inattention passively. They are going to rise to the fray, and they will compete with that darn smartphone. And that's when some of those bratty behavior problems will occur. That is also when some of those bratty behavior problems will morph into risky, dangerous behavior problems.
So put that stupid smartphone away!
No one is suggesting that parents shouldn't take their mobile devices on family outings. But many experts are strongly suggesting that the phone can be left in the pocket or purse. Leave technology use for another time. When you are with your child, be with your child. It really matters.
About Dr. Aliabadi
As one of the nation's leading OB/GYN's, Dr. Thaïs Aliabadi offers the very best in obstetrics and gynecology, including telehealth appointments. Together with her warm professional team, Dr. Aliabadi supports women through all phases of life. She creates a special one-on-one relationship between patient and doctor.
We invite you to establish care with Dr. Aliabadi. Please click here to make an appointment or call us at (844) 863-6700.
We take our patients' safety very seriously. Our facility's Covid-19 patient safety procedures exceed all CDC and World Health Organization recommendations. Masks are required in our office at all times during the coronavirus pandemic.
The practice of Dr. Thais Aliabadi and the Outpatient Hysterectomy Center are conveniently located for patients throughout Southern California and the Los Angeles area. We are near Beverly Hills, West Hollywood, Santa Monica, West Los Angeles, Culver City, Hollywood, Venice, Marina del Rey, Malibu, Manhattan Beach, and Downtown Los Angeles.

Latest posts by Dr. Aliabadi Education Team
(see all)