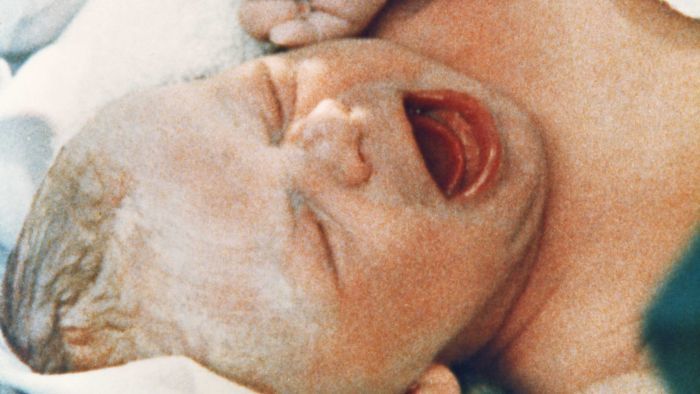 On July 25, 1978 the birth of Louise Joy Brown, the first "test tube baby", changed science and the world forever. We look at the past, present and future of IVF and the world this revolutionary technology evolved in.
Louise Brown was the first person to be conceived through in vitro fertilization (IVF). Last Wednesday Louise celebrated her 40th birthday.
Louise's mother, a resident of Oldham in southwestern England, had suffered damage to her fallopian tubes which rendered her infertile. She was one of 282 infertile women who were recruited into a highly secretive and experimental project. Each of the women was implanted with one or more eggs which had been fertilized in a glass jar (vitro means glass in Latin), and then transferred into the womens' wombs.
In 1978, Louise Brown's birth was surrounded by a worldwide firestorm of publicity
Controversy was rife between proponents of unfettered scientific progress and those concerned about the religious and ethical ramifications which naturally arise when human life is conceived outside the human body.
Since Louise's groundbreaking birth, more than 6 million infants have begun their lives through IVF. All those children have been born to parents who would have otherwise remained childless.
Most of the sensational notoriety once focused on IVF has disappeared
But IVF remains both expensive, at over $10,000 per attempt, and chancy, with success rates between 20% and 40% (depending on the age of the mother). And it's no longer a hot item in the news. The deafening controversy has diminished to a whisper.
Louise's parents diligently protected Louise (and her sister Natalie, also born through IVF) from most of the negative publicity. Now, apart from an occasional commemorative appearance, Louise, her husband, and their two sons live a remarkably ordinary and normal life in Bristol, England.
So what's the next new controversial reproductive science project?
The leading edge of scientific reproductive progress has moved on. Now in vitro gametogenesis (IVG) is generating the same moral, religious, and ethical controversies that centered on IVF forty years ago.
IVG will use human skin cells to create viable embryos
Researchers at Harvard, Brown University, and medical research centers in Japan have developed IVG processes that will lead to viable embryos being created from an unexpected location: their parents' skin. Really. In the next decade or so, human skin cells will be transmuted into pluripotential stem cells, which in turn will be transformed into either an egg or sperm. Fertilization and implantation will occur just as they currently do in IVF.
The potential of IVG is beyond mind boggling
Viable human embryos may soon be created from cells taken from the skin of a traditional couple.  Or from a single person, from two men, from two women, or even from multiple wildcard combinations. This leads to the realistic possibility of children being born with their physical and mental traits inherited from only one person, from same-sex couples, or from groups of three or more biological parents.
These nearly incredible possibilities are already generating passionate debates that promise to make the controversy surrounding IVF look like a grade school picnic.
But time changes everything. Forty years from now, IVG is likely to be just as commonplace and globally accepted as IVF is now, and we'll be furiously debating whatever the next new controversial reproductive science project is. Let me know what you think. Thaïs
About Dr. Thais Aliabadi
As one of the nation's leading OB-GYNs, Dr. Thaïs Aliabadi offers the very best in gynecological and obstetric care. Together with her warm professional team, Dr. Aliabadi supports women through all phases of life. She fosters a special one-on-one relationship between patient and doctor. We invite you to establish care with Dr. Aliabadi. Please click here to make an appointment or call us at (844) 863-6700.
Read the full article at: www.abc.net.au

Latest posts by Dr. Thaïs Aliabadi
(see all)