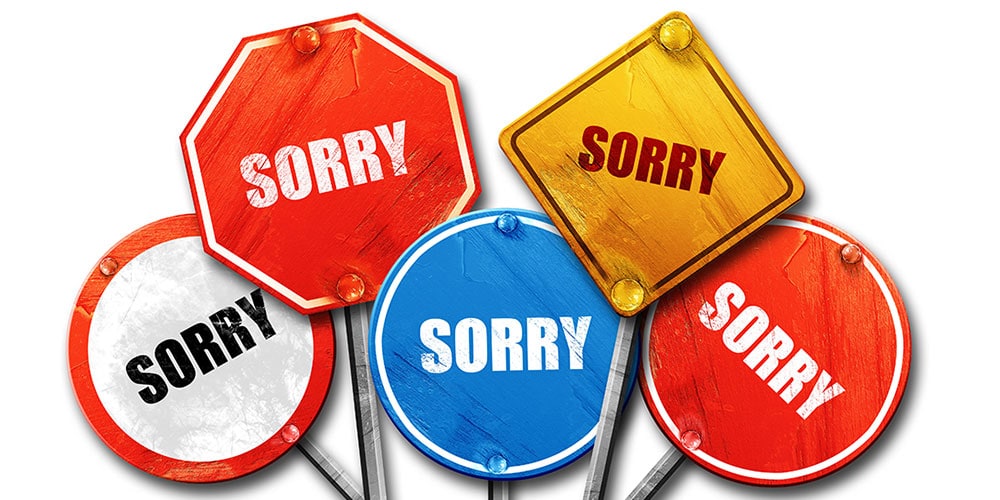 An Amy Schumer sketch shows a panel of accomplished and successful women convened at a business conference. Instead of addressing the panel's topic, the panelists, one by one, offer up an array of apologies. The serial apologies begin with trivial failings, like being allergic to caffeine or interrupting another speaker. The severity of the flaws being apologized for increases, gradually and steadily, until finally these paragons of achievement collectively apologize for having the nerve to exist.
The sketch is exaggerated, of course, but it targets a common conception: women are saying sorry a lot. Perhaps women (and girls) apologize too much.
Sorry, let's remove the word "perhaps" altogether. So sorry about that.
Do women really say "I'm sorry" more than men?
A study conducted at the University of Waterloo, in Ontario, Canada, was published in Psychological Science. It confirms that the women who participated in the study really did apologize significantly more than their male counterparts.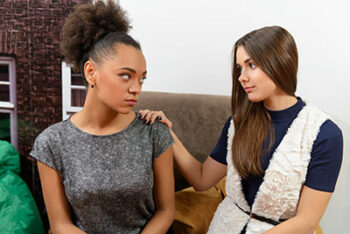 The study discovered that female participants felt it necessary to apologize for behavior that the male participants saw as too insignificant to require an apology. It turns out that the women had a lower threshold for their own "bad behavior."
When the participants, thought their behavior was offensive enough to require verbal amends, they offered apologies at precisely the same rate. The men were just more willing to shrug off "bad behavior."
"These findings support our suspicion that men apologize less often because they are less likely to think they've offended anyone," said Karina Schumann, a co-author (with Michael Ross) of the study.
Even Taylor Swift realizes (on camera) she, too, apologizes for no reason
The documentary titled Taylor Swift: Miss Americana debuted at last year's Sundance Film Festival. It received near-unanimous critical acclaim and became Netflix's highest-rated original biographical documentary film.
At one point, Swift is filmed in her home, talking candidly about her struggle to "deprogram the misogyny in my own brain." Swift goes on an obviously sincere, self-aware, and heartfelt rant. Then she catches herself apologizing and says, "sorry, that was a real soapbox." She then re-catches herself and asks, "why did I say sorry? Ugh!"
The documentary's director, Lana Wilson, can be heard off-screen saying, "it's because we're trained to say sorry." Swift responds enthusiastically, "yeah, we legitimately are! We're like, 'Sorry, was I loud?' In my own house. That I bought. With the songs that I wrote. About my own life."
Serious science has brought the "sorry epidemic" to light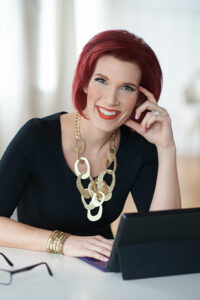 Sociologist Maja Jovanovic, who teaches at McMaster University in Hamilton, Ontario, recounts the occurrence of Schumer's scenario in real life. Four women on a panel were experts in their chosen fields. Jovanovic explained, "among them, they had published hundreds of academic articles and dozens of books. All they had to do is introduce themselves."
In her TEDx Talk, Jovanovic goes on to discuss the behavior of these four expert women: "First woman takes a microphone, and she goes, 'I don't know what I could possibly add to this discussion.'… Second woman takes the microphone and she says, 'Oh my gosh, I thought they sent the email to the wrong person, I'm just so humbled to be here'"
The third and fourth women replicated the same self-deprecating behavior.
During the 25 panels at that week-long conference, recalls Jovanovic, "Not once did I hear a man take that microphone and discount his accomplishments or minimize his experience. Yet almost every time a woman took a microphone, an apologetic tone was sure to follow." Jovanovic adds, "I found it enraging; I also found it heartbreaking."
Why it's so important to teach our daughters (and selves) to not over-apologize
Neuroscientist Tara Swart says serial apologists are saying sorry out of habit, a habit that may have originated in a childhood where self-confidence and assertiveness were seen as stubbornness or rudeness; children were consistently made to feel wrong, and they were fearful of punishment.
This sort of accusatory environment naturally leads to the adoption of a defensive and deflecting diction, replete with hedging, qualifiers, and apologizing. This is not what we want for the well-being and mental health of our children. We want them to grow up to be strong, kind, and free thinkers who are not afraid to express their opinions.
The good news is that these habits can be broken no matter your age.
How do we break the apology cycle?
No one is suggesting that we should all stop apologizing. Real offenses, those that cause tangible harm, can destroy both business and personal relationships when they remain unremedied.
The best way to break a bad habit is to replace it with a good habit. An attitude of gratitude can replace a lifetime of sequential guilty pleas.
There is almost no bad time to use the magic phrase "thank you." The next time you're a little tardy to a meeting, don't say "Sorry I'm late," maybe try "Thank you for waiting" instead. Apologize too much in your emails? There's  a google chrome plug-in for that.
If you suddenly realize that you've been monopolizing a conversation, don't apologize for it. Instead say "Thank you for listening," or "Thank you for being my friend."
In other words, if you have committed a minor offense, offer your victim gratitude for the instant forgiveness they have presumably given you. Your dignity will be intact or even enhanced, and your victim/friend will feel great — they have been magically transformed into a good sport.
About Dr. Thais Aliabadi
As one of the nation's leading OB/GYN's, Dr. Thaïs Aliabadi offers the very best in obstetrics and gynecology, including telehealth appointments. Together with her warm professional team, Dr. Aliabadi supports women through all phases of life. She creates a special one-on-one relationship between patient and doctor.
We invite you to establish care with Dr. Aliabadi. Please click here to make an appointment or call us at (844) 863-6700.
We take our patients' safety very seriously. Our facility's Covid-19 patient safety procedures exceed all CDC and World Health Organization recommendations. Masks are required in our office at all times during the coronavirus pandemic.
The practice of Dr. Thais Aliabadi and the Outpatient Hysterectomy Center are conveniently located for patients throughout Southern California and the Los Angeles area. We are near Beverly Hills, West Hollywood, Santa Monica, West Los Angeles, Culver City, Hollywood, Venice, Marina del Rey, Malibu, Manhattan Beach, and Downtown Los Angeles.

Latest posts by Dr. Aliabadi Education Team
(see all)