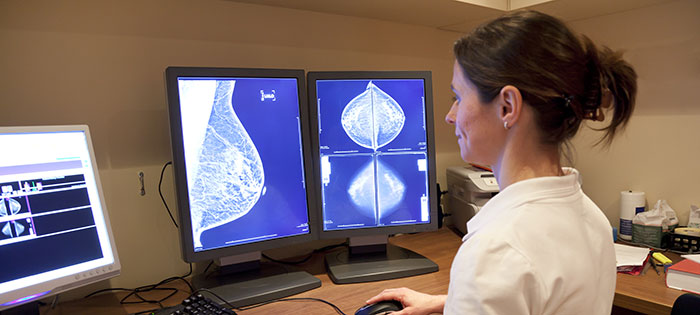 If you love a woman who's 40 years or older, or at higher risk for breast cancer, please read this post!
What are 3D Mammograms?
3D Mammograms are now available and they improve breast cancer detection by 30-50 percent, with earlier stage diagnosis and reduced call-backs! It saved my life! Scroll to the right to see my 4mm pre-cancer cells on 3D MMG from last Oct. 😰
The clarity of the 3D image is so much better compared to the 2D technology, especially in women with dense breasts. Young age, low BMI and hormone replacement therapy are risk factors for dense breasts.
2D Mamogram images are flat, the breast tissue overlaps and makes it very difficult for the radiologist to pick up any abnormalities in the breast.
How does 3D Mammography work?
During a 3D Mammogram, the computer produces a layered 3D image of the breast tissue and provides an amazing clarity and detail and allows the radiologist to flip through 1 mm images, like pages in a book. If you have dense breasts or at an increased risk for breast cancer, ask your physician for a 3dmammogram
Breast Cancer is the #1 cancer in women.
Remember breastcancer is the number 1 cancer in women. 75% of patients with breast cancer do NOT have a family history of it. Get your Mammograms annually!
About Dr. Thaïs Aliabadi
As one of the nation's leading OB-GYNs, Dr. Thaïs Aliabadi offers the very best in gynecological and obstetric care. Together with her warm professional team, Dr. Aliabadi supports women through all phases of life. She fosters a special one-on-one relationship between patient and doctor.
We invite you to establish care with Dr. Aliabadi. Please click here to make an appointment or call us at (844) 863-6700.

Latest posts by Dr. Thaïs Aliabadi
(see all)