In the competition for worst joint pain, men and women start off tied – all genders come equipped with an equal complement of 360 joints in their respective skeletons. After that, the game is rigged against the female gender.
The most common cause of joint pain for both men and women is arthritis (the medical prefix "arth" means bone, and the suffix "-itis" means inflammation.)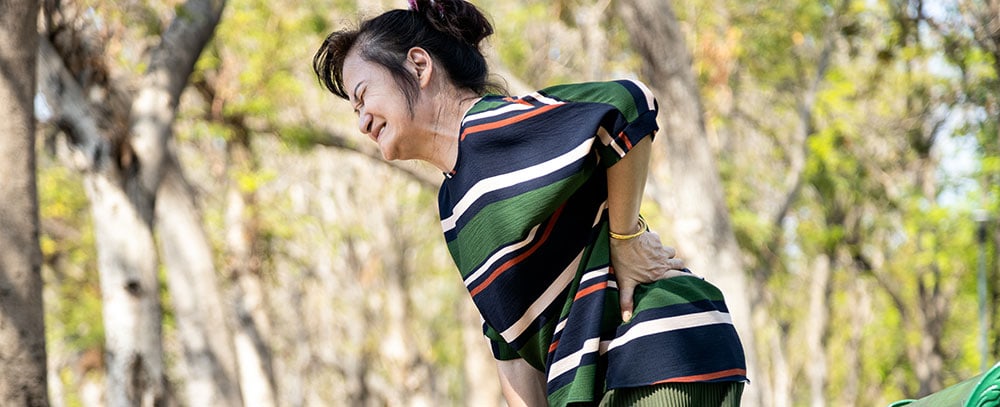 What are the types of arthritis?
Arthritis comes in a multitude of different varieties, but the two most common by far are osteoarthritis (OA) and rheumatoid arthritis (RA). The primary symptom of each condition is pain in a joint, but the causes of the two conditions are different.
What is osteoarthritis?
Osteoarthritis is generally a product of wear and tear over time.
Osteoarthritis is not an equal opportunity disorder. It picks on women. The gender disparity between men and women in the incidence of OA becomes statistically noticeable around age 40. The risk of osteoarthritis becomes significantly greater after women enter menopause. And, by the time a woman is 65, she is twice as likely to experience OA as a man. From another statistical perspective, 27 million Americans have osteoarthritis; 60% of them are women.
What is rheumatoid arthritis?
Rheumatoid arthritis is an autoimmune disease, wherein the body's own immune system has switched sides and is traitorously attacking its host.
Rheumatoid arthritis is an even worse gender bully than OA. Out of every four sufferers of RA, three are women.
What are other causes of joint pain?
Some causes of joint pain include bursitis, fibromyalgia, psoriasis, septic arthritis, psoriatic arthritis, reactive arthritis, tendinitis, arthralgia, systemic lupus erythematosus, hepatitis, and Lyme disease.
More common causes of joint pain include:
Back pain
Knee pain
Joint dislocation
Big toe pain
Sprains
Muscle pain
Pseudogout
Buildup of uric acid
Treatment options for chronic pain often include self-care
Over-the-counter nonsteroidal anti-inflammatory drugs (NSAIDs) such as ibuprofen and acetaminophen can provide pain relief in the affected joint. This is especially helpful for morning stiffness getting out of bed.
For severe joint pain and joint inflammation, pain medications and corticosteroids may be prescribed. Physical therapy and exercises to prevent overuse of the affected joints can also be helpful.
In a worst-case scenario, joint replacement can fix the affected joint and improve quality of life.
So, what causes the gender differences regarding joint pain?
There are a plethora of theories that purport to explain why women are at higher risk for joint pain. Some of these include:
1. Estrogen and menopause
Estrogen is an inflammation fighter, so it protects the slick cartilage that lines the joints against the "-itis" (inflammation) component of arthritis pain.
The primary side effect of menopause is plummeting estrogen levels. So, it's no coincidence that the onset of menopause coincides with an increased arthritis risk. And women experience a reduction of estrogen levels monthly, with each and every period, so the damage isn't all postponed until the onset of menopause.
The "estrogen is good" theory is buttressed by the results of a study conducted in London. Among more than 1,000 postmenopausal study participants, the cohort that used hormone replacement therapy experienced significantly less osteoarthritis in both their knees and their hands.
2. Testosterone protects men from joint pain
Another hormonal sex difference is that men have a lot more testosterone coursing through their systems than women do. Testosterone may very well be responsible for most of the world's problems, but it has at least one positive consequence: it builds a strong musculoskeletal system.
So men's joints are more likely to be sheathed in protective muscle, which reduces the incidence of joint ailments.
3. What is relaxin and how does it affect women?
A third hormonal distinction involves relaxin, a hormone that is released in small quantities concurrently with each ovulation. (When pregnancy occurs, relaxin is released in much greater quantities.)
Relaxin is still somewhat mysterious, but it seems designed to prepare a woman's body for pregnancy. One of relaxin's effects is to loosen the ligaments and tendons that keep joints strapped tightly together. This facilitates fetal delivery by allowing expansion of the joints in the pelvic area.
But relaxin operates systemically, so it destabilizes joints throughout a woman's body. Joint laxity can lead to bones straying from their natural boundaries. This can lead to cartilage damage and, eventually, osteoarthritis.
Sex differences are also biomechanical
All people may have the same 360 joints, but there are still structural differences. For example, a woman's hips are proportionally wider than a man's. This facilitates childbearing.
But it also means that women tend to be slightly knock-kneed, while men's legs tend to be more of a straight line from hip to ankle. That inward bend at the knee, be it ever so slight, exerts significant torsional forces on a woman's knee joint. So women's knee ligaments tend to rupture more readily than men.
What is kneecap misalignment?
Women are more likely than men to develop a condition called patellofemoral misalignment. Essentially, the kneecap doesn't fit quite right with the femur (thigh bone). This misalignment leads to recurrent friction between the kneecap and the femur.
The problem is often exacerbated within the hyperextended knees of women who frequently wear high heels.
Evolutionary biology and women's joint pain
Nature is efficient. It causes humans to evolve in ways that are beneficial for the survival of the species.
At least, that's one plausible explanation for the indisputable fact that, when compared to men's knees, the bony surfaces of women's knee joints do not fit together as well, nor do they move as synchronously. Also, women's knees contain less cartilage than men's knees, even when bone size and body mass are taken into account. And we've already discussed testosterone and stronger male muscles.
All this male strength is readily explicable by the existence of an efficient force of Nature. After all, many, many millennia ago, men actually did need to have bodies that were more capable of heavy-duty performance. Men had to have industrial-strength joints, so they could chase down the mastodons, slay them, and drag the carcasses back to the cave, where the woman, who understood how much art would appreciate, was teaching the kids how to draw on the walls (an educational activity that doesn't require extraordinarily strong knees).
At least that's the story as told by evolutionary biologists.
You can blame your painful joints on genetics
Researchers have found specific genetic links between ancestral women and their descendants, for both hand and knee osteoarthritis.
Having a family history of arthritis, especially rheumatoid arthritis, ups the risk for both men and women. But the increased risk is proportionately greater for the female descendent of an arthritic woman.
Last thoughts, and some good advice to help deal with joint pain
Most causes of arthritis are beyond your control. We don't know how to stop growing older or being female. You can't prevent your ancestors from giving you a proclivity toward arthritis. But women of all age groups can take a few simple steps that will reduce their susceptibility to both OA and RA:
Maintain a healthy weight. Excess bodyweight puts excess pressure on the knees and studies have shown obesity to be a risk factor for OA. If you've recently put on extra weight, weight loss may help.
Control your blood sugar. High levels of blood sugar can harden the cartilage that supports your joints.
Even limited amounts of regular exercise will strengthen the muscles and connective tissue that protect your joints. Stick to low-impact activities, such as cycling, walking, or swimming.
Stretching will improve your range of motion and make injury less likely.
If you smoke, don't.
Eat fish that are high in Omega-3s, such as salmon, trout, and mackerel. Omega-3s reduce inflammation.
Get routine preventative healthcare. Your doctor can suggest methods that may reduce the risk of arthritis, or at least slow its progress.
About Dr. Aliabadi
As one of the nation's leading OB/GYN's, Dr. Thaïs Aliabadi offers the very best in obstetrics and gynecology, including telehealth appointments. Together with her warm professional team, Dr. Aliabadi supports women through all phases of life. She creates a special one-on-one relationship between patient and doctor.
We invite you to establish care with Dr. Aliabadi. Please make an appointment online or call us at (844) 863-6700.
We take our patients' safety very seriously. Our facility's Covid-19 patient safety procedures exceed all CDC and World Health Organization recommendations. Masks are required in our office at all times during the coronavirus pandemic.
The practice of Dr. Thais Aliabadi and the Outpatient Hysterectomy Center are conveniently located for patients throughout Southern California and the Los Angeles area. We are near Beverly Hills, West Hollywood, Santa Monica, West Los Angeles, Culver City, Hollywood, Venice, Marina del Rey, Malibu, Manhattan Beach, and Downtown Los Angeles.

Latest posts by Dr. Aliabadi Education Team
(see all)