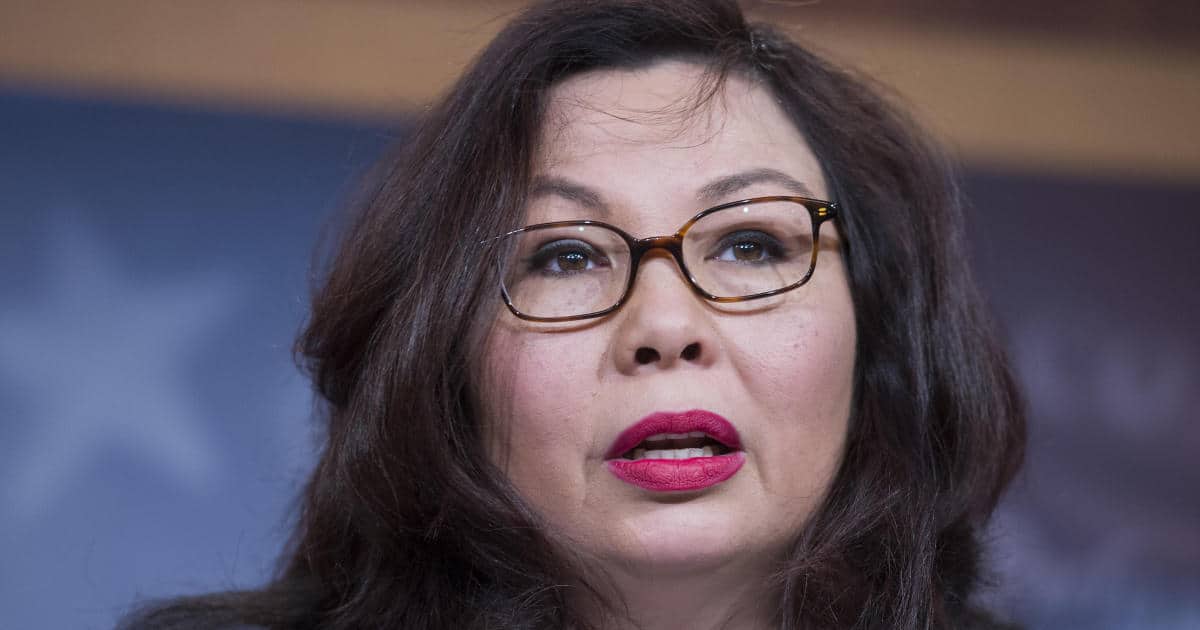 "If I take maternity leave, then I won't be allowed to sponsor legislation or vote during that time period," explained Duckworth
From piloting Black Hawk helicopters in war to shattering glass ceilings in the U.S. Congress and now having a baby in her 50s, is there anything Sen. Tammy Duckworth (D-IL) can't do?
Yes, actually: She can't bring her new baby onto the Senate floor.
Duckworth says arcane Senate rules have made it incredibly difficult to do her job.
"If I have to vote, and I'm breastfeeding my child, especially during my maternity leave period, what do I do?" she told Politico in their Women Rule podcast. "Leave her sitting outside?"
The House of Representatives makes allowances for children, but the same protections do not extend to the Senate. In fact, Duckworth has found there are no practical avenues for Senators to take parental leave. If she takes time off after the birth of her second child, expected this spring, "I won't be allowed to sponsor legislation or vote during that time period."
A woman who serves her country
If this obstacle is anything like other barriers she's faced over her long career in public service, it'll soon be flattened – marked with the tread of her wheelchair.
Duckworth lost both legs in 2004, when a rocket-propelled grenade hit the Black Hawk helicopter she was piloting in Iraq. But one thing you'll learn about Tammy Duckworth: nothing keeps her down for long. This decorated retired U.S. Army Lieutenant Colonel, is a woman of firsts. She is the first Asian-American woman elected to Congress from her state, and the first disabled woman elected to Congress. The Senator is now set to establish another: The first U.S. Senator to give birth while in office.
Duckworth is shedding light on the maternity struggles of American women
And this is especially true in the workforce. She has fought a 10-year battle with infertility, running through several IVF cycles and suffering a miscarriage while on the campaign trail.
She decided to run for United States Senate while she was on maternity leave with Abigail, who was born in 2014. "I was trying to breastfeed, travel, campaign, [and] do my job as a United States Congresswoman," she told CBS.
But like a true warrior, Duckworth channeled her pain and frustration into action.
"It was really, really tough," she said. "There were a lot of tears, a lot of 'Why am I doing this?' and 'I just want to be home with my daughter.' But then I would come across a situation that needed to be fixed like legislation that I could pass. I have to do this. This makes me a better legislator."
What is breastfeeding like on the campaign trail?
One of the most baffling situations the Senator had to endure was the lack of lactation rooms in U.S. airports. "It's the handicapped stall in the public toilet. I said, 'That's disgusting!'"
With her baby Abigail and an entourage of campaign aides in tow, Duckworth had no choice but to nurse or pump breastmilk while sitting on the john: the same cold, porcelain throne that millions of American moms are forced onto every single day, in public and in the workplace.
According to a 2014 study, only 8% of airports meet minimum breastfeeding standards. "It was humiliating," she said.
Her experience inspired her to push for new legislation mandating that commercial airports provide private lactation rooms for new moms. The bill, called the Friendly Airports for Mothers Act, is out of committee, and is co-sponsored by Rep. Steve Knight (R-CA).
Senator Duckworth's baby is due in April
Duckworth's pregnancy announcement dropped on Twitter in late January of this year. Her second child is due in April, just after the Senator celebrates her 50th birthday, on March 12.
She gave a special shout-out to her fertility doctor, who was a beacon of hope throughout her journey. "He said a 50-year-old mom is the new 40," she said with a laugh during an interview with CBS News.
The announcement has given our Congressional representatives something to celebrate during these polarizing times. "Other members on both sides of the aisle have been fantastic," she said. "People are so happy. We've all been hungering for something non-partisan."
Congratulations to Sen. Duckworth and her family! What do you think of the new legislation? Let me know in the comments! Thaïs

Latest posts by Dr. Thaïs Aliabadi
(see all)
Reader Interactions