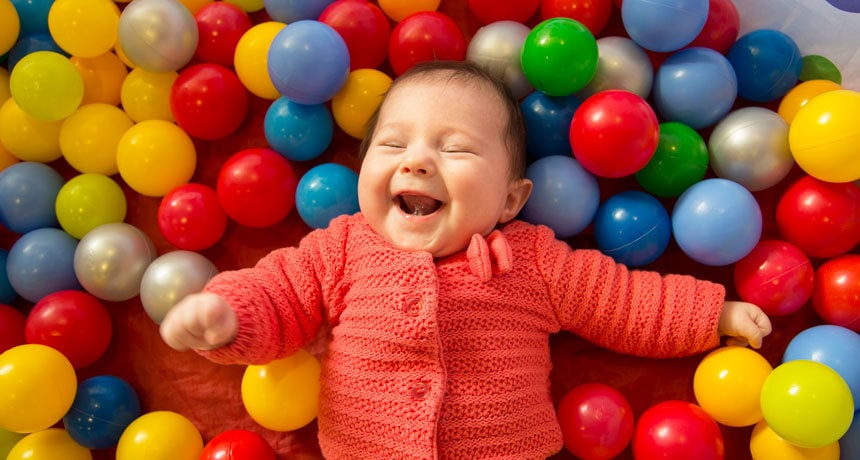 Babies divide hues into five categories, much like adults, a result that suggests color categorization is built into the brain.
If you thought your newborn can only see in black and white and there are enough toy pandas in the nursery, it's time to bring on the color.
Researchers have discovered an interesting new development about when and how babies see in color. Traditional thinking says infants see black and white to help them distinguish the shape of things. But this new study, patiently and painstakingly gathered while working with 179 babies, (babies have their own agenda when it comes to time, as you are well aware) revealed that infants do indeed see color.
Anna Franklin, a color researcher at the University of Sussex in England, created a format to determine how babies ages 4 to 6 months distinguish color and how they can tell when one color changes to another. Her team coaxed those 179 babies to calmly and repeatedly look at 2 squares, each one of fourteen colors chosen for the test. Then the researchers shifted one of the squares to a new color. Gazing at the new color longer indicated that the baby recognized it as new.
The results show that babies are born with certain categories pre-programmed in their brains. It is an interesting window into what is happening in a baby's brain as he learns about his world.  Let me know what you think.  Thaïs
Read the full article at: www.sciencenews.org

Highly-trained and honored by the medical community, Dr. Thais Aliabadi is certified by the American Board of Obstetrics and Gynecology and a Diplomat of the American College of Obstetrics and Gynecology. She implements the most advanced, state-of-the-art technology and treatment options. Dr. Aliabadi specializes in up-to-date, minimally invasive surgical techniques, promising her patients shorter recovery times, reduced pain, and the least interruption to their daily lives.

Supported by her warm professional team, Dr. Aliabadi treats women through all phases of life and cherishes the special one-on-one relationship between patient and doctor.
Reader Interactions