In the 1930s, the iconic comic strip character Popeye magically acquired a son (maybe a nephew?) named Sweet Pea. Popeye may not have been the ideal father-figure role model, because Sweet Pea appears to have spent his formative years sleeping in a dresser drawer.
Of course, the Finnish baby bins can't claim sole responsibility for the startling improvement in Finnish infant health. Along with the baby boxes, the Finnish government continues to provide universal free healthcare for both mother and child. If a new mother needs extra help, neonatal professionals come by to assist during the first few weeks of her baby's life.
The New Jersey program is the most comprehensive. In 2016, 90% of sudden infant death incidents in New Jersey were related to unsafe sleep environments. To reduce these alarming statistics, every baby born in New Jersey in 2017 now goes home with a sturdy box, equipped with a firm mattress, a waterproof cover, and a fitted sheet, all designed to provide a safe sleep environment. The box is filled with items essential for newborn care, such as diapers, wipes, charts, breast cream, breast pads and pajamas.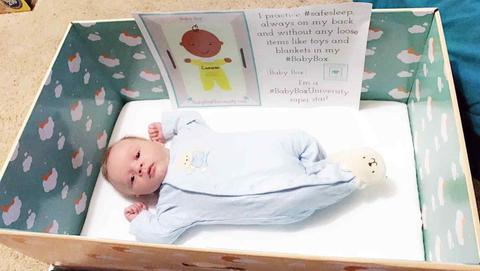 Two best friend moms started the Baby Box Co. in California in 2013. Through a partnership between Baby Box and New Jersey's Child Fatality Review Board, a CDC grant gives boxes free of charge to new mothers in New Jersey. A similar program is being provided by Aurora Health Care in Milwaukee and through the nonprofit Berkshire Baby Box organization in Massachusetts.
Through nonprofit organizations affiliated with Baby Box, expectant mothers in other areas of the United States can buy baby boxes (now made with higher quality materials than cardboard) for prices ranging from $70-$225; they can access online training tutorials which give information on safe sleep, nutrition (canned spinach, anyone?), and other significant aspects of infant health.  Often just completing the online tutorial will get a new mother her baby box for free.
Let me know what you think!  Thaïs
Read more about Baby Boxes on the Baby Box Company website as well as a great article from the Washington Post.
Save

Latest posts by Dr. Thaïs Aliabadi
(see all)
Reader Interactions