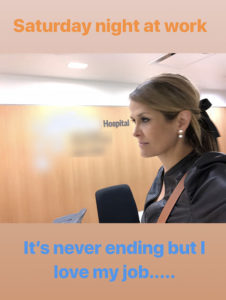 I love my job, and fortunately for me, owning my own practice gives me the autonomy I need to stay connected to both my life and my patients. Providing my patients with that personal touch has always been the hallmark of my practice, and I believe it's what helps me to always find fulfillment in the work that I do.
But the long hours and frequent flights across the country – and across the ocean! – don't make this job any easier, and I've made many personal sacrifices along the way. I've missed parties, weddings, my kids' school events, family vacations, and more than a few home-cooked dinners!
Professional burnout is a major problem among American doctors (not to mention many other professions), and it's a problem that's affecting the quality of our healthcare system.
What is Burnout?
Burnout is the feeling of cynicism in the workplace, loss of enthusiasm for your job, and a low sense of personal accomplishment.
Of course, people in all professions experience some degree of burnout, but the feeling is particularly prevalent among physicians – affecting a staggering 42% of us. Why should this concern you? Because professional exhaustion spills over into patient care, and can result in an overall lower quality of service.
Studies have linked physician burnout to a number of disturbing phenomena, including staff turnover, medical errors, malpractice, patient satisfaction, drug and alcohol addiction, and suicide.
And this trend is all the more troublesome, because according to research, burnout among doctors is reportedly on the rise.
In 2013, just under 40% of physicians reported feelings of burnout. This year, in 2018, that number rose to 42%. For Ob/Gyns, the trend is even more pronounced, with 42% reporting burnout in 2013, compared to 46% in 2018.
Some Worrisome Trends for Doctors
The data come from the annual Medscape Lifestyle Report. This year, over 15,000 physicians across 29 specialties participated, answering tough, but important questions about their happiness, mental health, personal habits, and work/life balance.
So which types of doctors experience the highest levels of burnout? Here are the top ten specialties reporting for 2018.
Critical Care (48%)
Neurology (48%)
Family Medicine (47%)
Ob/Gyn (46%)
Internal Medicine (46%)
Emergency Medicine (45%)
Radiology (45%)
Physical Medicine and Rehabilitation (44%)
Urology (44%)
Allergy and Immunology (44%)
In addition, female physicians report higher levels of burnout than males, 48% compared to 38%.
Doctors surveyed said that spending too much time at work was one of the largest contributors to burnout. While almost half of physicians (49%) were lucky enough to take 3-4 weeks of vacation per year, many others (17%) had taken only two weeks or less.
Doctors and Mental Health
The Medscape Lifestyle survey also took a magnifying glass to the issue of doctors' mental health. Among doctors, 12% consider themselves to be depressed, while 3% have been diagnosed with clinical depression.
Doctors' job and financial troubles were said to be the largest contributors to their depression.But which specialists report the highest levels of both burnout and depression? That distinction, it turns out, belongs to Gynecologists, with this dangerous combination found in an astounding 20% of doctors.
Coping with burnout and mental illness can take a huge toll on a physician's performance, relationships, and health. Many physicians turn to substance abuse, to the detriment of their health, their families, and, in some cases, their criminal record.
And what about the physicians who report no burnout? They do exist! They manage to find ways of coping with job stressors, while keeping those feelings of jadedness at bay. The survey provided some valuable insights about what we can do to help reduce our work fatigue. And these suggestions are certainly applicable to more than just us doctors (like most of us here in Los Angeles)!
How can we prevent burnout?  Here's 8 suggestions!:
Have a sense of autonomy or flexibility.
A gridlocked work schedule can make you feel like a prisoner in your own life.
1. Work part-time / cut back and don't work full-time.
Now, I know this option won't work for everyone. Sometimes you can't afford to cut hours, or your job simply does not offer this flexibility. But if you can work out a flexible work schedule, working less can help you take back control of your schedule.
2. Exercise.
Just like I tell my patients all the time, getting regular exercise helps us all better manage stress. It releases endorphins, and boosts your immune system for long-term health and happiness.
3. Manage expectations and have a positive outlook.
Your job may not be your "dream job," but you can still find opportunities for personal growth and purpose in your work. This is certainly a "glass half-full" way to look at this situation, but it seems like a wise thing to try.
4. Enjoy the company of your patients/clients/customers.
Building meaningful relationships with those you serve, in my case my beloved patients, is key to my own fulfillment.
5. Work in a good environment.
Perhaps it's not the job that's making your miserable, but the clinic, hospital, office or company you work at. Finding the work environment that clicks for you could be that make-it-or-break-it factor.
6. Have supportive colleagues, family, or hopefully both!
I know I couldn't do what I do without the unwavering support of my family and staff!
7. Find balance in your home life and work life.
Oh my gosh, this is so much easier said than done! I am told that taking a good look at your priorities can help you find clarity. Decide for yourself that your home life is just as important as your work life, and take it just as seriously as you would any professional commitment.
And then try to find enough hours in the day to do all that you want to do.
8. Maintain a sense of accomplishment, even joy.
Celebrate victories, both big and small. The other night, I was in the NICU. It was so quiet, I couldn't even whisper without being heard. While the parents were away, one doctor was still awake, feeding this tiny baby. I got home and told my husband, "Nobody sees what these angels are doing here."
I consider myself blessed that I enjoy my work, and haven't experienced burnout in my practice. But reading about these issues really made me stop to appreciate the personal sacrifices that all healthcare providers – nurses and staff included – make to ensure that their patients get the care they deserve.

Latest posts by Dr. Thaïs Aliabadi
(see all)