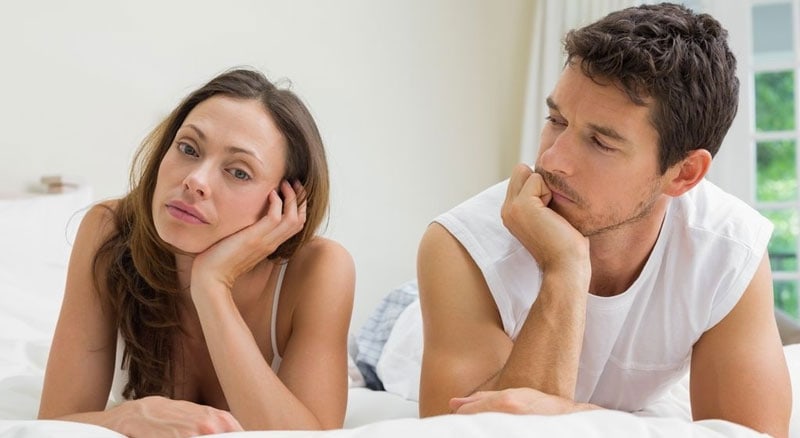 After menopause, painful intercourse often is associated with changes due to decreased estrogen levels.
It can be difficult to think about, let alone talk about, conditions which cause sex-related vaginal pain. Opaque Latin terms like dyspareunia and vulvodynia are used to cloak a subject that, well, you know, proper women just don't mention. Not to anybody. Not even to their doctors.
What is dyspareunia and vulvodynia?
These two conditions largely overlap. Dyspareunia is persistent vaginal pain as a result of physical sexual contact.  Discomfort can result from any sort of genital touching that includes painful penetration and the pain level can range from mild to severe. Vulvodynia is chronic pain around the vulva. Vulvodynia differs from dyspareunia in that it can occur without any provoking touch and the pain generally lasts much longer.
The most commonly reported symptoms of vulvodynia are burning, throbbing, and itching in the genital area. Factors that may trigger vulvodynia are sexual contact (as with dyspareunia), reoccurring vaginal infections, use of a tampon, prolonged sitting, and even wearing tight fitting pants.
How common is dyspareunia and vulvodynia?
Because women don't talk about the subject, even among themselves, it's difficult to determine the prevalence of these conditions. Reported statistics vary widely. A survey of postmenopausal women not on hormone therapy revealed dyspareunia in up to 30 percent of respondents. Another study estimates that one in five women between the ages of 18 and 29 is afflicted with chronic vaginal pain. A third report estimates that between 10 and 20 percent of all US women are affected with vaginal pain. Whatever the statistics may be, both conditions dramatically lessen the quality of life for millions of American women.
Historically, the medical profession tended to take the easy way out. Dyspareunia and vulvodynia were commonly dismissed as purely psychological problems. Dyspareunia is one of the few pain syndromes classified as a psychiatric illness in the psychiatric diagnostic manual DSM-IV.
This "it's all in your head" classification, and the connotations it conveys, enhance the shame component which often inhibits candid and open discussion. Women who suffer from chronic vaginal and sex-related pain can find it difficult to even begin a search for support and treatment.
The causes of dyspareunia and vulvodynia are myriad
The causes of dyspareunia and vulvodynia are often referred to as being "multifactorial". This, of course, is medical shorthand for "We really don't have a clue." Or, more accurately, "We have far too many clues". One respected source says, "This remains a condition in which there remains a wide spectrum of opinion about possible causes, accuracy of diagnosis, and optimal treatment approach."
Some of the factors suggested as potential causes of vulvodynia and dyspareunia include:
Trauma or irritation to the vulvar nerves
An abnormal reaction by vulvar cells to infection
Spasms in the pelvic floor muscles (vaginismus)
Genetic abnormalities
A hypersensitivity to vaginal yeast
Menopausal vaginal atrophy due to decreasing levels of estrogen
Endometriosis
Pelvic inflammatory disease
Emotional factors, i.e., psychological issues
Postpartum problems
Skin conditions, such as lichen sclerosis
And the list goes on….
Whatever the cause or causes may be, dyspareunia and vulvodynia are very real physiological conditions which are now receiving long-overdue attention.
Many a woman says the most frustrating aspect of having chronic vaginal pain is getting a doctor to take her seriously. Until a decade or so ago, chronic vaginal pain was relatively obscure, and knowledge about it was not widespread. One recent study showed that women saw an average of five physicians before an accurate diagnosis was made.
Treating vulvodynia and dyspareunia 
Treatment for the physiological aspects of these conditions include lubrication, estrogen replacement, medication, and physical therapy. In about 70 percent of cases, a cream compounded from gabapentin, amitriptyline, and/or baclofen results in significant improvement within 6 months.
Various physical therapy protocols can help patients rehabilitate their pelvic floor muscles. And patients report that massage and ovular plastic expanders (to stretch and relax the vagina) are often effective. As a last resort, in cases where the pain is focused in the vaginal opening, vulvodynia surgery provides a 60% to 90% success rate.
MonaLisa Touch is a high-tech laser treatment for vaginal pain 
The newest and most promising treatment for chronic vaginal pain and vaginal atrophy is the MonaLisa Touch. This gentle CO2 fractional laser treatment delivers controlled energy to the affected areas. It restores vaginal health by regenerating vaginal tissue, increasing elasticity, and restoring healthy blood flow.
This FDA approved procedure is performed under local anesthesia, such as topical lidocaine. Although some patients report mild discomfort the first time the CO2 fractional laser dissemination probe is inserted, the treatment itself is not at all painful. Most patients report only a mild tingling.
The MonaLisa laser is an in-office procedure, consisting of 3 treatments administered approximately a month apart. Each treatment takes only about 5 minutes. Side effects are either nonexistent or minor.
A recent pilot study reported on the use of CO2 laser treatment for vaginal pain in 37 women. After 3 treatments, 68% of the patients reported that their symptoms were either "improved" or "very improved". The patients also reported significant decreases in other vulvodynia symptoms.
Treating the emotional pain of dyspareunia and vulvodynia 
Untreated vaginal pain can be emotionally devastating. One of the consequences is eradication of the libido. When the sexual component of a relationship is diminished, the relationship can suffer.
Emotional well-being hangs in the balance 
Emotional support is an essential component of a successful treatment program. Learning to be comfortable discussing the intimate details of sexual dysfunction is a hugely empowering step. And it is very encouraging to know that, with the many available treatment modalities, significant improvement can be confidently predicted. Thaïs
About Dr. Thais Aliabadi
As one of the nation's leading OB-GYNs, Dr. Thaïs Aliabadi offers the very best in gynecological and obstetric care. Together with her warm professional team, Dr. Aliabadi supports women through all phases of life. She fosters a special one-on-one relationship between patient and doctor. We invite you to establish care with Dr. Aliabadi. Please click here to make an appointment or call us at (844) 863-6700.

Latest posts by Dr. Thaïs Aliabadi
(see all)