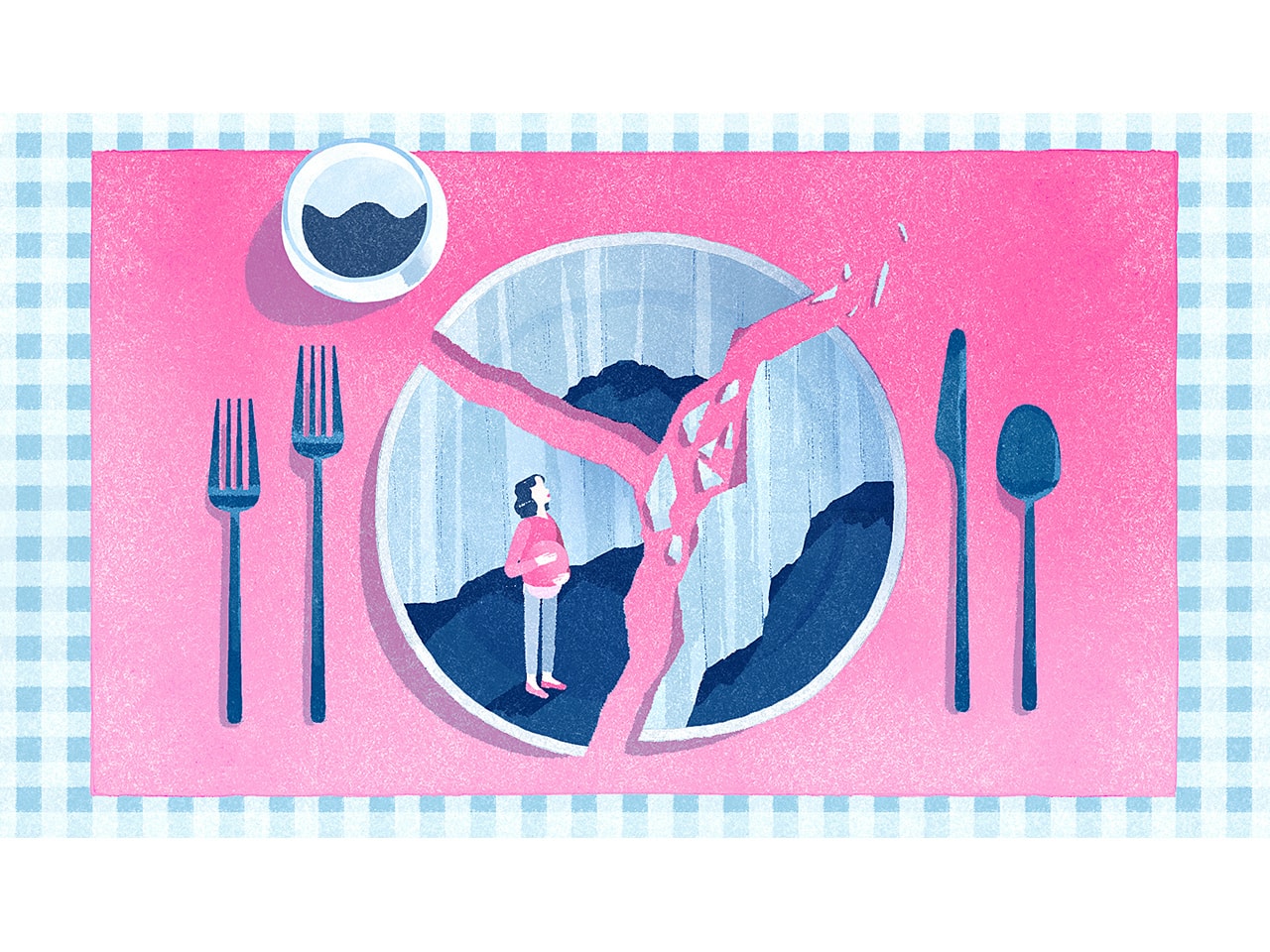 The changes that occur during pregnancy and postpartum can make women feel like their bodies are out of control. That's when eating disorders creep in.
It had been a hard day. Mom Arianne Tremblay couldn't bring herself to eat the hot food she'd prepared, but she wanted to set a good example for her young daughter. Using a fork, she pushed the mashed potatoes around her plate, making it look like she'd eaten. "I can't imagine seeing my daughter go through what I've gone through," she said.
At age 13, Tremblay was diagnosed with anorexia. The eating disorder developed as a coping mechanism to deal with difficult events in Tremblay's life, including moving internationally as a young child, and surviving a sexual assault in high school. Since then, she's recovered, relapsed, and recovered again. Twice, she's been hospitalized.
Pregnancy can be one of the most stressful experiences of a woman's life
More recently, Tremblay has struggled with a different kind of trigger: pregnancy. "As soon as my body started to change," she said, "I became hyperaware of the loss of control."
During her pregnancy, Tremblay found herself reverting back to her old habits. When her doctor learned that she wasn't eating the full daily-recommended calories, Tremblay agreed to meet with a psychiatrist. It was there she was warned her behaviors were putting her unborn baby at risk.
Tremblay is not alone. About 5-8% of pregnant women engage in disordered eating behaviors. This includes food restriction, binging and purging, and over-exercising.
A trigger for relapse
The risk of relapse is especially acute for women who've battled anorexia or bulimia in the past. About 2 out of every 3 women eventually recover from disordered eating, but the process takes time. Fewer than one-third of women with anorexia make a recovery nine years after beginning treatment. About two-thirds of women with bulimia recover within that timeline.
Both the pre-natal or postpartum periods can trigger a relapse. These times tend to drum up familiar body image and self-esteem issues. We often see friends, family, and doctors push moms-to-be to share details of their weight gain, diet, and the size of their "baby bump."
Pregnancy is a lot more triggering than doctors previously thought
In a recent study of 54 postpartum women, almost 28% showed signs of disordered eating, even though only one woman had a documented eating disorder in her medical history.
Along with the genetic, biological, psychological, and social causes, traumatic events and major life stressors can also contribute to disordered eating. Survivors of physical, sexual, and emotional abuse are much more likely to develop a disorder. Experts believe the behaviors represent an attempt to regain control over one's body and life.
"People who have had trauma struggle with shame and guilt, lack of control, and body dissatisfaction," says Simone Vigod, psychiatrist at the Reproductive Life Stages Program at Women's College Hospital in Toronto.
Eating disorders, pregnancy risks and complications
Anorexia and bulimia during pregnancy can cause a number of complications for both mom and baby. According to a study published in the American Journal of Obstetrics and Gynecology, both diagnoses correlate with low birth weights, which can be associated with asthma, diabetes, heart disease, and sudden infant death syndrome.
Anorexia is linked to additional dangers, including significantly premature births, still birth, and neonatal death. Pregnant women with a low body weight have a higher rate of miscarriage, and are at an increased risk for heart problems.
Moms who have suffered from bulimia or a binge eating disorder are three times as likely to develop post-partum depression.
I'm always concerned when I see that my patients are not eating enough for two. If you're concerned about your eating behaviors, talk to your doctor right away. The longer you put off treatment, the higher the risk for your baby. Read more and let me know what you think.  Thaïs
Read the full article at: www.todaysparent.com

Latest posts by Dr. Thaïs Aliabadi
(see all)