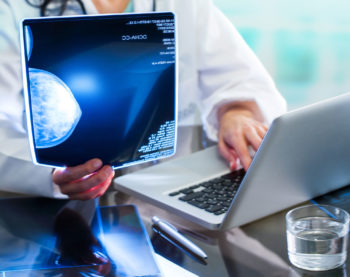 In science fiction stories, Artificial Intelligence (AI) is often the catalyst for scary robots to take over the world.  But that's not what's happening here.  Not by a long shot.  
Medical scientists are beginning to use AI to detect, predict and treat health problems such as heart disease and cancer. Researchers are advancing into uncharted territory. But even these hesitant first steps are producing amazing results.
Want a good example? One aspect of artificial intelligence known as deep learning is being used to accurately predict a woman's breast cancer up to 5 years before an actual tumor appears.
What is artificial intelligence (AI)?
Artificial intelligence (AI) is the ability of a computer program or a machine to think and learn. It is also a field of study which tries to make computers "smart" like humans, with much greater speed.
Artificial intelligence is broken down into three levels, each with a different goal and increasing sophistication (and computing power):
Basic AI
Basic AI consists of your computer doing something more easily than you can do it. Or easily doing something you can't do at all. But this sort of good old-fashioned AI is governed by rules programmed into the machine by humans.
Machine Learning
The second level of AI is known as machine learning. This level is achieved when a machine can improve its own performance without human intervention. In other words, a machine that teaches itself. And learns from itself. And all without any ongoing human participation.
Deep Learning
The third level of AI is called deep learning. Deep learning is a subset of machine learning with multiple layers of convoluted algorithms. Deep learning AI attempts to emulate human thinking, right up to copying our neural networks.
Deep learning AI is focusing on mammograms to reduce breast cancer risk
 Breast cancer is the second leading cause of cancer-related mortality among American women. It's estimated that over 230,000 women were diagnosed with breast cancer in 2015 (the latest year with complete US statistics). Approximately 40,000 women died from breast cancer in that year.
The sooner a cancer is detected, the more likely it is to be cured. Mammography is the gold standard for early detection of breast cancer, but mammography can be unreliable. 10 to 15% of women who undergo a mammogram must come back for a retake because of an inconclusive initial analysis.
The ability of AI to rapidly and accurately sort and classify visual images, such as full resolution mammography scans, is a natural fit for the prediction of women's cancer risks.
MIT scientists are using a deep learning network to predict breast cancer risk
MIT's Computer Science and Artificial Intelligence Laboratory (CSAIL), in conjunction with Massachusetts General Hospital (MGH), analyzed almost 89,000 mammograms and known outcomes from nearly 40,000 women who were treated at MGH between January 1, 2009 and December 31, 2012.
The CSAIL team used this mountain of data to first develop and then train a deep learning convolutional neural network. It's designed to detect incipient cancer as much as five years in advance.
This AI model can detect microscopic visual details that might elude the attention of the most skillful human radiologists
In fact, the image classification talents of a deep learning network can surpass the abilities of even the most diligent human examiners. A deep learning breast cancer detection model can detect the most subtle patterns in breast tissue that might indicate a potential malignancy.
And deep learning is fast. A deep neural network model can scan hundreds of the most detailed full-resolution mammograms at the same time required by a well-trained human to analyze a handful of scans.
Making mammography more equitable for all women
African-American women are 43% more likely to die from breast cancer than are Caucasian women. But nearly all the current breast cancer risk detection models were developed using data drawn solely from Caucasian women.
The MIT/MGH deep learning model was developed with a conscious recognition of the widely variable patterns of breast tissue among different races. The new model is equally accurate across all subgroups of women.
"Unlike traditional models, our deep learning model performs equally well across diverse races, ages, and family histories," said Regina Barzilay, Ph.D. She's an AI expert at MIT and herself a survivor of breast cancer.
Deep Learning AI will also be recommending screening schedules
The study's authors also hope to moot the ongoing debate over when women should begin mammograms and how often they should be repeated. "Rather than taking a one-size-fits-all approach, we can personalize screening around an individual woman's unique risk of developing cancer," said Barzilay, who wrote the report with Harvard Professor Constance Lehman.
With AI technology advancing at a truly amazing rate, it is gratifying to see these modern miracles being employed to save women's lives.
About Dr. Thaïs Aliabadi
As one of the nation's leading OB-GYNs, Dr. Thaïs Aliabadi offers the very best in gynecological and obstetric care. Together with her warm professional team, Dr. Aliabadi supports women through all phases of life. She fosters a special one-on-one relationship between patient and doctor.
We invite you to establish care with Dr. Aliabadi. Please click here to make an appointment or call us at (844) 863-6700.

Latest posts by Dr. Thaïs Aliabadi
(see all)