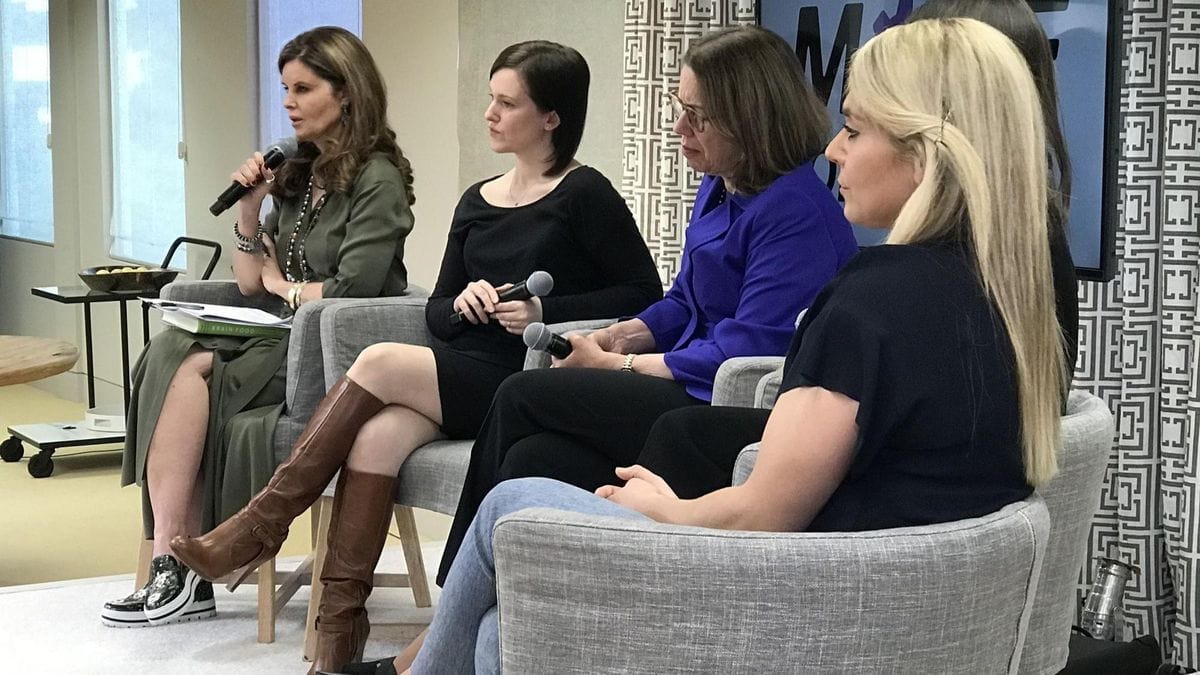 The former first lady of California has launched an initiative to help prevent dementia, using the latest research about the disease and brain health. "Genes are not destiny," says Maria Shriver, who has organized a nationwide series of events in June to raise awareness of brain health.
A new study says its time to be thinking about your brain health and what you can do to reduce the risk of dementia and Alzheimer's.
Alzheimer's affects twice as many women as men
Maria Shriver, the former first lady of California, founded the Women's Alzheimer's Movement when she learned that Alzheimer's affects women more than men. While moderating a panel at a recent conference, Shriver recalled: "I was speaking to the head of neurology up at Stanford who said, 'My waiting room is filled with 70-year-olds with the bodies of 40-year-olds and no minds.'"
(Shriver had a pre-existing interest in Alzheimer's; her father, the diplomat and politician Sargent Shriver, suffered from progressive Alzheimer's for the last eight years of his life.)
Alzheimer's is in your brain 20 years before you have symptoms
Why the incidence rate of Alzheimer's is doubled in women is still a mystery. It's probably related in some significant way to the changes that accompany menopause, in particular the inevitable drop in estrogen levels. One of the panel members, neuroscientist Lisa Moscone, said: "As estrogen declines, it leaves the brain a little bit unprotected and vulnerable to everything else – sleep deprivation, lack of exercise. When women are in their 40s, their brains really start to look like they are aging faster than the brains of men who are exactly the same age."
Shriver added: "This is a disease that is in your brain 20 years before you are symptomatic. So you're never too young to start thinking about your brain health and what your brain needs to survive and thrive."
Exercise, diet and good sleep are the best ways to stave off dementia
Experts have reached a rough consensus about what steps are most effective in delaying Alzheimer's or preventing it altogether. The mind/body connection seems to take the highest priority.
"If I could tell people any one thing to prevent or push off dementia," Shriver said, "it would be exercise." Exercise accelerates the flow of blood to the brain. This brings extra oxygen to maintain the brain's physical health. Exercise also helps prevent the brain lethargy that afflicts so many post-menopausal women.
Ruth Benko is a University of California Irvine expert on sleep and its relation to brain health. She advises that at least 15% of dementia is directly related to sleep problems.
Diet is also important in Alzheimer's prevention. The elevated blood sugar which marks a pre-diabetic condition can significantly increase your chance of incurring Alzheimer's. "Some foods will help us age gracefully and keep our mental faculties intact, whereas others substantially increase the risk of dementia", said Moscone, the author of "Brain Food: The Surprising Science of Eating for Cognitive Power".
While proper diet and appropriate sleep patterns are basic to prevention of Alzheimer's, a healthy exercise protocol still seems to be the most potent weapon in our arsenal against Alzheimer's. A new study from Sweden shows that women who were highly fit in their middle years were nearly 90% less likely to get Alzheimer's in the later stages of their lives.
191 women who took a strenuous fitness test in middle age were followed for the next 44 years. About 5% of the group with the highest level of exercise achievement developed dementia. 25% of those who showed a medium level of fitness in the initial test incurred dementia, while 45% of those who couldn't even finish that initial fitness test ultimately suffered from dementia.
The few highly fit women who developed dementia didn't become symptomatic until an average age of 90, 11 years later than the moderately fit women
"I'm very surprised that the finding was so strong," said Ingmar Skoog, a psychiatry professor at the University of Gothenburg in Sweden who led the research team.  "It really shows the importance of exercise. You can do something yourself to decrease your odds."
"If you don't want to have dementia when you're 80, the time to start getting fit is now," says Keith Fargo, Director of Scientific Programs at the Alzheimer's Association. "It may not necessarily give you longer life, but there is a compelling body of work showing that it will give you more good years."
So exercise plays an important part in brain health as we age. Along with better sleep and curbing sugar, let's all get on this band wagon and live to a healthy old age! Let me know what you think in the comments section.  Thaïs
Read the full article at: www.latimes.com

Highly-trained and honored by the medical community, Dr. Thais Aliabadi is certified by the American Board of Obstetrics and Gynecology and a Diplomat of the American College of Obstetrics and Gynecology. She implements the most advanced, state-of-the-art technology and treatment options. Dr. Aliabadi specializes in up-to-date, minimally invasive surgical techniques, promising her patients shorter recovery times, reduced pain, and the least interruption to their daily lives.

Supported by her warm professional team, Dr. Aliabadi treats women through all phases of life and cherishes the special one-on-one relationship between patient and doctor.
Reader Interactions