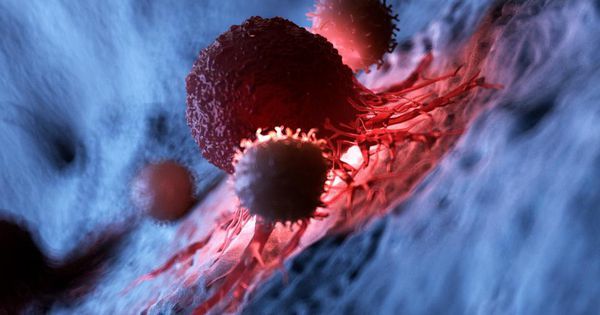 Cancer experts and others in the United States and abroad were less than enthusiastic about a team of Israeli scientist's statements that it would cure cancer in the coming year. In fact, some were outright incensed by the claims. Yet even so, many non-experts refused to give up hope.
It went viral. "Our cancer cure will be effective from day one, will last a duration of a few weeks, and will have no or minimal side effects, at a much lower cost than most other treatments on the market."
Hope springs eternal. Given the current state of the news, a cure for cancer would be enormous.
After all, the National Cancer Institute says that an estimated 1,735,350 new cases of cancer were diagnosed in the United States last year. And 38.4% of us will be diagnosed with cancer at some point during our lifetimes.
So, of course, the announcement of a cure for cancer did go viral
And it continues to do so. Does it matter that the announcement was made by a small Israeli biotech firm, which admits it hasn't got enough money to finance the peer review required to establish the bona fides of its extravagant claims?
Dan Aridor is the Board Chairman of Accelerated Evolution Biotechnologies (AEBi), which has been doing business in Israel ever since the year 2000.
If you're the chairman of a young and struggling company, and you're searching for a guaranteed way to get a whole lot of attention very quickly, you might release something just like he did: "Our cancer cure will be effective from day one, will last a duration of a few weeks, and will have no or minimal side effects, at a much lower cost than most other treatments on the market." It's what Aridor told the Jerusalem Post last week.
The worldwide social network reaction has been swift and huge. Many responses are oriented towards conspiracy theories. Several Facebook responders have helpfully advised AEBi to watch out for the hitmen from Big Pharma.
Should this claim of a new cancer treatment be taken seriously?
Both Aridor and Ilan Morad, AEBi's CEO, assert that their claims deserve at least a modicum of respect. They insist they've discovered an elegant, effective, and brand-new cancer disruption technique. They call it MuTaTo, for multi-target toxin.
Most of the current cancer drugs deploy molecular toxins to attack a single receptor on a cancerous cell. According to AEBi, this one-target-at-a-time approach allows the cancer to survive, either by mutating or by detoxifying the attacking drug.
In contrast, MuTaTo (purportedly) simultaneously aims multiple toxic peptide molecules at several receptors on each cancer cell. "Instead of attacking receptors one at a time, we attack receptors three at a time – not even cancer can mutate three receptors at the same time", says Morad.
MuTaTo's reception among U. S. cancer experts has been less than completely enthusiastic  
Len Lichtenenfeld is the deputy chief medical officer of the American Cancer Society. He responded to AEBi's announcement by first expressing "the aspirational hope" that AEBi's claims are accurate. He then offered several cautionary points, focusing primarily on AEBi's lack of any significant clinical trials and the concomitant lack of any peer review.
Lichtenfeld did agree that peptide techniques are "very powerful cancer research tools" 
And he also acknowledged that, "It is certainly possible this approach may work." But Lichtenfeld concluded his comments with: "Unfortunately – based on other similar claims of breakthrough technologies for the treatment of cancer – the odds are that it won't be successful."
Victoria Forster is a healthcare contributor for Forbes magazine. In addition to being a cancer research scientist, she herself is a cancer survivor. Forster analyzed Morad's claim that, "Not even cancer can mutate three receptors at the same time", as follows:
"This is categorically untrue. Cancers can have anywhere from one to tens of thousands of DNA mutations in their genomes, many of these being the 'receptors' Morad vaguely refers to."
Forster went on to castigate both AEBi and the journalists who reported on the announcement. "Such awful, unbalanced coverage of cancer research erodes trust in not only health journalism but also everybody genuinely working toward better treatment for people with cancer. Cancer patients and their families deserve far better."
So what's the real cancer story here?
Has a cure for cancer been found? Or is the actual story of how the internet itself often displays the metastasizing and out-of-control symptoms of cancer?
In any event, we appreciate the dedicated cancer researchers who diligently search for weapons to fight cancer. Even if they occasionally launch a premature claim of a cancer breakthrough into the wildly reactive internet. Let me know what you think. Thaïs
About Dr. Thais Aliabadi
As one of the nation's leading OB-GYNs, Dr. Thaïs Aliabadi offers the very best in gynecological and obstetric care. Together with her warm professional team, Dr. Aliabadi supports women through all phases of life. She fosters a special one-on-one relationship between patient and doctor. We invite you to establish care with Dr. Aliabadi. Please click here to make an appointment or call us at (844) 863-6700.
Read the full article at: www.forbes.com

Latest posts by Dr. Thaïs Aliabadi
(see all)