Are you interested in getting more sleep? Name someone our age who isn't!
I wanted to let you know about a new book, the first book by a leading scientific expert on sleep and it is not sleep inducing in the least bit (unless you follow its advice).
Did you know that sleep is one of the most important but least understood aspects of our life, wellness, and longevity? Until very recently, science had no answer to the question "why do we sleep?"  We did not truly know what good it served, or why we suffer such devastating health consequences when we don't sleep. Compared to the other basic drives in life—eating, drinking, and reproducing—the purpose of sleep remained elusive.
"Why We Sleep: Unlocking the Power of Sleep and Dream"
This fascinating book is written by Professor Matthew Walker, the Director of UC Berkeley's (GO BEARS!) Sleep and Neuroimaging Lab.  Matthew shares what they have learned from his amazing sleep studies and how we can harness its transformative power to change our lives for the better.
Let's hear it from a sleep evangelist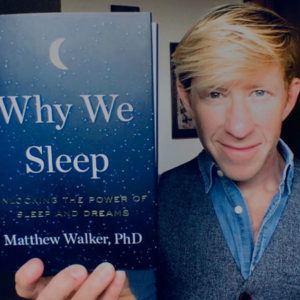 In the newly published Why We Sleep: Unlocking the Power of Sleep and Dreams, Walker guides us through decades of sleep research. He describes how the overtired brain and body make us vulnerable to cancer, Alzheimer's, depression, anxiety, obesity, stroke, chronic pain, diabetes and heart attacks, among other medical conditions.
He also explains the power of circadian rhythms, the therapeutic importance of Rapid Eye Movement (REM) dream sleep, and how alcohol, caffeine, pharmaceutical stimulants and sedatives disrupt sleep cycles and degrade the quality of brain waves that promote the rich slumber that wards off illness.
Cumulatively, he argues, the cognitive, emotional and physiological stresses of too few hours of sleep take a toll on such frontline personnel as military fighters, first responders, commercial airline pilots and long-haul truck drivers, leading to vehicular accidents, botched surgeries and fatalities, and, in the case of exhausted parents, child neglect and abuse.
Animals are more sleep-smart than humans
Of all the creatures in the animal kingdom, the book argues, humans are the only ones to "deliberately deprive themselves of sleep for no sound reason," Walker says.
Lions and tigers typically snooze 15 hours a day while brown bats sleep for a whole 19 hours. Dolphins, Walker says, "can even sleep with half a brain," meaning that one hemisphere of the brain remains awake at all times while the other falls, off and on, into a deep slumber.
If, as research shows, sleep functions like a fountain of youth, why aren't humans getting more of it? Walker asks. "There does not seem to be one major organ within the body, or process within the brain, that isn't optimally enhanced by sleep (and detrimentally impaired when we don't get enough). That we receive such a bounty of health benefits each night should not be surprising," Walker writes.
Matthew Walker's tips for improving your sleep:

Go to bed and wake up at the same time every day, even after a bad night's sleep or on the weekend.
Keep your bedroom temperature cool; about 65 degrees Fahrenheit is optimal for cooling your body towards sleep. Wear socks if your feet are cold.
An hour before bedtime, dim the lights and turn off all screens. Blackout curtains are helpful.
If you can't sleep, get out of bed and do something quiet and relaxing until the urge to sleep returns. Then go back to bed.
Avoid caffeine after 1 p.m. and never go to bed tipsy. Alcohol is a sedative and sedation is not sleep. It also blocks your REM dream sleep, an important part of the sleep cycle.
Dr. Walker was recently on Fresh Air with Terry Gross (if you do not know the show or Terry Gross, you are about to have your life enriched) and you can listen to it here
Where to get the book!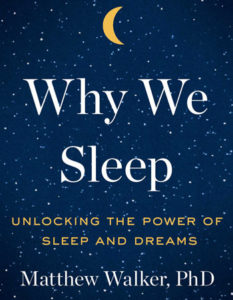 Get "Why We Sleep" in traditional format (paper) at the best independent book stores nation-wide. Some great independent book stores not too far from our office in Los Angeles are:
The Last Bookstore
453 S Spring St – Ground Floor
Los Angeles, CA 90013
(213) 488-0599
Book Soup
8818 Sunset Blvd,
West Hollywood, CA 90069
(310) 659-3110
Skylight Books
1818 N Vermont Ave,
Los Angeles, CA 90027
(323) 660-1175
Small World Books
1407 Ocean Front Walk,
Venice, CA 90291
(310) 399-2360
Don't live in LA or don't know a great independent book store near you? Here are 50 Of the Best Indie Bookstores In America for you to check out.
And of course, if you want the book in the new-fangled Kindle format or as an Audiobook, you can get it at Amazon too.

Latest posts by Dr. Thaïs Aliabadi
(see all)