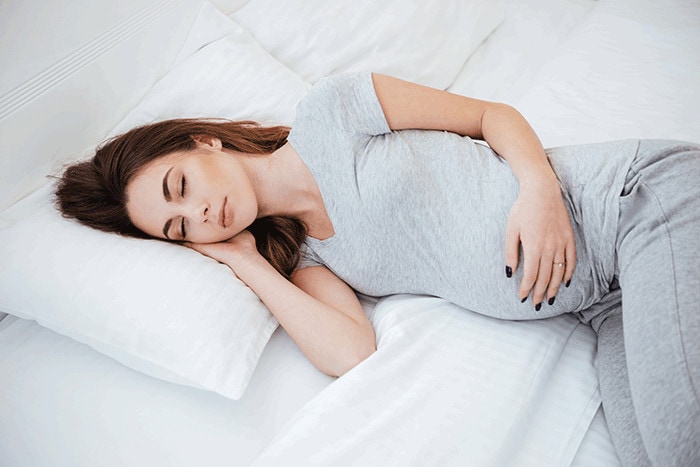 Pregnancy is a time of rapid and constant changes in your body. The baby brewing inside you affects your diet, body shape, physical limitations, and how you sleep. Just as you might experience heartburn for the first time while pregnant, you might also find yourself suffering from great sleepiness even though you've always been a sound sleeper.
Sleep is critical to a healthy pregnancy and can even affect labor and delivery. One sleep study found that expectant moms that slept less than six hours a night had a 4.5 times greater chance of needing a C-section. Pregnant women with severe sleep disorders or sleep apnea were found to be "5.2 times more likely to have cesarean deliveries" and they also experienced longer labor.
Here are some sleep changes you might experience from your hormonal changes during pregnancy and how to combat them so you can get some good sleep.
You need more sleep
If you've always had consistent sleep patterns such as you're a seven-hour-a-night sleeper, but suddenly need eight or nine to function, don't fight it! Your intensifying sleep demands can be hormonal, emotional, stress-related, or physiological as your body works overtime to grow a little human. Rampant estrogen production in early pregnancy means the first trimester will likely be your sleepiest (though it can continue through your third trimester of pregnancy as well).
You wake during the night
During the second trimester, your hormones level out, and you should feel less tired and wake with less morning sickness. However, other conditions may crop up that worsen your sleep leading to more sleep disturbances. Of course, there is the need for frequent urination, but also you may wake with leg cramps in the second or third trimester due to nerve impingement or weight gain. Some experience restless leg syndrome too. Heartburn is another source of wakefulness as your expanding uterus pushes on your stomach.
You snore like a bear
One of the unwelcome sleep side effects of pregnancy is snoring. Enhanced blood circulation and spiking hormones can cause swelling in nasal capillaries leading to congestion and snoring in the second trimester. Weight gain in late pregnancy also encourages snoring. One in three women experience snoring during pregnancy, and it can wake you or your partner making good sleep quality harder to achieve.
You can't get comfortable
If you've always been a back sleeper, you'll likely find as your pregnancy progresses, the less likely it is that you can stick with your preferred sleep posture. Back sleeping puts pressure on your spine as your growing uterus and baby press down. It is critically important to find a comfortable position. Avoid nighttime physical discomfort and waking up with back pain by changing your sleep position by side-sleeping with a pillow between your knees, preferably on a supportive firm mattress to help you get a good night's sleep.
You can't fall asleep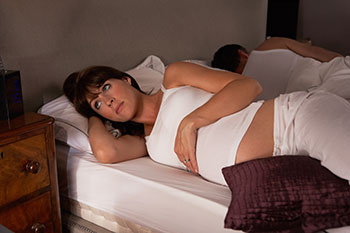 Even the best sleepers may struggle with insomnia or wakefulness during pregnancy, particularly in later stages. Insomnia is most common in the first and third trimesters when hormones surge, and your body becomes ungainly. Late-night bathroom trips can disrupt your sleep three to five times a night (or more), and it can be hard to fall back asleep after that.
Once you deliver, you can expect more sleepless nights for late-night feedings and diaper changes, so you really need your rest now. Excessive sleep problems can be unhealthy for you as an expectant mom and your growing baby. Be sure to consult your OB-GYN if your sleep issues have you suffering from daytime sleepiness, excessive napping, or fatigue is unmanageable.
You and your baby need to get enough sleep so don't ignore your need for better sleep.
About Dr. Thaïs Aliabadi
As one of the nation's leading OB-GYNs, Dr. Thaïs Aliabadi offers the very best in gynecological and obstetric care. Together with her warm professional team, Dr. Aliabadi supports women through all phases of life. She fosters a special one-on-one relationship between patient and doctor.
We invite you to establish care with Dr. Aliabadi. Please click here to make an appointment or call us at (844) 863-6700.

Latest posts by Dr. Thaïs Aliabadi
(see all)