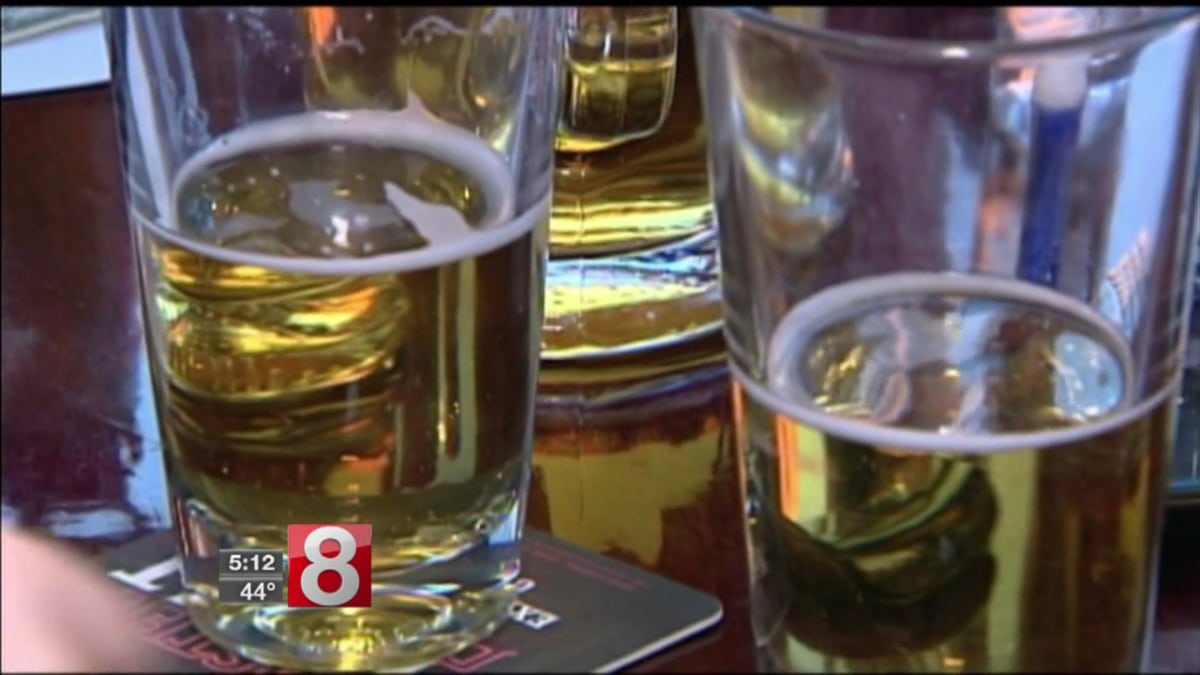 Everyone is at risk for holiday heart syndrome.
That second helping of eggnog could be enough to send you to the Emergency Room. This holiday season, doctors are shining new light on a health condition called Holiday Heart Syndrome.
No, it's not the warm fuzzies you get when you take your sweetheart ice skating, nor is it the melt-your-heart magic you feel when St. Nick got you exactly what you wanted for Christmas. Holiday Heart Syndrome is a dangerous pattern of cardiac illness, caused primarily by an increase in alcohol consumption during the winter festivities.
Doctors first noticed the pattern in the 1970's, when they started seeing more frequent visits to the E.R. for heart palpitations, starting in late November and lasting through January 1. But there was something strange about this surge of patients.
Dr. Imran Ali, of Bridgeport Hospital explained. "We asked these patients, what did they do that was out of the ordinary? They had no cardiac risk, and they were actually healthy people." In fact, the illness typically struck people who stayed away from alcohol throughout the year, but splurged on wine, booze, and other tasty treats while celebrating.
"And [we discovered that] they drank a little bit more alcohol, had a little bit more salt, ate a little bit too much." This caused an interaction between alcohol and the magnesium and other salts in their diet, irritating the electrical impulses in the heart, and causing atrial fibrillation.
What is atrial fibrillation?
Holiday Heart Syndrome is characterized by a particular kind of arrhythmia (irregular or abnormal heartbeat) called atrial fibrillation. Atrial fibrillation may be a temporary condition, but it does call for prompt medical attention, as even one episode may lead to a stroke.
Your heart is divided into four chambers. The two lower chambers are called the ventricles, while the upper two chambers are called the atria. In a normal heartbeat, an electrical impulse triggers a contraction, allowing the atria to pump blood into the ventricles. A second electrical impulse then contracts the ventricles, pumping blood out of the heart and into the lungs to become oxygenated.
The electrical impulse is controlled by two natural pacemakers, called the sinus node and the atrioventricular node. In a normal heart, these two pacemakers work in tandem to get blood into and out of the heart at a healthy rate.
But, the nodes can get knocked off their rhythm, causing chaotic and uncoordinated contractions, and putting you at risk for serious cardiovascular complications, such as a stroke, heart attack, and heart failure.
How the holidays wreak havoc on your heart
Whether at the office, at home, or out with friends, we tend to eat foods around the holidays that we wouldn't normally eat – sweet foods like cookies, and salty foods like ham, gravy, and turkey. Rich and creamy foods, high in sodium, can exacerbate heart issues.
Add to this delectable diet a few more glasses of wine than usual, and you've got a recipe for a holiday health scare.
Some people are more susceptible to Holiday Heart Syndrome than others. Teetotalers – people who generally don't drink – are more at risk for the condition if they overindulge in alcohol. Women are also more likely to experience problems, because they tend to metabolize alcohol differently than men.
If you or a loved one experience any irregularities in the heart, get to a doctor right away. For more information about Holiday Heart Syndrome, check out the Cleveland Clinic.
This Thanksgiving take good care of yourself and your family. Let it be a very Happy Thanksgiving for all.  Thaïs
Read the full article at: wtnh.com
About Dr. Thaïs Aliabadi
As one of the nation's leading OB-GYNs, Dr. Thaïs Aliabadi offers the very best in gynecological and obstetric care. Together with her warm professional team, Dr. Aliabadi supports women through all phases of life. She fosters a special one-on-one relationship between patient and doctor.
We invite you to establish care with Dr. Aliabadi. Please click here to make an appointment or call us at (844) 863-6700.

Latest posts by Dr. Thaïs Aliabadi
(see all)