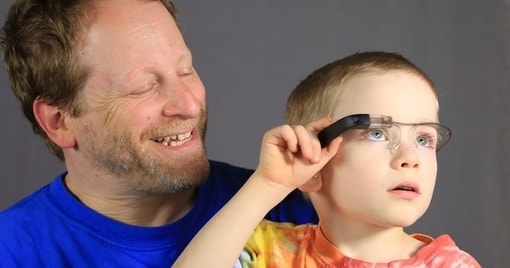 Google Glass—in it's new Enterprise Edition—may be the 'new cool' in helping children with autism and their parents manage their condition
*Note: This article uses identity-first language to refer to autistic individuals. For more information on identity-first language, visit identityfirstautistic.org.
Google Glass didn't get off to a good start with the press. Following several scathing reviews from high-profile  publications, it looked like the augmented reality device would soon disappear into the failed tech ether, along with the Segway and Windows Vista. From creepers to "glassholes," so-called smartglasses had clearly missed their mark.
A recent study offers a glimpse into a possible new target for Glass: The autistic community
The study, published earlier this month in JMIR Human Factors, found preliminary, but unquestionably positive results supporting Google Glass as an assistive technology for autistic children in its newest iteration, Enterprise Edition.
What is autism spectrum disorder?
Autism spectrum disorder is a recognized developmental disability affecting an estimated 3.5 million children and adults in the U.S. Characteristics associated with autism are unique to each individual, but autistic people typically struggle with decoding others' emotions, making eye contact, and sensory overload.
Signs of the disorder begin to show in early childhood. Until recently, the medical model has poured resources into the search for causes, treatments, and cures for autism.  However, the jury is still out on whether these can be successfully identified, and even whether they should.
What is the neurodiversity paradigm?
By contrast, the neurodiversity paradigm advocates against labeling autism as a "problem" to be fixed. According to Nick Walker from Identity First Autistic, "Neurodiversity is the diversity of human brains and minds, the infinite variation in neurocognitive functioning within our species." In this view, parents and therapists should put their energies into "finding ways of living that are more in harmony with their natural neurological dispositions."
Instead of seeking out causes and pharmaceutical "treatments", one team of researchers is investigating what types of technology can assist autistic children to better navigate the world around them.
Now, smartglasses may be at the top of that list to help autistic children
As we all know, smartphones and tablets can be helpful tools to anyone, but researchers noted that the devices encourage a heads-down posture, which may further isolate autistic children from their environment.
However, smartglasses enable wearers to remain heads-up while using them, notes author Ned Sahin, which "can allow for better user engagement with people and the social world."
Eight children and their caregivers were enrolled in the study. Programmed into each pair of smartglasses was a host of assisted-reality apps, called "Empower Me," by Brain Power. The apps include digital coaching on facial expressions of emotion, notifications for when to look at people, and real-time feedback on the user's own mood.
Kids can explore their world at their own pace through the glasses, and are rewarded with points for learning social interaction and cognitive skills.
While the sample size was quite small, the results showed promise. All 8 participants reported that they would use the glasses at home and at school, and none of the caregivers reported any concerns. What's more, all of the caregivers said their child had fun while using the glasses.
Plus, there's the "cool factor" of smartglasses
Many of the kids liked Glass for its "sleek" design. According to Sahin, "having a device that is less noticeable and designed to be 'cool' may help with its social acceptance, and may not carry the stigma of assistive technology with it."
With over $125,000 earned in crowdfunding thus far, Brain Power hopes to use this momentum to further develop this exciting new technology.
I found this article on Google Glass to be informative and an extremely hopeful sign that kids on the spectrum will no longer be isolated. They are making their way into social acceptance. Let me know what you think.  Thaïs
Read the full article at: www.forbes.com

Latest posts by Dr. Thaïs Aliabadi
(see all)
Reader Interactions