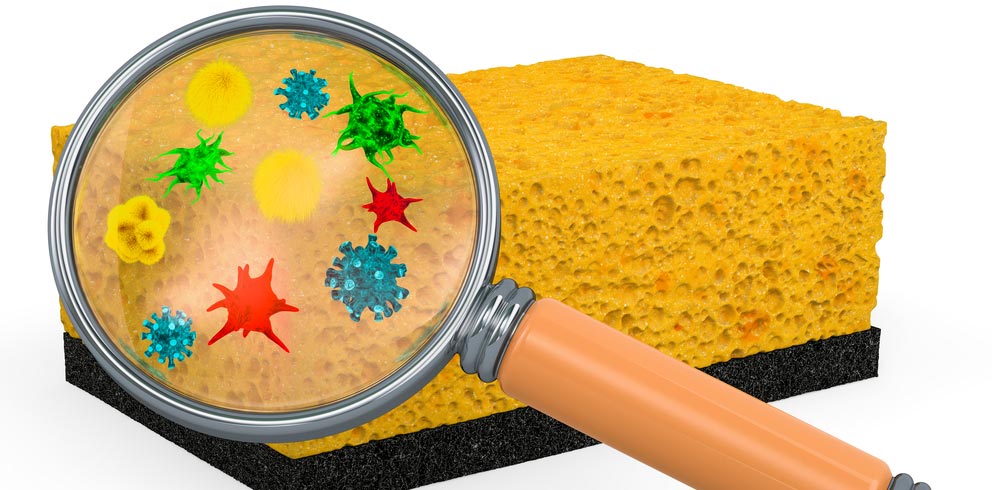 It's a difficult world out there. Some aspects of modern life seem to be getting worse on a daily basis. It'd be nice to know that our homes really are like castles, places of secure refuge, where we can safely retreat.
But now comes the news that our homes actually harbor billions of microscopic enemies. Everywhere in your house, from the kitchen sink to the shower stall to the pillows on your bed, is rife with germs. And many of the most hazardous household areas are places you would ordinarily consider to be healthy. Like the kitchen.
The National Sanitation Foundation found the areas where food is stored or prepared have more bacteria and fecal contamination than any other place in the home. More than 75% of dishwashing sponges harbor salmonella, E. coli, and/or fecal matter. (Bathroom faucet handles register such contamination at a rate of only 9%.)
Your kitchen sponge is not your friend
The handy sponge, with a soft rubbing surface on one side and a sterner raspy scraping surface on the other, seems like a trusty ally in your battle against household corruption. But in reality that sponge is a secret double agent. It's literally spreading bacteria all over the place.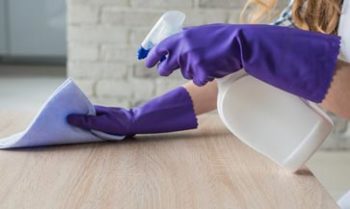 In 2017, a team of researchers at the University of Furtwangen in Germany identified 362 different species of bacteria living in used kitchen sponges. Here's the astonishing part: About 82 billion bacteria were jam packed into each cubic inch of those nasty sponges.
That's the same density of bacteria found in human fecal samples, said Dr. Marcus Egert, the microbiologist who headed the study. According to Dr. Egert, "There are probably no other places on earth with such high bacterial densities."
Bacteria thrive in warm and moist environments. It's not surprising that kitchen sponges and kitchen sinks are rampant breeding grounds for germs.
How to deal with grimy sponges
In 2007, scientists who conducted a dirty sponge study at the University of Florida advised that two minutes of microwaving had "killed or inactivated more than 99% of all the living pathogens" in the tested sponges.
But Dr. Egert's team found that microwaving sponges only kills the weakest bacteria. Microwaving sponges just makes more room for the hardier strains of germs. The safest course is to frequently replace your kitchen sponges.
Germs on a board
Cutting boards, where you deftly process raw meat, raw fruit, raw vegetables, and those well aged cheeses, are also a hotbed for cross-contamination. Plastic cutting boards are less vulnerable to germ infestation, but they also develop slices and grooves where germs can breed freely.
Frequently running all your cutting boards through the hottest dishwashing cycle will lessen your germ population.
Filth in your bedroom
Other germ ridden locales include your bed and couch pillows. Even the most solid sleeper drools, sweats, transfers hair and skin oils, and sheds dead skin throughout the night. Dust mites and bacteria breed prolifically in such an environment.
So be sure to frequently launder all your bedding. Use an anti-dust mite spray or cover on your pillow to reduce allergens and germs.
Your smart phone is dirty
TV remotes are constantly handled by unwashed hands. They become repositories of filth, so wipe down that scepter of familial power with an antibacterial disinfectant at least once a week. Give your smart phone the same treatment to kill germs.
Handles and knobs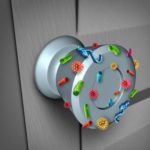 If you  don't wash your hands between each step in the process of cooking, kitchen handles and knobs will each develop their own colonies of germs. Clean them on a weekly basis with the same antibacterial disinfectant that you applied to the TV remote and your smart phone.
Get a flu shot
Even the most assiduous household cleaning regimen will not come close to protecting you and your family from exposure to millions of germs each and every day. So get a vaccination against influenza.
The National Foundation for Infectious Disease kicked off the 2019-2020 flu season campaign on Thursday, September 26. At the press conference, the NFID emphasized the benefits of vaccination for pregnant women, new mothers, and their babies.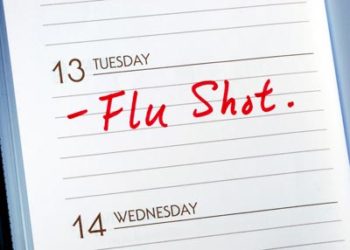 A multi-year, multi-country study by the Center for Disease Control shows that vaccination reduces the risk of flu hospitalization among pregnant women by an average of 40%. And vaccinating pregnant women protects their infants from flu for the first several months of the babies' lives.
Flu vaccination also lowers the risk of negative outcomes from heart disease and diabetes. Your vaccination can also help protect the people around you. This especially includes those who are more vulnerable to cases of serious flu, like babies, seniors, and people with chronic health conditions.
Vaccination isn't a 100% guarantee against getting the flu, but a growing body of evidence shows that those who do get the flu after vaccination have a less severe illness, with fewer negative outcomes. So get that flu shot!
Thaïs
About Dr. Thaïs Aliabadi
 As one of the nation's leading OB-GYNs, Dr. Thaïs Aliabadi offers the very best in gynecological and obstetric care. Together with her warm professional team, Dr. Aliabadi supports women through all phases of life. She fosters a special one-on-one relationship between patient and doctor.
We invite you to establish care with Dr. Aliabadi. Please click here to make an appointment or call us at (844) 863-6700.

Latest posts by Dr. Thaïs Aliabadi
(see all)